Apple is the world's most admired company

Apple is again number one in Fortune's list of the World's Most Admired Companies in 2014. Apple has been rated best for the seventh time now.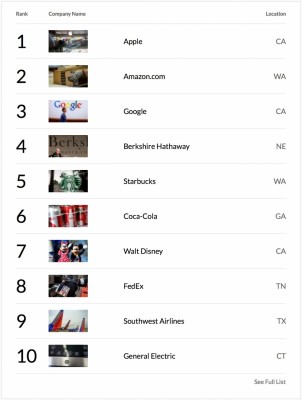 Apple:
● Top 50 rank: 1
● Rank in Computers: 1 (Previous rank: 1)
● Overall score: 7.94
● Ticker:AAPL
It has been the seventh time Apple reached the top of the list. The most admirable tech company is widely appreciated for its iPhone, iPad and other devices both innovative and fashionable. Interbrand considered Apple to be the most valuable brand. Cupertino company generated $171 billion revenues in FY2013 and has large cash on its disposal. Still modern society is looking forward to the release of the new product. Some consider it to be the rumored smartwatch or the updated AppleTV. What's more, the company is in process of diversification and it is likely to enter the market of cars and medical devices as time passes.
As you can see in the picture above, the top ten companies are: Amazon.com, Google, Berkshire Hathaway, Starbucks, Coca-Cola, Walt Disney, FedEx, Southwest Airlines, and General Electric.

Leave a comment