Apple Releases Another iOS 8.2 Beta to Developers

Apple on Monday released the long-anticipated iOS 8.2 beta to developers for testing. This iOS version includes Xcode 6.2 beta 4 and WatchKit SDK, which means that the developers now have an opportunity to create apps and notifications for Apple's wearable device that is expected to hit the store shelves in March. The release of iOS 8.2 comes nearly a month after the release of the third beta and about two months after the release of the very first iOS 8.2 version for developers.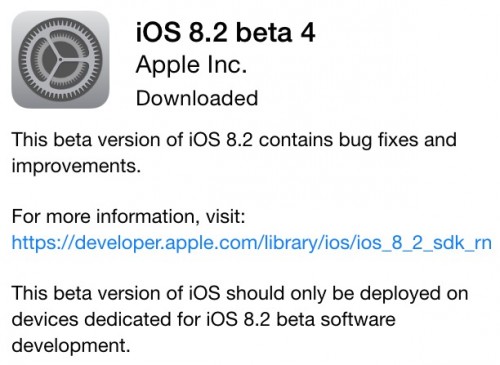 Yesterday's beta has a build number 12D5461b and can boast of a number of bug fixes, stability improvements and one notable new feature. In the Bluetooth section of the Settings app on the iPhone, one may notice a suggestion to open the Apple Watch app to connect the handset to the smartwatch.
If you have a developer account, you can download the latest beta either from the iOS Developer Center, or through the Software Update option. Apart from releasing iOS 8.2 beta, the guys from Cupertino are expected to release iOS 8.1.3 beta with a number of minor improvements to developers soon. In fact, it may come as soon as this week.

Leave a comment