Apple Remains Top Tablet Vendor, Samsung Stands in Second Place

Although Apple's tablet sales become weaker and weaker with every new quarter, the company currently remains top tablet vendor in the world. According to the latest figures from a research firm called IDC, in the last quarter of 2014, Apple sold 21.4 million iPads and got the market share of 28.1%. Closest rivals are traditionally Samsung and Lenovo with 11.0 and 3.7 million devices sold over the last three months and market shares of 14.5% and 4.8% respectively.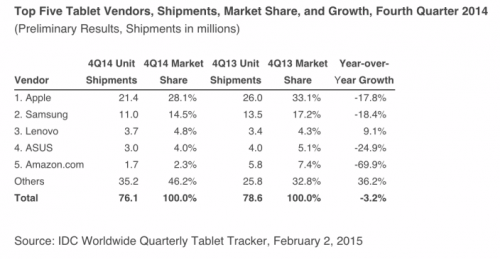 Apple sold 21.4 million iPads during the holiday quarter last year, which gave the company around 28% market share compared to 33% with 26 million units sold during the same quarter last year. Apple beats out number two Samsung, according to IDC, which grabbed 14.5% of the market in Q4 with 11 million units shipped.
As to the other vendors, which stand in the Top 5 rating, they are ASUS and Amazon.com with 3.0 and 1.7 million units shipped in the fourth quarter of 2014 and market shares of 4.0% and 2.3% respectively.
The market share of other vendors also grew last quarter from 25.8 million units and 32.8% share to enormous 35.2 million units and 46% of the market. This is mostly because of the cheap Android devices manufactured by unknown Asian firms.
[via 9to5mac]

Leave a comment