Apple seeks more iOS developers for its navigation software?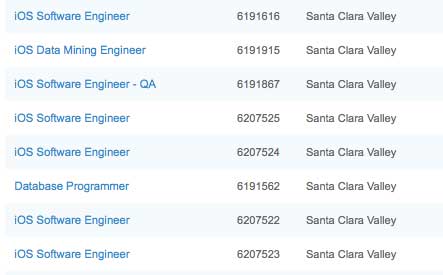 Four new job offers have been posted on Apple's site and reveal that company is looking for a software engineers to work on its navigation software.
All four job listings offer a full-time job in Santa Clara Valley, California. The description explains that Apple wants "outstanding engineers to deliver the next generation of Apple products".

"Seize this ground floor opportunity to help us build the world's best hosted platforms at massive scale".
iOS developers are required to have a deep experience in developing of "high quality, robust software systems" and particularly navigation software, and "deep knowledge of Computational Geometry or Graph Theory".
Such job listings signal that we can expect new personal navigation tools to be released in future versions of iOS. Moreover, there are some facts that make this suggestion even more likely:
New massive data center in North Carolina, which will be opened soon, may be used for a cloud-based navigation solution.
Earlier this week Apple started seeking for another software engineer who would manage and automate "distributed image processing on a server cluster":


"The position is with an emerging and rapidly growing product team building software used by millions of Apple customers in rapidly growing markets worldwide. The candidate will be part of a team that develops and maintains a complex array of global content."

Earlier Apple had purchased Poly9 and Placebase, two companies related with mapping solutions;
iOS4 allows users to remotely control the iPhone, the video out feature that is used by BMW. Turn-by-turn directions would allow drivers to fully utilize their iPhones as navigation devices.
In 2009 Apple was looking for someone who could take the Maps application "to the next level". While it still uses Google Maps, the company obviously would like to rely on its own technology in the future.


"We want to do this in a seamless, highly interactive and enjoyable way. We've only just started."

Leave a comment