Apple to Open Several Apple Watch Stores in April

About two weeks ago, first rumors about Apple's plans to open several separate Apple Watch stores in Europe and Asia appeared on the Internet. Earlier this week, the guys from Cupertino officially confirmed these sketchy rumors by updating their official website with the addresses of three brand new stores located in the U.K, France and Japan. All of these small shops will be located in large department stores and will sell Apple's smartwatches only.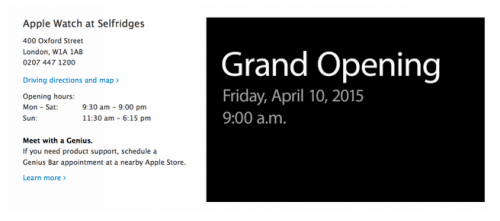 Here's what iClarified reporters write:
In France, the Apple Watch shop is located in Galeries Lafayette at 40, Boulevard Haussmann, Paris. It will open on April 10th at 9:00 a.m.

In Japan, the Apple Watch shop at Isetan Shinjuku will open April 10th at 10:30 a.m.

The Apple Watch shop in Selfridges at 400 Oxford Street, London opens at 9:00 a.m.
As you might have seen, these stores will open their doors for customers on April 10th. If you live near one of these retail locations, you will get an opportunity to visit it and maybe even to purchase the long-awaited wearable device. For more information about the aforementioned shops, please visit Apple's official website.

Leave a comment