Apple to Ship 15.4 Million Apple Watch Units and Occupy 54.8% of Market This Year

According to the latest report from Strategy Analytics, the long-awaited Apple Watch may see the record-breaking sales this year. In particular, its market share may be equal to enormous 54.8% with 15.4 million units shipped. The analysts believe Apple's sales will beat the sales of its rivals from Samsung, LG and other vendors combined. While it is only a report based on the estimates and people's opinion, I must admit it looks quite realistic. However, the only way to prove its objectivity is to wait for the release of the smartwatch and for the official announce of Apple's financial results in 2015 at the very beginning of 2016.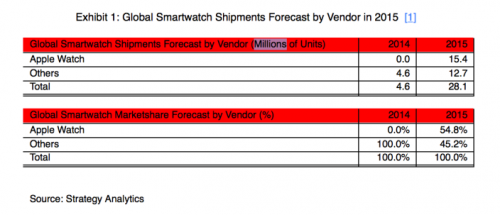 Research firm Strategy Analytics released its latest report today forecasting global Apple Watch sales and smartwatch marketshare for 2015. The firm's predictions put Apple's anticipated global smartwatch marketshare at more than half with 54.8% reached in 2015. Notably, that forecasted percentage is versus all other smartwatches combined competing with the Apple Watch.
Do you think Apple wearable device will outsell all the rival devices? And one more question: will you purchase the Apple Watch this year?
[via 9to5Mac]

Leave a comment