Apple Took 3rd Place in Top Smartwatch Vendors List

Apple's share in the wearables market grew 13% year over year in the fourth quarter of 2016. The company shipped 4.6 million Apple Watch units and took 13.6% of market. This allowed the manufacturer to take the third spot in the ranking shared by a research firm IDC representing top vendors of smartwatches and other wearable devices. The first place of the ranking is occupied by Fitbit, that lost 22.7% of the market share and the second one – by Xiaomi. The fourth and the fifth spots are taken by Garmin and Samsung.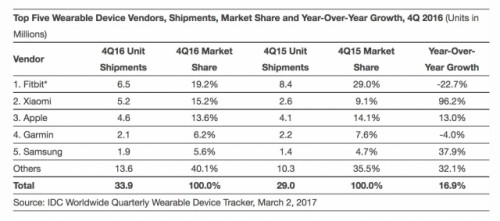 Total shipments of wearable devices in Q4 2016 accounted for 33.9 million units. The market grew 16.9% year-over-year from 29.0 million units shipped in Q4 2015. As for the yearly shipments, they also grew – from 81.9 million units to 102.4 million units. That's a growth of 25%.
Apple shipped 10.7 million Apple Watch units in 2016, IDC researchers claim. This allowed to take 10.5% of the global market.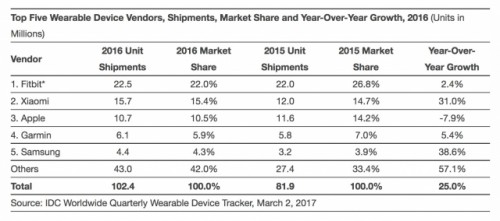 Apple unveiled the Apple Watch in 2015. Last year, the company released the Apple Watch Series 2 with better waterproofing, GPS, better health-tracking features, and other improvements.
[via iClarified]

Leave a comment