Apple TV Loses Ground in the USA Because of Roku and Chromecast

Apple TV set-top box has reportedly begun losing ground as its main rivals, namely, Roku and Chromecast, have become much stronger. According to what was shared by a marketing research firm Parks Associates, Roku streaming media players currently occupy the first place on the U.S. market, Google's Chromecast sticks stand on the second one and Apple TV boxes are down one position on the third spot.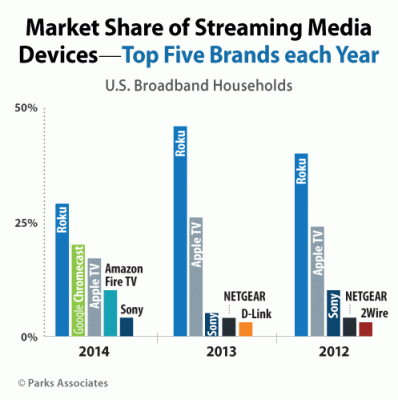 During the first three quarters of 2014, 10 percent of US households with a broadband connection bought at least one streaming-media player, market researcher Parks Associates said Tuesday. The players include set-top boxes and sticks, which plug into HDMI ports, that access scores of channels and services, such as Netflix, Hulu Plus or Amazon Instant Video.
And now let's take a look at some figures. 29% of all streaming media players sold in the USA during the first three quarters of this year were Roku boxes. Another 20% of market were occupied with Chromecasts and only 17% - with Apple TVs. As to the situation on the world market, it is quite the same.
Do you use any of the aforementioned gadgets? Leave your comments below this post.
[via CNET]

Leave a comment