Apple Watch Battery to Last 1000 Recharge Cycles With Slight Capacity Loss

Earlier this year, Apple CEO Tim Cook announced that users will have to charge the Apple Watch every night. The exact battery capacity and a number of recharge cycles, however remained unknown.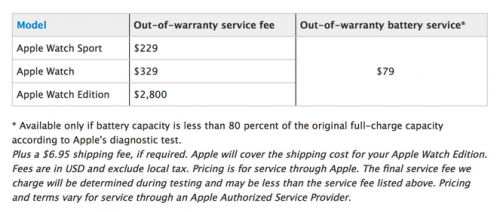 Thanks to iFixit Apple Watch teardown performed earlier this week, we got to know that the battery capacity of the wearable device is 205 mAh. Today Apple also announced that after as many as a 1000 recharge cycles, the battery will still maintain about 80% of its capacity allowing users to continue using their Apple Watch without any inconveniences. That's definitely a piece of good news for all those who plan to purchase the smartwatch or those who have already done that.
Apple Watch Owners, Your battery is designed to retain up to 80% of its original capacity at 1000 complete charge cycles. The one-year warranty (for Apple Watch and Apple Watch Sport) and two-year warranty (for Apple Watch Edition) include service coverage for a defective battery. If it is out of warranty, Apple offers a battery service. Prices and terms may vary.
The guys from Cupertino also say that it will be possible to replace the faulty battery for free under warranty or for $79 after the warranty expires.
[via iClarified]

Leave a comment