Apple Watch S1 Chip Consists of More Than 30 Components

The long-anticipated Apple Watch has been already torn down by iFixit team and a number of other research companies. Most of the experts agree that the most innovative part of the wearable device is its S1 chip, responsible for maintaining the entire functionality of the smartwatch. According to the latest report from ChipWorks, this tiny chip is not as simple as it seems to be. In fact, it contains more than 30 individual components, each responsible for a particular feature.

Apple and its partners managed to create a multifunctional system in package (SIP) with lots of additional components and a size of only 26 mm x 28 mm. Impressive, isn't it?
Inside the S1 SiP alone we have cataloged more than 30 components. Now, some of those components contain multiple die; the package-on-package (PoP) assembly, for example, contains the new Apple processor and the DRAM die. The NFC solution also contains the secure element as well as the NXP NFC controller and radio.
If you are interested in a more detailed look at the S1 system in package, I suggest you to take a look at the original article published by ChipWorks. I'm not that good at technical nuances. Below this post you will find several schemes showing the basic components of the S1 chip. Just in case you need this.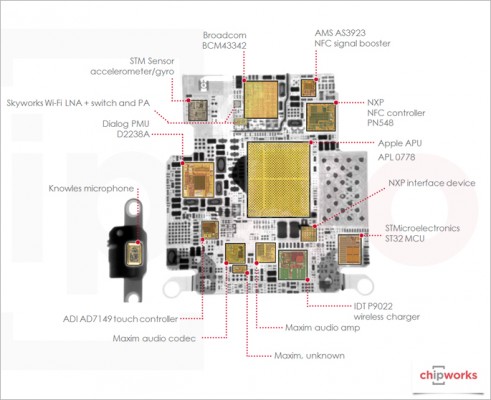 [via ChipWorks]

Leave a comment