Half of iPhone users have iOS 4 installed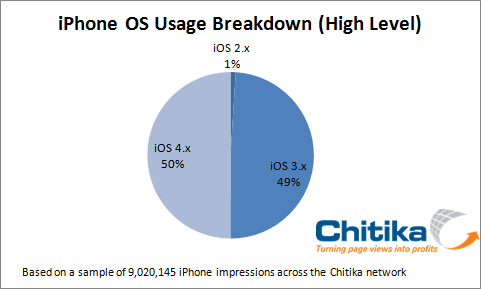 Online advertising network Chitika published some statistics of what version of iOS is installed on users' iPhones. The results are quite interesting and predictable. The latest iPhone mobile operating system, iOS 4, is already accounting for one-half of all iPhone web traffic. These numbers are based on a statistically useful nine million iPhone page impressions.
Looking more deeply, iOS 4.0 – the version released on June 21st – has 44.5%. The latest version iOS 4.0.1 clocks in at only 5% of the market. This is understandable, since it was released less than a week ago: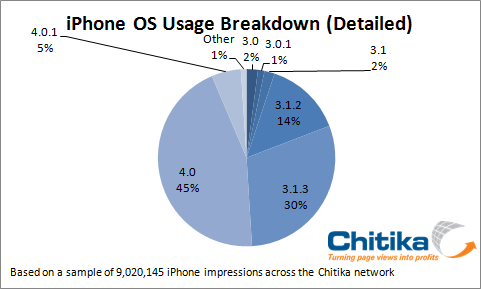 Of the iOS 3.x variants, the most represented is 3.1.3 at 29.8%.
| Version | % of All iPhone Traffic |
| --- | --- |
| 4.0.1 | 5.36% |
| 4.0 | 44.57% |
| 3.1.3 | 29.87% |
| 3.1.2 | 14.04% |
| 3.1 | 1.88% |
| 3.0.1 | 1.19% |
| 3.0 | 2.06 |
| 2.x | 0.99% |

Leave a comment