iCloud to Auto-Resolve Sync Conflicts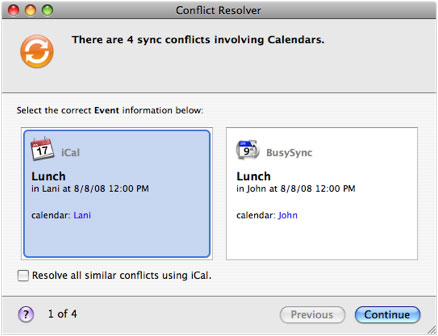 John Gruber at Daring Fireball claims that Apple's iCloud service will be able to solve conflicts with data automatically by determining the correct option. Now MobileMe forces users to solve conflicts themselves. On The Talk Show with Dan Benjamin he's shared his opinion on how iCloud will deal with sync conflicts:
In iCloud, I believe you will never be presented with [a sync conflict] dialog, no matter how much has changed in one of the instances while it was "offline". The server-side iCloud, when there seemingly is a conflict, will make a decision and it will decide which one is the best (in Apple's terms the "truth"). That is what Steve Jobs means when he says "The Truth is in the Cloud." iTunes will decide which one is right and that's it. iCloud will push that right one to any device that has this account that has a different version.
But, here's the trick what happens if it's not the right one? On the server side, it will remember all of the other ones, almost like versioning. There will be some sort of interface like "go and look at your contacts." There will be some sort of way to say "show me previous versions and let me pick the one that is right". You pick it and push it back up into the cloud and tell it "that's the truth" and Apple will push it out.

Leave a comment