iOS 8 Adoption Rate Reaches 52% Five Weeks After Release

Several days ago, I told you about OS X Yosemite adoption rate, which at that time was 12.8%. Today I'd like to talk about Apple's iOS 8 and its adoption rate.
According to the latest figures published on Apple's App Store support page for developers, five weeks after the release, the latest version of Apple's mobile operating system is installed on 52% of devices. And this is an impressive result, I must admit.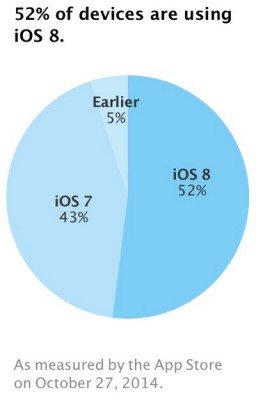 Still, it should be noted that 43% of iPhone and iPad owners continue to use iOS 7. 5% of users, mostly people who own older devices, utilize iOS 6 or even an older version of Apple's OS.
iOS 8's installation numbers have increased approximately four percent over the course of the two weeks, which means adoption numbers are on the rise after several weeks of stagnation. During Apple's October 16 iPad-centric event, Apple CEO Tim Cook said that iOS 8 was installed on 48 percent of devices as of October 13, and before that, the OS was installed on 46 percent of devices on September 21.
The adoption rate is expected to rise even more as the guys from Cupertino have recently launched their own mobile payments system, which works only with iOS 8.1. I think that a wide number of people will want to test this system, especially after its launch in new countries.
[via MacRumors]

Leave a comment