iOS 8 Adoption Rate Reaches 69% in Mid-January - Apple

According to the latest data that can be found on Apple's support page for developers, iOS 8 adoption rate has once again improved. Although this improvement is not as substantial as the previous one, it shows that more and more people switch to the latest version of Apple's mobile operating system. Some of them purchase smartphones and tablets with iOS 8 pre-installed, but most of the users simply upgrade to a newer version of iOS.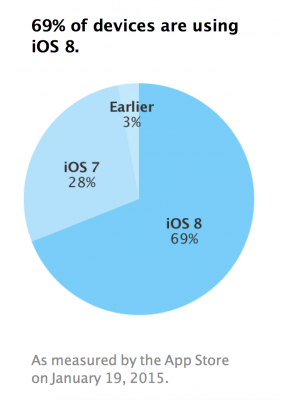 The adoption rate grew only 1% over the last two weeks and is now equal to 69%. If to speak about the number of users who continue using iOS 7, it remains relatively high and makes 28%. 3% of iPhone and iPad owners have an older version of iOS installed on their devices.
Apple has announced that iOS 8 adoption has reached 69% as measured by the App Store on January 19th. That's an increase of just 1% from January 5th when Apple last measured the number.

It appears as though adoption levels have slowed down following the 4% jump attributed to holiday sales of Apple devices.
While iOS 8 adoption rate is high, it may become even higher after the release of the Apple Watch, which is supported only by iOS 8.2 as well as after the launch of the 12-inch iPad Pro that is expected to take place later this year.
[via iClarified]

Leave a comment