iOS 8 Adoption Rate Reaches 77% - Apple

According to the official data shared by Apple, iOS 8 adoption rate reached 77% on March 16th. The adoption rate has increased 2% over the last two weeks. One possible reason for such an increase is the release of iOS 8.2, which can boast of a number of important stability and performance improvements as well the support of the long-anticipated Apple Watch, which is expected to hit the store shelves in April.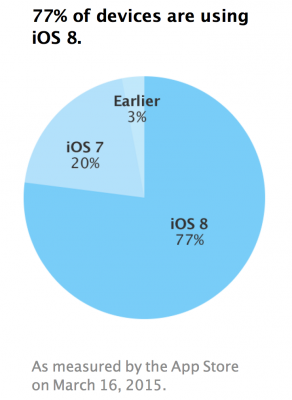 Apple has announced that iOS 8 adoption is now at 77% as measured by the App Store on March 16th. That's an increase of 2% from March 2nd.

iOS 8.x adoption has been increasing slowly but steadily. The release of iOS 8.2 likely assisted in the 2% increase over two weeks. iOS 8.3 has already been seeded to developers for testing.
Despite high iOS 8 adoption rate, many users continue to use older versions of Apple's mobile operating system. In particular, 20% of users have iOS 7 installed on their iPhones and iPads and 3% haven't upgraded from iOS 6 or an earlier version of iOS.
What iOS version is installed on your device? Leave your comments below this post.
[via iClarified]

Leave a comment