iOS Adoption Rate Continues to Grow Steadily - Apple

According to the official figures on the App Store usage published by the guys from Cupertino earlier this week, iOS 8 adoption rate has risen 1% over the period of time between December 8th and December 22nd and now is equal to 64%. Although the adoption rate rises not as fast as the adoption rate of iOS 7 last year, it grows steadily and that is the point.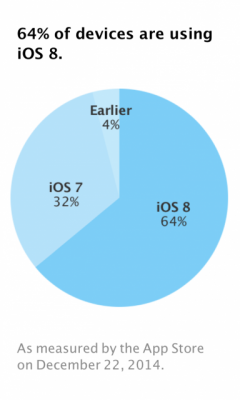 Adoption of iOS 8 was initially slower than iOS 7; however, it has been increasing steadily. Holiday sales of the iPhone 6 and iPhone 6 Plus are also likely to increase usage of the new operating system. It will be interesting to see how Christmas Day activations of new devices impact iOS 8's adoption rate.
In case you don't know what the figure of 64% means, I'll explain. The adoption rate of 64% means that the latest version of Apple's mobile operating system is currently installed on 64% of compatible iPhones and iPads. 32% of users continue to use iOS 7 and about 4% haven't yet upgraded from earlier versions of iOS. Well, those who continue to use iOS 6, iOS 5 or something even older are probably those people who own iPhone, iPad and iPod touch models that are incompatible with newer software.
What iOS version is installed on your device? I'm waiting for your answers.
[via iClarified]

Leave a comment