'iPad mini' will be challengingly thin thanks to 'GF2' technology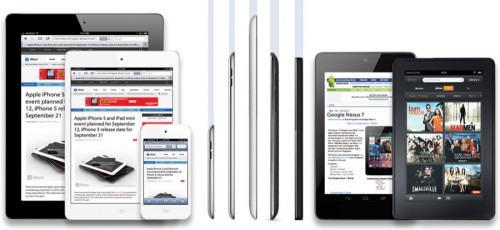 Apple's iPad mini will reportedly so thin and light that production of the device will be a challenge to a company. Analyst Ming-Chi Kuo with KGI Securities claims that the smaller iPad will feature industry leading "GF Ditto," otherwise known as GF2, touchscreen technology. He said that Apple will be the first company in the world to commercialize and mass produce GF Ditto technology.
The new method is apparently an improvement from the "G/G touch structure" Apple currently utilizes in its third-generation iPad with Retina display. The switch will allow the new iPad to be not only thinner but significantly lighter. The iPad mini will be about as thin as Apple's next-generation iPhone, according to Kuo. He estimates that the iPad mini's panel thickness will be below 2.2 millimeters alone, or below 4.2 millimeters including the printed circuit board — both numbers that he said are thinner than the average tablet on the market today. The iPad mini will also feature a high-definition forward-facing FaceTime camera, and a 5-megapixel rear camera.
Difficulties in manufacturing the iPad mini allegedly led to an internal delay in launching the device. Kuo believes that shipments of the smaller iPad will begin in the first half of October.

Leave a comment