iPhone 6 and iPhone 6 Plus Units Are on Their Way From China

According to the reports from several different sources, Apple has begun shipping the iPhone 6 and iPhone 6 Plus units to customers. People who ordered one of the new handsets claim that the shipping estimates point to the arrival of the long-anticipated gadgets on September 19th. As you probably know, this is the date, when the 4.7-inch and 5.5-inch smartphones are expected to hit the store shelves.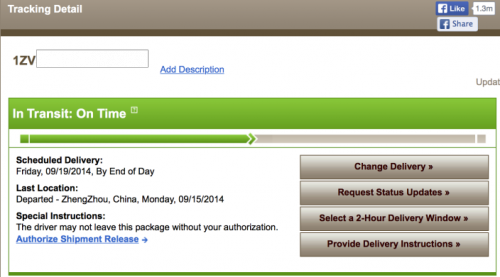 As expected, looking up these shipments with their UPS tracking numbers (or, in this case, reference number) reveals expected delivery dates of September 19th, the very same day that the phone is expected to start appearing in stores across the US.
Looks like the first batch of new iPhones is really large. Earlier it was reported that the guys from Cupertino plan to sell as many as 10 million handsets in September and now I'm sure these plans are real.
Yesterday, the guys from Cupertino announced that they sold 4 million iPhone 6 and iPhone 6 Plus units in the first 24 hours. A good start for a good device.
[via 9to5Mac]

Leave a comment