Kanye West Spotted with All-Gold Apple Watch on Wrist

As you probably know, there are three versions of the long-awaited Apple's wearable device, namely, the Apple Watch, the Apple Watch Sport and the Apple Watch Edition. These smartwatches are made of aluminum, stainless steel and 18-karat gold. The prices start from $350 for the entry-level aluminum model and end with incredible $15.000 for the high-end gold version of the gadget.
Not surprisingly, only several people have been spotted wearing the most expensive gold model of the Apple Watch. Kanye West is one of those people. The reporters saw him wearing the gold Edition with a gold Link Bracelet during the Chicago Bulls vs. Cleveland Cavaliers game. It is rather strange as many of the initial customers haven't yet received their orders.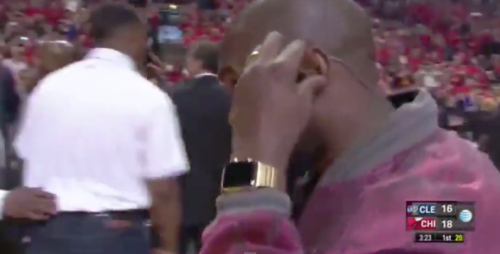 You can add Kanye West to the exclusive club of celebrities with an all-gold Apple Watch Edition with a gold Link Bracelet. The rapper sported the custom made Apple Watch to the Chicago Bulls vs. Cleveland Cavaliers playoff game earlier today, and he wore the watch while performing during a timeout.
Apart from Kanye West, only singer Beyonce and fashion designer Karl Lagerfeld have been seen wearing a gold Apple Watch. Looks like giving premium devices to celebrities is one of the methods of marketing from Apple.
[via 9to5Mac]

Leave a comment