Live iPhone 5 launch coverage

11:42AM - So, you guys want me to liveblog the music? It sounds great. Chords. Singing.
11:42AM - Music events come with musicians, and today we've got the Foo Fighters. Hello.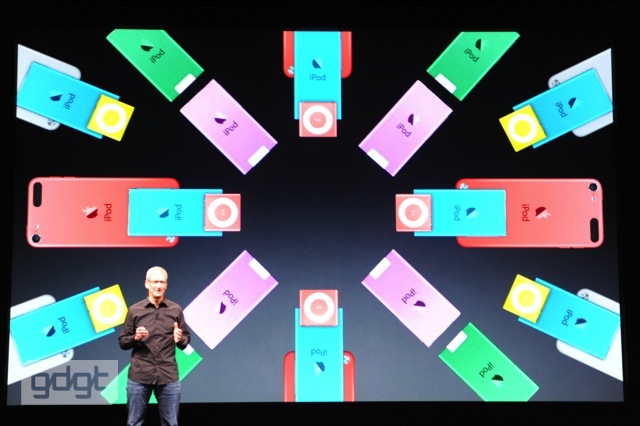 11:37AM - Review! Shuffle: 2GB, $79+, 7 colors. nano, 16GB starting at $149. Old iPod touch, 16GB starting at $199. New iPod touch at 32GB starting at $299. nano and touch are out in October.
11:36AM - "As you might have guessed, we want to include these with a couple other products." They'll be included with the new touch, nano, and iPhone 5. Hot.
"I think music lovers will love these. We're going to start shipping these as a standalone accessory. Available today."
11:34AM - He's calling it a breakthrough in both comfort and audio quality. We'll see about that!
11:33AM - Joz is talking about speakers — headphones, specifically. "We've spent three years designing new headphones, and we call them EarPods."
11:32AM - iPod touch now also in colors: five of 'em. Nice.
"And for the first time, we're supporting Siri on the new iPod touch."
11:30:15 AM PDT
FaceTime HD camera, 720p video.
11:29AM - Hidden button! iPod touch loop.
11:28AM - It's also getting the new Panorama feature, as you'd expect. iPhoto for iPod touch will be available, too.
11:27AM - iPod touch now gets a really nice 5 megapixel iSight camera.
11:27AM - Demo over, big applause. Joz is back. "So with all this performance, would we sacrifice battery life? Of course, the answer is no." 40 hours music, 8 hours video. Not bad.
The character onscreen is reacting to the player's actions. Pretty funny stuff. Now being tickled... and chased. Stuff is getting weird.
11:24AM - Demo time for a game called Clumsy Ninja. Let's do this thing.
11:23AM - A5, as you'd expect, with up to 7x the performance of previous touches. Makes sense, because the touch has kind of lagged behind the curve a bit.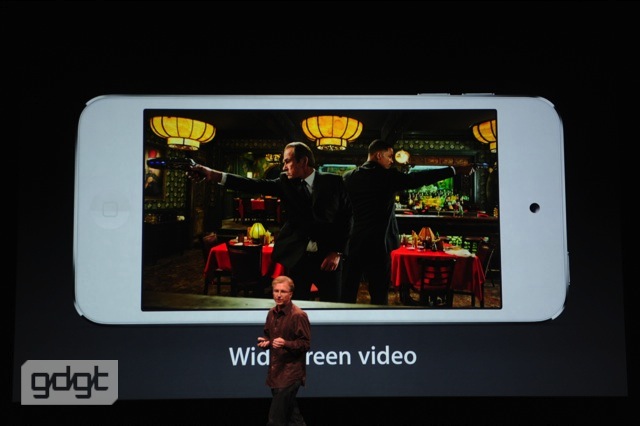 11:22AM - Lightning, speaker, and "exactly the same 4-inch Retina display we have on the iPhone 5." Good, because iPod touch displays have tended to be significantly worse than their iPhone counterparts.
11:21AM - 6.1mm thin, wild. "Almost as thin as the nano!" Weight is 88 grams.
11:21AM - Finally, an update! 5th-generation, "The best iPod touch we've ever made."
11:20AM - "The longest battery life we've ever had in a nano with up to 30 hours of music playback."
11:19AM - Bluetooth support! Stream music to Jambox, wireless headphones, etc. Naturally, it has the new Lightning connector.
11:18AM - FM tuner built in with live pause.
11:18AM - 7 colors! Looking good.
11:17AM - "It's the biggest display we've ever put in a nano at 2.5-inches. And it's multi-touch."
11:17AM - Okay, that's pretty hot.
11:17AM - "It's incredibly portable and incredibly light. Almost 50% thinner than the nano it replaces."
11:16AM - "The new 7th-generation iPod nano."
11:16AM - "When we looked to create a new iPod nano, we wanted to reinvent it." Big display!
11:15AM - "We're going to make some exciting changes to the lineup today." iPod nano's first.
11:15AM - "We've sold over 350 million iPods, and we add millions to this every quarter. But we don't do this just for the numbers, this is part of the DNA of Apple, and we love music."
11:14AM - Yep. Greg Joswiak is up to talk iPod.
11:14AM - Available in October! Time for new iPods?
11:13AM - New iTunes store look, not all that different from what we've got today.
11:06AM - New iTunes with iCloud built right in!
11:06AM - "We now have over 200 million customers using iTunes in the cloud." Really? That doesn't sound right, but wow.
11:03AM - "Today I'm happy to report that the iTunes store is available in 63 countries around the world." Applause. 435 million iTunes accounts with 1-click purchase. Damn.
11:03AM - Eddie Cue's up to talk about iTunes. Applause, cheers, hoots.
11:02AM - "We get really excited that make enjoying music even better, or even simpler. Today we're announcing some exciting changes with both IPod and iTunes."
11:01AM - Nice, iOS 6 goes back to the 3GS. Still, how slow's it going to run?
11:01AM - 100 countries, 240 carriers by end of the year. "This will be our fastest phone rollout ever."
11:00AM - Pre-order Friday, ships 1 week later. Nice.
11:00AM - iPhone 4 is now free, iPhone 4S is $99, and iPhone 5 starting at $199.
10:59AM - Phil's back: "How much do I have to spend?" Same prices!
10:57AM - Ive: "What makes iPhone 5 so unique is how it feels in your hand. The materials… the remarkable precision. Never before have we built a product with this extraordinarily level of fit and finish."
10:55AM - Mansfield: "I don't think the level of invention has ever been matched by any other product we've done." Yeah, but you guys always say that.
10:52AM - Phil's doing the wrap-up review on the stuff we've learned. "It's THE best phone we've ever made." Video time.
10:52AM - iPhone 5: black and white with a silver aluminum finish. Pretty hot, but that top strip still looks off to me. The camera isn't quite aligned vertically!
10:47:10 AM PDT
"Now I'd like to show you photo stream sharing. I can just select photos and then say share..." Scott is picking individual people he wants to share with.
"We now have VIPs in mail. They're all collected in one place. It's also easier to flag messages."
10:45AM - Scott's now showing iCloud tabs. Old news if you're Chrome-inclined, though. Still, kinda neat. And now he's on to VIPs in mail. Old news if you're Sparrow-inclined, though.
10:41AM - Scott's demoing the new Maps stuff from iOS 6. If you tuned into our WWDC 2012 coverage, you've seen this stuff before. It's impressie.
10:38AM - "We're working with accessory makers to have them integrate Lightning into their products this holiday season… but what about all the devices you have now that use the 30 pin connector.?"
10:38AM - It's called Lightning. All-digital, 8 signal design, just as we'd seen leaked.
10:37AM - Connector: "It's served us well for almost a decade. So much has changed. So many things we used to do over the wire we now do wirelessly."
10:37AM - Wideband audio: Apple fills up more frequency spectrum to make call audio sound even better. Requires carrier support though, so they need carrier partners.
10:36AM - Audio system got upgrades, too! Three microphones! Front, back, and bottom. Speakers have five magnet transducers (up from three). Earpiece now includes noise canceling on your own audio out. THAT is awesome.
Better video: better image stabilization, face detection, and now FaceTime over cellular.
10:33AM - New feature: panorama! Just hit a button, swipe your phone around. Rad.
10:32AM - These photos are pretty incredible, but they didn't show much low-light photography.
10:30AM - And it's better: dynamic low-light mode, up to 2 f-stops greater light performance, five element lens. "The team is now measuring down to the micron level to create better lenses. And for the first time we cap off this camera with sapphire crystal lens cover."
10:30AM - Next: camera. "If you know anything about camera design, you know the greatest challenge is vertical height. We asked our engineering team to create a thinner camera that's better than the iPhone 4S, and they've done that." Damn, that's amazing.
10:29AM - "We've matched or exceeded the battery life of the iPhone 4S." Damn, 8 hours of LTE.
10:25AM - Looks like we're gonna get a Real Racing 3 demo.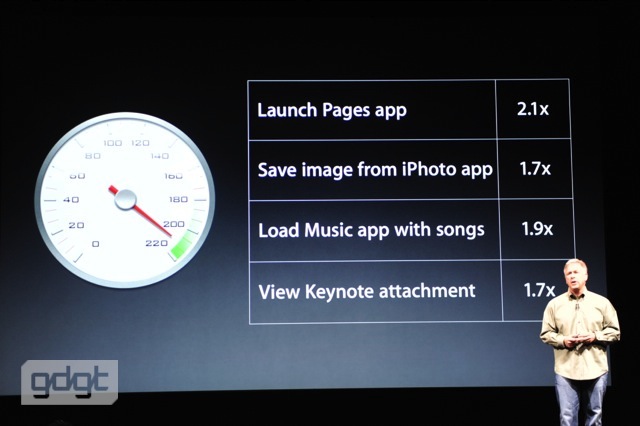 10:24AM - "What's next: the A6." 2x faster CPU, 2x faster graphics, and even smaller. Smaller's great, but what about power?
10:23AM - "We've updated every. aspect. of iPhone 5."
10:21AM - "Ultrafast wireless technology. You can imagine the challenge our team faced: thinner, smaller… but we've added HSPA+, DC-HSDPA, and yes, LTE."
10:20AM - 44% more color saturation: now fully sRGB, "it's now the most accurate display in the industry." Touch sensor is built into the display now. Damn. "It's truly the world's most advanced display, and we couldn't be prouder of it."
10:18AM - "Much more room to work and play. With 700,000 apps in the App Store, what happens to them?" Apps fit the same in the device, centered. Nice.
10:17AM - Phil's showing demos of new apps optimized for the wider screen. "All of our software is being updated as well to take advantage of these applications."
10:16AM - "It's really easy to make a new product that's bigger. That's not a challenge." Retina display, and it's taller. "The new screen on iPhone 5 is a 4-inch display. 1136×640.
10:15AM - 7.6mm thin, 18% thinner. "It's the world's thinnest smartphone."
10:15AM - It's built to the most exacting standards Apple has ever taken on. Thinnest, lightest phone Apple's ever built.
10:14AM - "It's made entirely of glass and aluminum."
"It's a jewel. It's the most beautiful product we've ever made, bar none."
10:13AM -
10:13AM - "Today, we introduce iPhone 5."
10:12AM - "Today we're taking it to the next level. Making a huge leap."
10:11AM - 90% of all apps are downloaded every month. "The average customer now is using over 100 apps.
10:10AM - "Of course, the App Store is the place for all of us. We recently crossed 700,000 apps in the store." 250k are iPad apps. That is an enormous milestone.
10:08AM - "We sold more iPads than any PC manufacturer sold of their entire PC line." What! 84 million total units sold. "This is shocking considering this is a category that didn't even exist a few years ago."
10:07AM - Last quarter: 17 million iPads sold. A record for sales of the iPad. Damn. 17 million is a LOT.
10:06AM - "For the last six years the Mac has significantly outgrown the PC!" Duh. "The iPad is driving the post-PC revolution at a breathtaking pace."
10:05AM - "Onto the Mac. We've had a very busy summer." Mountain Lion: the first with iCloud built right in. Tim's quoting effusive reviews. 7 million downloads of Mountain Lion.
10:04:35 AM PDT
10:04:34 AM PDT "We welcomed 83m visitors to our stores last year."
"We're opening in our 13th country on friday."
10:02AM - Video time, Tim's gonna show the "energy and enthusiasm of the store's opening."
10:01AM - Apple Store in Barcelona!
Retail update to start.
10:00AM - Tim is out, applause.
10:00AM - Lights are going down!
9:57:14 AM PDT
"Ladies and gentlemen, we'll begin shortly. Please switch devices to silent mode."
9:53:43 AM PDT
9:52:50 AM PDT
Some epic pop on the sound system.
9:52:29 AM PDT
And we're in our seats. And they are so so comfy.

10 minutes to go.
9:47AM - Ok! Broadcast media is being admitted, which means I'll be seated within a few minutes!
The doors are closed.Nobody is allowed to get in.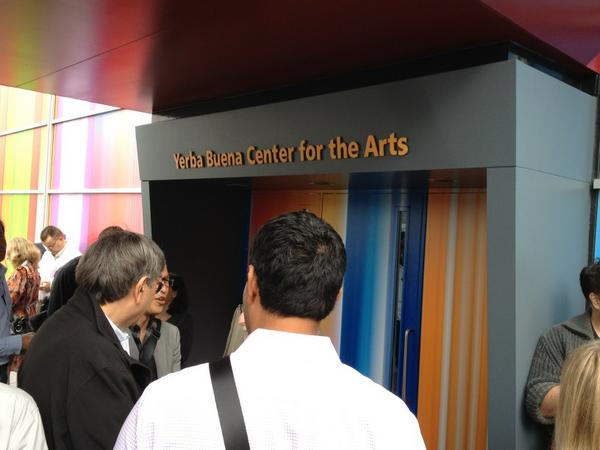 It is getting crowdy.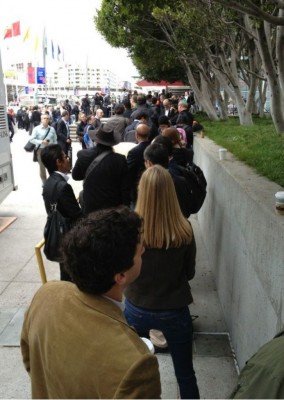 Today we will see new iPhone 5 and new iPod touches and iPod nanos.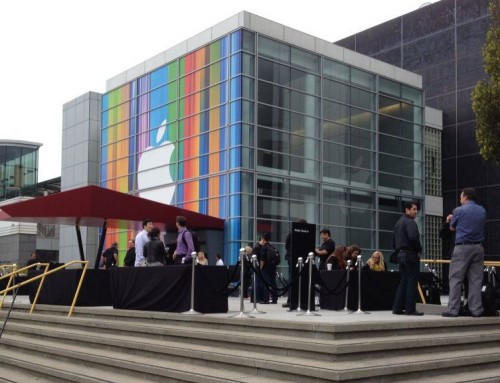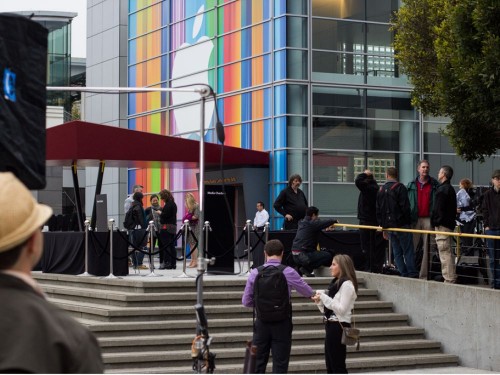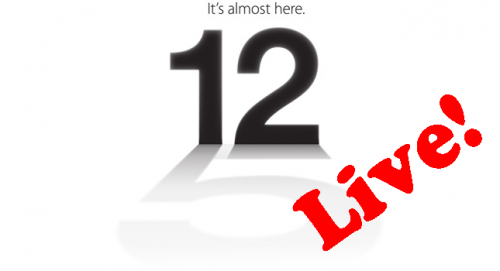 September 12 at 10:00 am PT Apple will introduce the new iPhone 5 (or whatever the new iPhone will be called). New smartphone will it be taller, thinner, unibody case. We'll find out soon enough. We're also hopeful that the iPod lineup will be getting a refresh too, and there'll be plenty of time for other surprises.
Live coverage begins Wednesday, September 12 at 9:45 am PT.