Mac Jailbreak Utility for iOS 8 - 8.1.2 Released

Good news for all the Mac users, who want to jailbreak their iPhone or iPad running iOS 8 - iOS 8.1.2. A new tool compatible with Apple's desktop operating system has been recently released. It is called PP Jailbreak and it allows to hack handsets and tablets with the latest version of iOS 8 on board. It should be noted that today's utility for jailbreak has nothing to do with TaiG Jailbreak for Windows. It is a brand new tool created by a group of independent developers.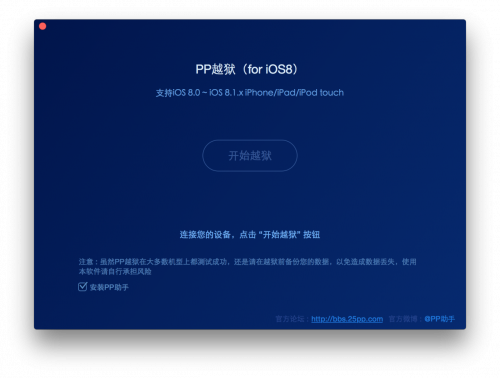 Despite the fact that PP Jailbreak is developed separately from the people behind TaiG, it uses the same exploits to hack iPhones and iPads. Still, it is currently unknown if it is safe to jailbreak your device using this utility.
From the looks of it, PP Jailbreak uses the exploits from TaiG, so we don't think any new exploits were burned. We have yet to hear anything official from respected members of the jailbreak community on the safety of PP Jailbreak, so please use the tool at your own risk. We were able to successfully jailbreak our device at iClarified and have not had any issues yet.
The new tool for jailbreak is available at link. However, I suggest to think twice before you decide to download it and hack your gadget.
[via iClarified]

Leave a comment