New iPhone 5S and iPad Mini 2 May Not Arrive Until Fall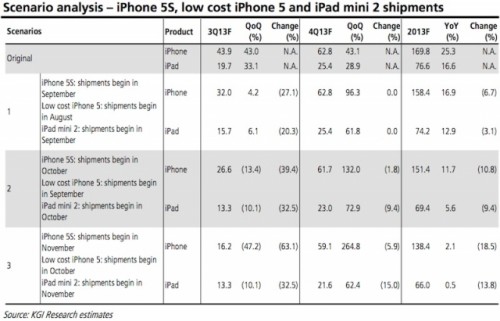 KGI Securities analyst Ming-Chi Kuo has released a new report adjusting his previous roadmap for new Apple product releases. He previously predicted that Apple would launch new iPhones and iPads in June/July. Unfortunately, that has now been pushed back significantly.
Earlier we estimated that shipments of the new iPhone would begin in July (FDD version) and September (TDD version), while iPad mini 2 would hit the market in August. Currently, market consensus for shipments of iPhone 5S, low-cost iPhone and iPad mini 2 is July, July, and August, respectively. But in light of publicly available information and our knowledge of technological trends, we now think all three products will begin shipments later than our previous expectation and market consensus.
Instead of June/July, Kuo now provides three scenarios that have the iPhone 5S shipping in September, October, or November. This would put the release of the new device right around the typical yearly schedule Apple has followed in the past.
Kuo says that issues affecting the release date for the new devices include:
Fingerprint sensor for iPhone 5S. Work on finding the right color coatings in order to prevent interference with the sensor offers a technical challenge for Apple, and software integration in iOS 7 will also require additional work.
Color coatings for lower-cost iPhone. Apple's lower-cost iPhone has been rumored to be arriving with a plastic shell in a number of different colors, and Apple's efforts to keep the shell as thin as possible will likely lead to production ramping issues for coatings and surface treatments.
iPad mini Retina display. Kuo expects the second-generation iPad mini to adopt a Retina display, and technical challenges related to its design and manufacture are likely to slow Apple's release timetable.
As a result, according to the report, Apple will not show expected 30-40% growth for Q3.
Kuo's report comes as Morgan Stanley's Katy Huberty has released her own report projecting new iPhone launches for September following an iOS 7 preview at Apple's Worldwide Developers Conference (WWDC) expected in June.

Leave a comment