Russian Apple Online Store Is Back After Several Days of Outage, Prices Are 35% Higher

I have a piece of news for Russian customers: local Apple Online Store is currently back after being inactive for a couple of days due to noticeable currency exchange variations in the country. Apple has decided to shut down the website to adjust prices for its gadgets and accessories. As a result, the worth of hardware in the store is currently 35% higher than a week ago. Well, I must admit that the increase in prices is quite noticeable.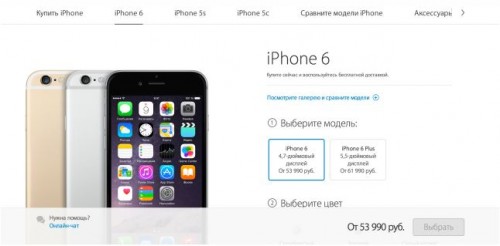 For example, last week, a base 16GB iPhone 6 model costed 34.990 Rubles. Now its price is equal to enormous 53.990 Rubles. The most expensive configuration of the iPhone 6 Plus is worth 77.990 Rubles.
Of course, Apple has not only changed the prices for its recently-released gadgets. All the models available on the Russian market are currently 35% more expensive than several days ago.
The Russian store has updated prices across Apple's range. The cheapest iPhone, the 5c, now costs 29,990 Rubles. The line now tops out at 77,990 Rubles with Apple's most expensive iPhone, the 128 GB iPhone 6 Plus. This pales in comparison to Apple's Mac line, though, with the Retina Display iMac priced at almost 200,000 Rubles.
Apart from changing the prices for smartphones, tablets and other devices, the guys from Cupertino have also changed the prices on the Russian App Store to comply with fluctuations of the exchange rate in the country.
[via 9to5Mac]

Leave a comment