Saurik Releases Cydia 1.1.10 with New Features and Bug Fixes

Good news for all those who have a jailbroken iPhone running iOS 7. According to the latest rumors, a well-known hacker nicknamed Saurik has just released Cydia 1.1.10. It can boast of a number of important improvements and bug fixes.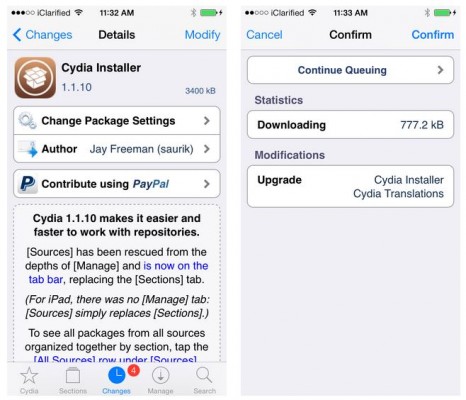 Saurik has changed the app icon, twaked the user interface, added some new languages and, of course, features. The list of enhancements is available below.
The Sources list has been placed on the Tab bar (at the bottom of the screen)
The list of installed packages has been placed on the same Tab bar (Installed section)
New languages have been added (Arabic, Chinese, Dutch, English, French, German, Greek, Hebrew, Italian, Japanese, Korean, Polish, Portuguese and Brazilian Portuguese, Russian, Spanish, Swedish, Thai, Turkish, and Vietnamese)
Bugs have been fixed
If you have Cydia installed on your device, you may update it right now. Simply open the app, and it will do everything automatically. If you open Cydia and nothing happens, go to Changes tab, tap the Upgrade button and wait for a while.

Leave a comment, read comments [2]