Creative Sound Blaster Evo Zx: new high-end modern headset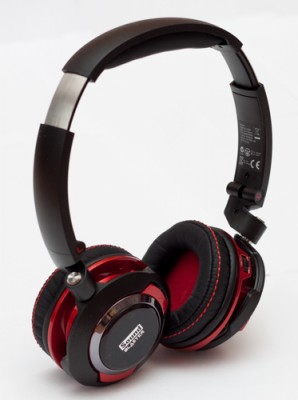 Competition between headset's manufactures increasing. Many companies try to extend product lines and integrate new functionalities in their gadgets. Today we will try to find out how modern high-tech headset must look like and sound like. Our lab received Creative Sound Blaster Evo Zx couple weeks ago.
The box has the headset, small travel pouch, Micro USB-to-USB cable for charging, 4-pole analog cable and a quick start guide. Manufacturer site positions this device as gaming headset. While SB Evo Zx indeed is great for gamers, we strongly recommend music fans to take a look at this nice headset.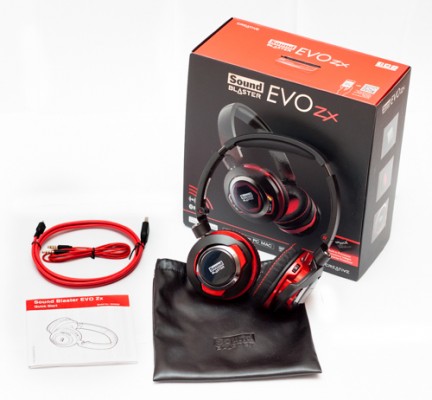 The design is fashionable and ultramodern. The quality is excellent. The headset sits comfortable and can be adjusted in several ways. The cups do fold, which is good. We find these headphones very comfortable and experienced no problems wearing them for fairly a long time. Sound Blaster Evo Zx weights just 9.55 oz (271 g) and it feels like it weights almost nothing.
The microphone is hidden in the right earcup, it's a little far from the mouth. Creative integrated new technology called CrystalVoice, that makes sure users are always heard clearly.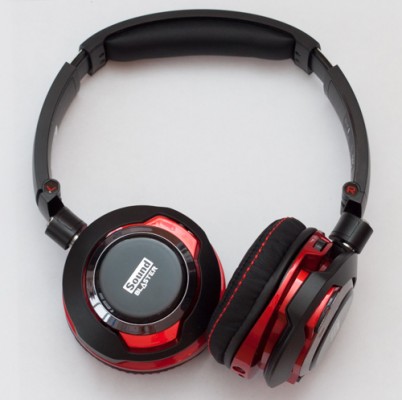 The quality of the sound is not just very good, it is awesome. Creative put SB-Axx1™ audio processor inside Sound Blaster EVO Zx headset, so vastly improved audio is delivered to ears in real-time. This processor can adjust many sound parameters to improve sound quality and sound experience. Our favorite tunings are Surround and Crystalizer.
It is very easy to start listen to the music: you need is to turn the device on and keep holding on/off button. The light goes blinking blue, which means it is ready to connect to some gadget. On the iPhone just navigate to Settings - Bluetooth, then find and select SB EVO ZX in the list of found devices. That's it. Easy! The working distance is approximately 33 ft (10 meters), which is enough to walk around the house with no need to carry your player or smartphone with you.
When you first connect Evo Zx to an iPhone or iPad, the clever headset analyzes if Sound Blaster application is installed. If it is not found you'll get a message advising you to install the software from the App Store.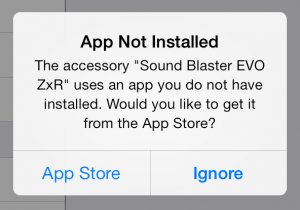 With Sound Blaster Central app you can do almost everything with the sound and tunings. The software-headset integration is wonderfull, just as expected in todays high-tech world. The only question one might ask "Why not every manufacturer does this?".
There is equalizer, user can tune surround sound, crystalizer check the headset's battery level. You can even tune your voice in real time (good for all kinds of tricks).
New CrystalVoice technology can dramatically improve voice sound quality and perform noise reduction. Our colleagues indicated sufficient quality improvement during regular phone calls.
There are four buttons and one wheel to control the headset. Using next, previous, and central play/pause buttin it is possible to control the music - stop/play, skip to the next track or play the previous one. The big main button can also be used to initiate the BlueTooth connection, as well as answer the incoming call or drop current call. Double click will call the last used contact. The wheel is used for the volume. We have found that it is much more comfortable to use wheel than regular buttons for volume. The on/off button is used to turn headset on and off, as well as to turn on/off the SBX mode (the sound processor).
By the way, users of iPad tablet and iPod Touch player can use this headset to talk via Skype and similar voip apps. With usb cable one can connect SB Evo Zx to the computer and use it as a full-functional headset.
Technical Specifcations:
General

Audio Processor:

SB-Axx1™

Headset Connector Type:

Bluetooth, 3.5mm Stereo Input, Wired USB

SBX Pro Studio:

Yes

Included Accessories

: Carrying Pouch

SB-Axx1™

: Yes

Headset

Frequency Response

: 20Hz ~ 20kHz

Sensitivity

: 102dB/mW

Impedence

: 29 ohms

Battery Life

: Up To 8 Hours

Wireless Operating Range

: Up to 10m / 33ft

Audio Drivers

: 40mm FullSpectrum

CrystalVoice:

Yes

Interface:

Bluetooth, 3.5mm Stereo Input, USB
Bluetooth® Profiles: A2DP (Wireless stereo Bluetooth), AVRCP (Bluetoothremote control), HSP (Headset profile), HFP (Handsfree Profile)

Usage While Charging

: Yes

Audio Codec:

aptX,

SBC, AAC

Near Field Communication (NFC)

: Yes

Microphone

Microphone Type:

Voice Focus Beamforming Microphone

Software & Compatibility

Included / Downloadable Software:

Sound Blaster Evo Control Panel (PC, Mac)

, Sound Blaster Central (iOS, Android)

Supported Operating Systems

: Mac OS X v10.5 and above,

Windows® 8, Windows® 7, Windows® Vista

Additional Features

USB wired Audio

: Yes

Analog 3.5mm

: Yes

Mobile Applications

App Name

: Sound Blaster Central

Supported Platforms:

iOS version 5.0 and above

, Android version 2.2 and above
Creative Sound Blaster Evo Zx is the best headset we have tested. It is quite expensive, however it is definately worth the money.
iPhoneRoot thanks Creative and Powersales International for providing Creative Sound Blaster Evo Zx review sample.

Leave a comment