Strange Apple Vehicle Spotted on Video

I've already told you about mysterious Apple vans with strange camera systems on the roof. Moreover, we've already seen images from different parts of the USA showing these vehicles on  the roads. Thanks to attentive and pretty active Internet users, we can now take a look at a short video showing a closer look at the white Apple van. As usual, the video and its description are available below.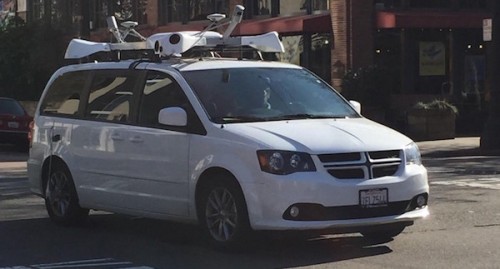 The clip was shot by AppleInsider reader Peter and this is one of the first suchlike videos, which appeared on the Internet. We can see the camera equipment on the roof, apart from that, there're at least two people sitting inside of the van. One of them is the driver and the other one is probably an Apple employee, who is responsible for the work of the equipment.
A new video obtained by AppleInsider on Monday reveals more detail on Apple's camera-equipped minivans, with views of the interior showing at least two people man the vehicles during testing operations.

[...]

Today's video is one of the first to show the van's interior while in operation, where at least one passenger can be seen interacting with a small handheld device thought to be an iPad mini.
Last week, a rumor was spotted on the Net, which suggested that Apple was working on its own self-driving electric car codenamed Titan. Strange vans with complicated camera systems on the roof may be somehow related to this project as well.
[via AppleInsider]

Leave a comment