News tagged '1Password'

11:54:47 AM PDT
Thanks again! You guys are the best.

Leave a comment

Agile Web Solutions is offering 1Password Pro free until December 1st for iPhone and iPod touch users.
1Password will securely store your important information and can automatically log you into websites with a single tap. There's no need to remember the username, password, or even the website address.
1Password Pro is normally $7.99 and can be installed from the AppStore (link).
Feature List:
(pro) Special easy switching mode allows you to quickly copy-and-paste usernames and passwords to Mobile Safari.
(pro) Support for copying multiple field values (for example, both username and password) from 1Password to Mobile Safari.
(pro) Folders for better organization (in this version a desktop application required - sold separately)
(pro) Features coming soon: Favorites, MobileMe/WebDAV syncing, and more.
Securely store your website names and passwords so you never forget them again
Save important information like credit cards and membership numbers
Jot down other notes too sensitive for stickies or bar napkins
Synchronize it all with 1Password for Mac via Wi-Fi (sold separately, available at http://1password.com)
Automatically log into Web sites on iPhone and iPod touch to avoid remembering and typing usernames and passwords
Hardware-accelerated AES encryption and Auto-Lock keep your data protected even if your iPhone is lost or stolen
All cryptographic operations are performed using standard iPhone libraries to ensure there are no security gaps or backdoors
Two-layer defense with Unlock Code and Master Password to combine security and convenience
Data Backup & Restore option available on Mac, Windows and Linux.

Leave a comment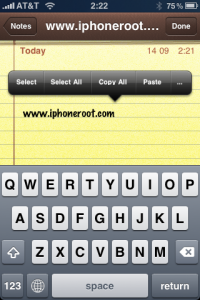 Action Menu, utility that extends traditional Copy / Paste functionality, is updated to version 1.0.1.
Here is an official changelog:
No longer allow copying secure text fields
Add option to disable extended menu support
Support for launching Birdfeed via the Tweet action
Remember language in Translate service
Allow carriage returns in Lookup (for supported services)
Option to sort Favorites alphabetically
Translations now work (Italian, German, Japanese, French)
Additional Support for more apps
Fix for Facebook crash
Fix for copying song or album name in iPod app
Fix biteSMS-button related crashes
Fix crash when Lookup action is used inside SpringBoard
Fix Copy All breaking copy in the Photos app
Fix crash in iTunes password dialog
Fix for freeze in Fast Notes
Fix annoying popup on Wifi network/ringtone cells in Preferences
Revert 1Password to value-only copying
Prevent Safari freeze when invoking inside a window.prompt (temporary fix)
Action Menu can be installed or updated via Cydia on a jailbreaked iPhone (iPod Touch).

Leave a comment