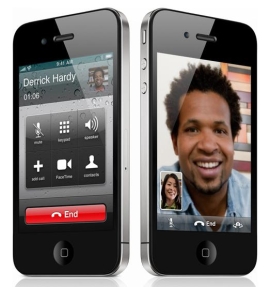 Some FaceTime users have complained of strange glitch with Apple's FaceTime platform. iPhone users report that they are seeing photos of themselves that they had never taken on FaceTime when they are trying to video call to another user.
"When one of us is calling the other via FaceTime, an old picture freezes on our screen, while the person receiving the call only sees a black screen," a person using the name "kar0786" wrote on Apple's discussion forums. "It's kind of creepy, because it brought up photos of both of us at work, where I have used FaceTime a few times but he never has."
Apple support advised these users to return factory settings but it didn't work. One of the users continued experiencing the problem even when Apple had replaced the device with the new one.

Leave a comment, read comments [1]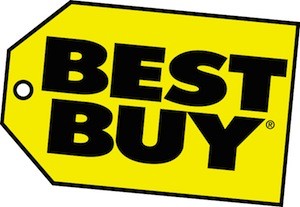 CrunchGear reports that Apple may freeze sales of the iPad 2 through Best Buy.
A reader who works at Best Buy just told us that there's been a bit of a misunderstanding between the electronics retailer and Apple. Apparently, Best Buy was holding off on selling the iPad 2s it had in stock, telling customers there weren't any when in fact they had just reached their quota of sales for the day.
It's rumored that Apple's Tim Cook took a hand to this chicanery, and Apple isn't happy about it at all.

Leave a comment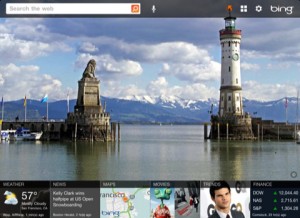 Microsoft released its first application for tablets, Bing for iPad that is now available on the US App Store. It looks really beautiful on the iPad large screen. The first thing you'll notice in the application is the daily image. The application gives you information about Weather, News, Movies  and more. Like the iPhone app it features a Voice Search alongside with the search by text and Bing Maps that let you search for address or business. The iPad app is curiously only available in the US iTunes App Store which is certainly odd considering the web version does have international editions, that even have a different daily picture.

Leave a comment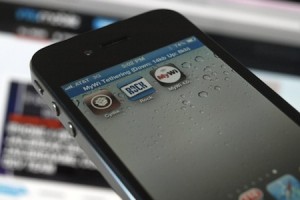 It seems that jailbreaking of iOS devices become a really profitable business, at least for Kevin Lee, a George Mason University senior, who managed to earn $50,000 a year by jailbreaking and unlocking iPhones. At first, it was a hobby for him that eventually grew into a real business with 30-40 clients per week asking for jailbreak, Cydia installations, graphical customizations and "unlocks" to use the iPhone on wireless carriers otherwise unsupported by Apple.  To achieve success, Kevin posted posting a "Get Your iPhone Jailbroken Today" ad on the popular online community. That helped him to get hundreds of requests. But his business goes against Apple's rules and as far as we know, at that moment his ad was already removed from the site.

Leave a comment

StorageNewsletter.com reports that Apple has placed a order for about 12 petabytes of storage from Isilon Systems. According to an inside source, the company will use this storage to support iTunes video downloaded by its customers. This order will make Apple the largest Isilon's customer.
A petabyte of data is a huge amount of data; it's 1024 terabytes. Consumer hard drives nowadays top out at 3 TB. If you tried to store a petabyte of data on dual-layer Blu-ray discs (50 GB each), it would take almost 21,000 discs to fit it all... and Apple just bought 12 of those. It'll be interesting to see what they do with all of that storage

Leave a comment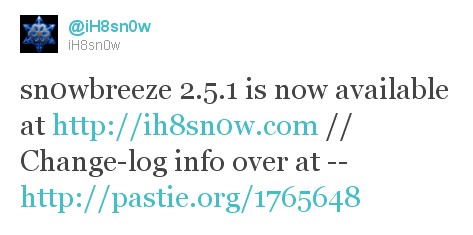 iH8sn0w updated their iOS 4.3.1 untethered jailbreak utility - released Sn0wBreeze 2.5.1.
They have added
Apple TV 2G support,
Cydia 1.1.1,
ability to use 06.15 baseband for iPhone 3GS,
afc2 (to use ifunbox and iphone explorer)
fixed some bugs
Sn0wBreeze is used to create custom firmwares with jailbreak and preserve iPhone baseband. It is available for Windows only.
You can download Sn0wBreeze 2.5.1 here.
Here' official changelog.

Leave a comment, read comments [2]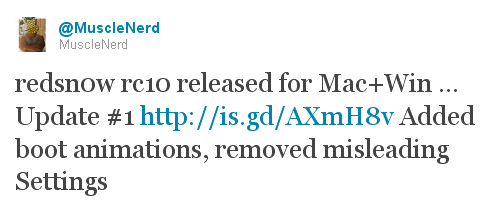 DevTeam released a new version of RedSn0w 0.9.6 rc10. Short after that they released a fix for that - RedSn0w 0.9.6 rc11.
DevTeam have added boot animation logo, removed some unnecessary settings, and fixed some bugs.
Everything else is the same - untethered jailbreak for iOS 4.3.1 for all devices and both Windows and Mac OS X users.
You can download the latest RedSn0w here.

Leave a comment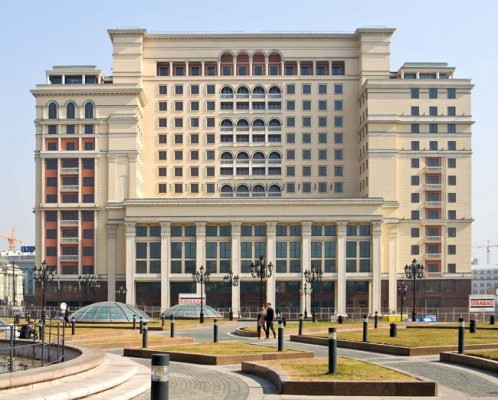 It seems that Apple is planning to open its first Apple Store in the Russian Federation late 2011 or early 2012. IfoAppleStore.com claims that Apple's top retail brass flew to Moscow to negotiate a lease in the reconstructed Hotel Moskva (see pictures bellow) that locates close to  Red Square, the Kremlin and other landmarks in the city.
Senior vice president of retail Ron Johnson and vice president of real estate Bob Bridger visited Moscow at the end of March and toured the three-level retail space in the future Four Seasons Hotel. The two were seen examining a 16,000 square-foot, two-level space as a possible Apple store. At the time, no lease had been signed, but a decision could be made soon, sources say.

Leave a comment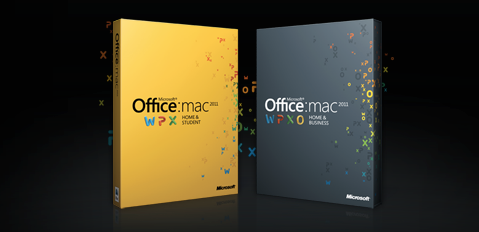 Microsoft is reportedly preparing to release Office for Mac 2011 Service Pack 1 in next week. This major update will bring a number of fixes, some stability and security improvements plus some feature additions. Performance is also receiving a boost in the update. But the most significant new features are said to come in Outlook, including support for syncing calendars to iOS devices via Sync Services.
The update will enable calendar syncing between Outlook for Mac and Apple's Sync Services. This means you can now sync your Outlook calendars, as well as your contacts, notes and tasks with any service or device that supports Sync Services.

Leave a comment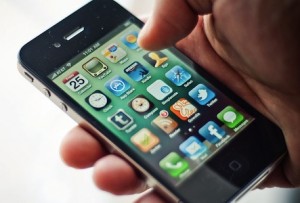 Federal prosecutors in New Jersey have started investigation concerning the issue with illegal obtaining and transmitting data from users their consent or knowledge through various smartphone applications. The prosecutors are investigating whether various applications on smartphones such as the iPhone and various Android phones are not notifying users what data is being collected and why such data is required by the application. As far as we know, in the United States it's prohibited for IT companies to collect any information about user without notice. The Wall Street Journal tested 101 applications and discovered that 56 of those transmitted the unique identification number for the device without letting users know, 47 transmitted the phones location and 5 sent a users age, gender and other personal information.

Leave a comment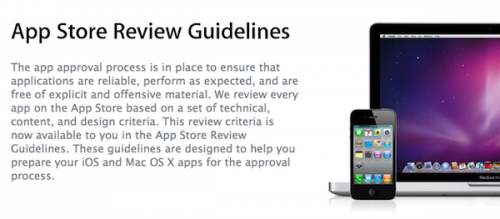 A couple days ago Apple released its own application for showcasing the best iAd advertisements. Noteworthy that iAd Gallery have already caused debates on the Internet about it features set that is rather limited. The Gallery only lets users to browse different iAd campaigns. Simply said, it's a free iAd collection for iPhone. Dan Frommer at Silicon Alley Insider noted that iAd Gallery may be violating Apple's own guidelines for iOS apps and should have been rejected by Apple itself. In the 2.13 section of the guidelines, the company explains:
Apps that are primarily marketing materials or advertisements will be rejected.
iAd Gallery indeed is based on marketing materials. The truth is, of course Apple won't reject its own app even if it violates one of the Guidelines.

Leave a comment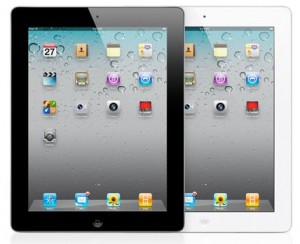 The new numbers saying how many iPad 2 units Apple received from its suppliers in March were recently revealed.  A report claims that Apple received between 2.4 million and 2.6 million of the iPad 2 units in March. Given regular stock-outs of the iPad 2 in March, Apple presumably sold through the entirety of shipments it received. That would mean Apple sold at least 2.4 million units in March. Moreover suppliers noted that sales of the iPad 2 are running faster than the first-generation device. For comparison, the first-generation iPad took 28 days to reach its first million sales. Apple has been silent about sales of the iPad 2 since the device launched in the United States early last month.

Leave a comment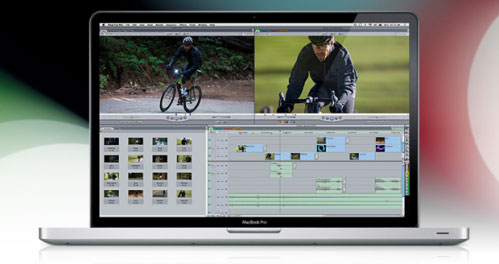 Apple is rumored to announce the new Final Cut Pro on April 12th during the 10th annual SuperMeet. Canon, Avid, and Autodesk will not be presenting on the event. In January Hardmac proposed that Apple was testing a beta version of Final Cut Pro, and that it was slated for a late March or early April release date. Moreover Final Cut author Larry Jordan  writes on his blog:
I've Seen The New Version of Final Cut Pro… and it's a jaw-dropper. Last week, Apple invited a few folks, including me, to a short meeting in Cupertino where they previewed the up-coming version of Final Cut Pro. While I am under NDA and can't talk about what I saw, I CAN tell you the meeting happened and that it showcased the new Final Cut Pro.

Leave a comment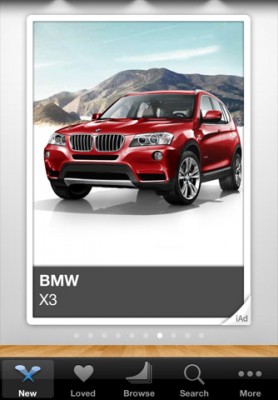 Yesterday Apple launched its new iPhone application, iAd Gallery, for showcasing the best iAd campaigns on iOS. The application consists of several iAds for iPhone, you can browse by advertiser, category or ad feature.
The iAd Gallery is a celebration of advertising, featuring iAd campaigns from some of the world's best brands and their advertising agencies. The iAd Gallery gives you easy access to a selection of the fun and informative ads that have run in some of your favorite apps. Use the Browse feature to discover ads you haven't seen, or to find those you want to see again. Even lets you tag your favorites to a Loved section that's all your own.

Leave a comment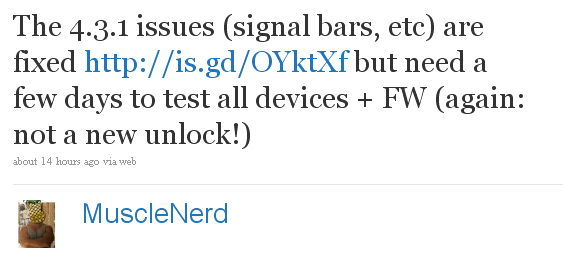 The iPhone Dev-Team has recently announced that they've managed to fix UltraSn0w issues with iOS 4.3.1. They still want to test it on various devices before releasing.
This update is for those who are on an unlockable baseband. For users who used PwnageTool 4.3 or Sn0wBreeze 2.5 to update iPhone firmware. This will not add any new basebands to unlockable list.
Ultrasn0w supports the following basebands:
iPhone 4: 01.59.00
iPhone 3G/3GS: 04.26.08, 05.11.07, 05.12.01, 05.13.04, 06.15.00.
MuscleNerd tweet:

Leave a comment, read comments [10]