Apple I, a computer that back in the 1970′s was sold by Steve Jobs and Steve Wozniak in Jobs' garage at $666.66, and was the first machine to come with 8K of RAM, was bought by Italian entrepreneur Marco Boglione, a long-time Apple user and fan who spent €150,000 to buy the #82 copy of the original Apple I. The item includes the original motherboard, manual and a letter from Steve Jobs, but no screen or keyboard.

Leave a comment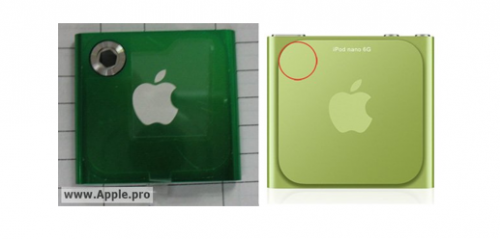 Taiwanese website Apple.pro posted a photo of what they claim to be a seventh generation iPod nano featuring a 1.3 megapixel rear camera. The photo again clearly shows the camera hole, although there is obviously no camera module included with the case. Interestingly, the new photo shows no clip attached to the rear of the case, with the Apple logo appearing directly on the case itself. Today's photo seems to confirm previous speculation that, in order to make room for the camera, Apple would have to ditch the clip entirely, although it doesn't make much sense considering Apple has been heavily touting the iPod nano as a sport accessory that can be worn on the outside of the user's clothing for quick access to device functions.

Leave a comment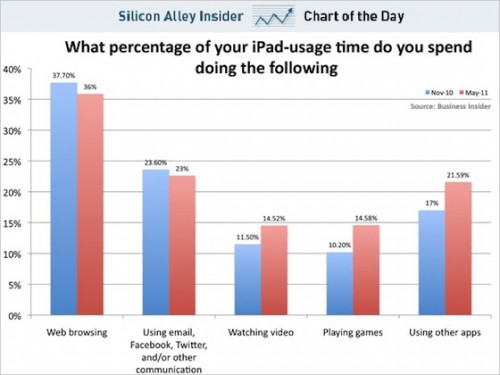 Silicon Alley Insider has posted a chart showing the comparative results of reported iPad usage from November 2010 to the current month of May 2011. Since November, Apple has sold well over 10 million iPads, so it's interesting to see how behavior with the iPad is changing.

Leave a comment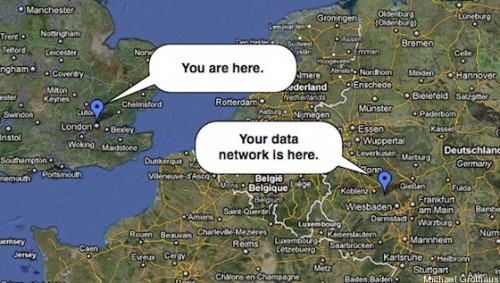 The mobile analytics firm Localytics' study shows that 15 percent of applications for mobile devices are launched while a phone is offline. The firm analyzed data sent to their servers by apps that integrate Localytics's framework in their code and comparing the app's launch time with the delay in receiving the data (Localytics works in real time), the firm came to the conclusion 15% of apps are opened while a device can't connect to the Internet.

Leave a comment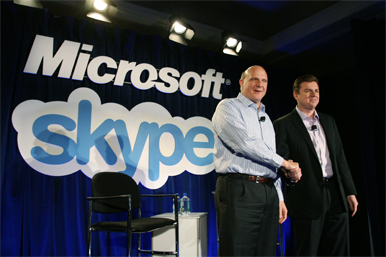 By now everyone seems to know that Microsoft has acquired online communication giant Skype for a huge 8.5 billion dollars. Mac and iOS users immediately questioned the acquisition as a way for Microsoft to turn Skype into an exclusive service for Windows Live-connected devices and other Microsoft products such as the Xbox, Windows 7 and the new Windows Phone 7 OS. Steve Ballmer, however, was quick to reassure everyone that Skype will continue working on the Mac, iOS and all the other platforms it currently runs on (including RIM's BlackBerry and Symbian). Microsoft, of course, takes Apple as one of the major rivals, though it has a full version of Office 2011 available for Macs, and many apps for iPhones and iPads. The question, however, is whether Skype will ever release a native iPad app as promised last year, and if the new owner will also bring some welcome interface changes to the Mac app.

Leave a comment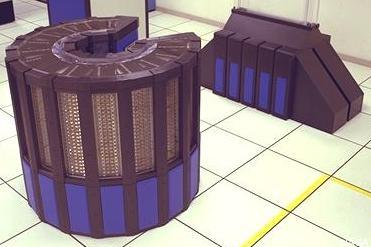 Dr. Jack Dongarra, who teaches at the University of Tennessee, is the keeper of the Top 500 list of the fastest supercomputers and also one of the authors of the Linpack computing benchmark, introduced way back in 1979. Dongarra's group decided to check performance iPad 2 having ported Linpack on the device. Tests on the iPad 2 have so far only been run on a single core of the A5 processor, but Dongarra estimates that a dual-core Linpack run will yield performance of between 1.5 and 1.65 gigaflops -- that's up to 1.65 billion floating-point operations per second. That raw performance means that the iPad 2 would have remained on the list of the world's speediest supercomputers until about 1994. The iPad 2, of course, is a 21st century device, but it is amazing that the single-processor iPad 2 has results of the four-processor version of the Cray 2 supercomputer (pictured). Perhaps, in 20 years or less, the power of modern supercomputers could be n an iPhone.

Leave a comment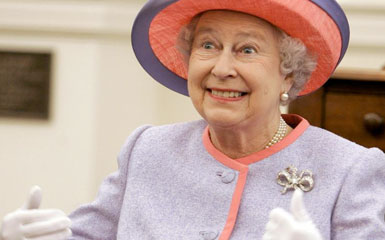 The Queen Elizabeth II asked her staff to buy her an iPad. She saw the device then the newly married Prince Will and his brother Prince Harry showed off theirs to her on a recent gathering at Buckingham Palace. The Queen of England was impressed "how easy it was to use, the large screen and how light it was".
The Queen has a mobile phone as well as the iPods, so an iPad is the logical progression. She thinks it will be great to keep her entertained on all the long trips she has to make.

Leave a comment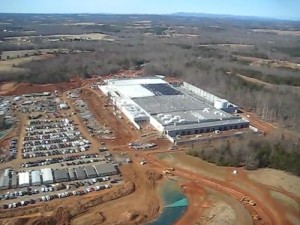 Last week we reported that Apple is in talks with voice recognition firm Nuance Communications. The scope of the deal is some sort partnership linked to rumors that Apple is integrating significant voice capabilities into iOS 5. As was reported previously, Nuance is a leader in voice recognition technology and holds a number of key patents in the field. TechCrunch now reports that the deal relates to utilizing Nuance's technology in Apple's new North Carolina data center to drive centrally-hosted voice services. The partnership is said to likely be introduced at Apple's Worldwide Developers Conference (WWDC) early next month.

Leave a comment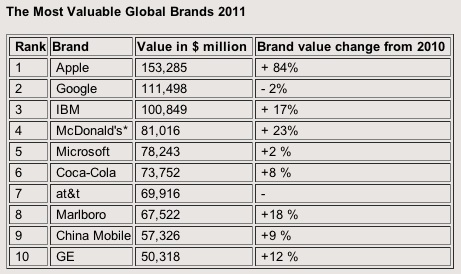 Marketing and advertising group WPP conducted its annual study of global brands and placed Apple at the top of the list of the most valuable brands for the first time. Brand values are calculated using an analysis of financial and market data alongside reports from analysts and surveys of over two million consumers around the globe. Apple checks in with a brand value of over $153 billion, up 84% over last year and well ahead of second-place Google, which had topped the survey for the previous four years, at $111 billion.

Leave a comment


Apple reported surprisingly low iPad shipments of only 4.69 million units for the first quarter. DigiTimes reports that the last quarter iPad 2 shortages were caused by production issues with displays and built-in speaker of the device. LG Display was one of the primary sources of iPad supply issues, experiencing problems with light leakage on displays produced by its manufacturing lines that scaled back shipments. The issue is said to have been resolved.
. . .Samsung Electronics shipped a total of four million 9.7-inch panels for iPads in the first quarter, outpacing rival LG Display (LGD) as the largest tablet PC panel supplier for Apple, the sources indicated. LGD's iPad panel shipments reached only 3.2 million units in the first quarter.

LGD was forced to reduce its shipments in the first quarter due to light leakage problem for panels produced at its 6G production lines. The company reportedly has fixed the problem and will resume shipment momentum to Apple in the second quarter, said the sources.

Leave a comment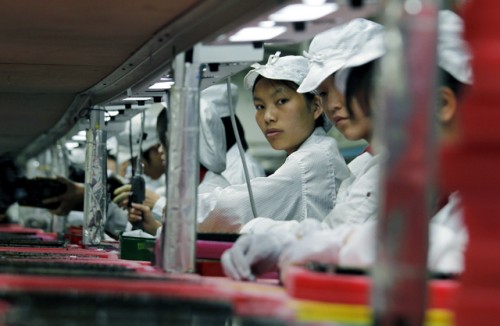 Harsh working conditions at the Foxconn factory in Shenzhen, China, have long been the center of attention. A recent investigation at the Foxconn factory revealed that employee overtime was excessively above the legal limit of 36 hours per month. One employee payslip showed 98 hours of overtime in just one month. Workers are banned from talking to their colleagues and must stand for the duration of their 12 hour shifts.

Leave a comment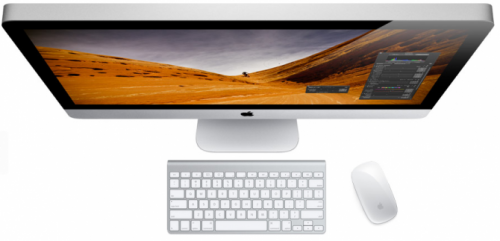 HardMac reports that  that the latest iMac family released this week support up to 450 Mbit/sec Wi-Fi. Apple first brought the 450Mbps WiFi features in the 2011 MacBook Pro family, but they haven't been actively advertising it. Apple changed their Airport card and also installed 3 antennas (instead of 2 before), something indispensable to be able simultaneously to use 3 channels of 150 Mbits/s. Each antenna is capable of a data rate of 150 Mbit/sec. Combined, the three antennas achieve the 450 Mbit/sec speeds using the multiple-input/multiple-output (MIMO) wireless standard.
As noted by AppleInsider, the newest iMacs and MacBook Pros must be running a developer build of Lion to take advantage of the 450 Mbit/sec speeds. And MacRumors notes that in order to actually take advantage of the 450 Mbit/sec speed, you'll need to have a compatible wireless router, such as the latest AirPort Extreme or TimeCapsule.

Leave a comment


Apple continues to hold second place among the world's top smartphone manufacturers with 18.7% market behind Nokia, with unit sales up 114% year-over-year. Although market-leader Nokia's smartphone share declines, Apple's share is rising by three percentage from the year-ago quarter.
Apple reached a new record shipment volume in a single quarter, and inched closer to market leader Nokia with fewer than six million units separating the two companies. The company posted market-beating year-over-year growth and recorded triple-digit growth in two key markets: the United States, with the release of its CDMA-enabled iPhone, and Greater China. Additionally, the company enlisted South Korean Telecom and Saudi Telecom as carrier providers of the iPhone.

Leave a comment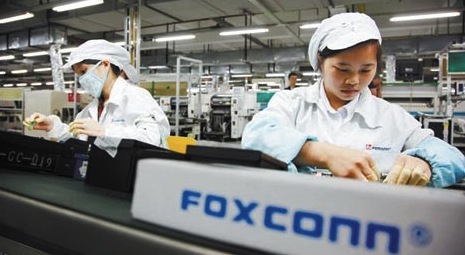 Last month, we reported that Foxconn plans to invest $12 billion to start producing and assembling mobile devices in Brazil throughout the next five years, including Apple's iPad — currently assembled by Foxconn in its Asian facilities. Whilst the original reports claimed Foxconn was planning to start building iPads in Brazil this November, Reuters reports today the company has moved the estimated date to July.  Reuters also reports Foxconn will initially import components from Asia to assemble devices in Brazil, shifting the manufacturing chain to local production in the next few years.

Leave a comment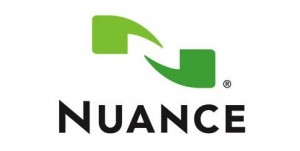 Apple is rumored to be negotiating with Nuance Communications, the speech recognition company behind the Dragon NaturallySpeaking engine that powers a number of popular applications for Mac OS X, iOS, and other platforms.
Apple has been negotiating a deal with Nuance in recent months, we've heard from multiple sources. What does that mean? Well, it could mean an acquisition, but that is looking fairly unlikely at this point, we hear. More likely, it means a partnership that will be vital to both companies and could shape the future of iOS.

Leave a comment