According to Bloomberg's report, HP is interested in licensing its mobile operating system webOS to other companies, which may open the door for yet another competitor in the tablet and smartphone market.
"We are talking to a number of companies," Apotheker, president of the company, stated in Beijing, refusing to give more details."I can share with you that a number of companies have expressed interest. We are continuing our conversations."

Leave a comment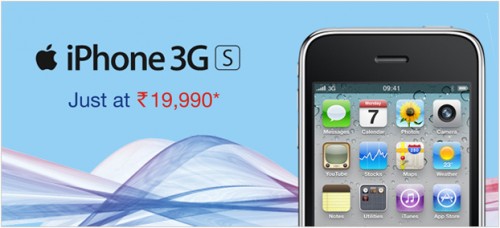 On May 27 the iPhone 4 was officially put on the market of India with the price starting at 34,500 Indian rupees (around $760) for version of 16 GB with a two-year service agreement. But the price for iPhone as high as $760 (which the government is not satisfied with) makes the iconic item out of reach for the 41.6 percent of the India's population that lives below the poverty line of $1.25 a day.

Leave a comment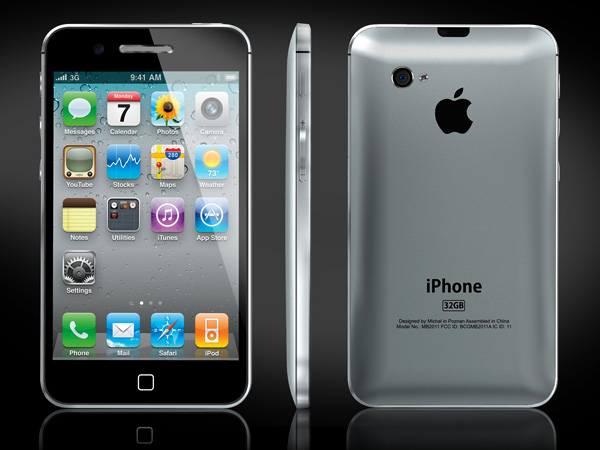 Michal Bonikowski recently created one of the best iPhone 5 conceps we have ever seen. Photos talk for themselves. Take a look:

Leave a comment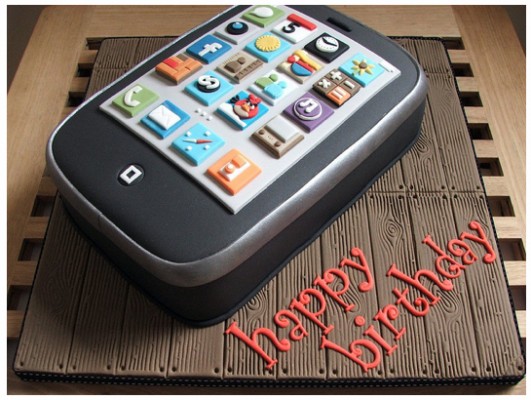 On January 9th 2007 Steve Jobs presented the first ever Apple iPhone to the world. The Apple CEO started off the epic keynote by saying the famous lines, "This is a day, I've been looking forward to for 2 and a half years. Every once in a while, a revolutionary product comes along that changes everything…".
The iPhone launched on June 29, 2007. In its 4 years of existence, the device has changed a lot, starting from iPhone 2G, iPhone 3G and iPhone 3GS and now it is iPhone 4. All these devices were truly revolutionary.
2011 has been an interesting year for the iPhone. In February Apple introduced the Verizon iPhone, ending AT&T 3 year exclusiveness in the US. In April we finally saw the white iPhone 4.
Apple sold close to 20 million iPhones last quarter and the rate is still quite amazing. The company is expected to sell 100 million units of its next-generation iPhone that will be probably released this fall.
Apple indeed "reinvented the phone". The iPhone completely redefined how a "smartphone" should look and act.

Leave a comment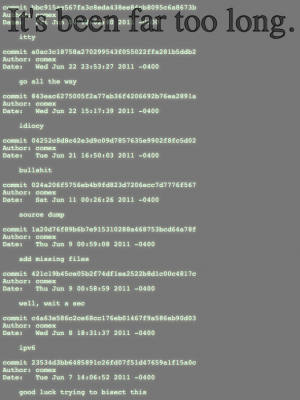 Hacker Comex has updated JailbreakMe.com site, which might mean that much anticipated iPad 2 jailbreak is on its way.
The website features a list of git commits dating all the way back to August 2010. It looks like Comex has been working on the jailbreak for one year. He didn't specify any dates. We will keep you updated.

Leave a comment

Leave a comment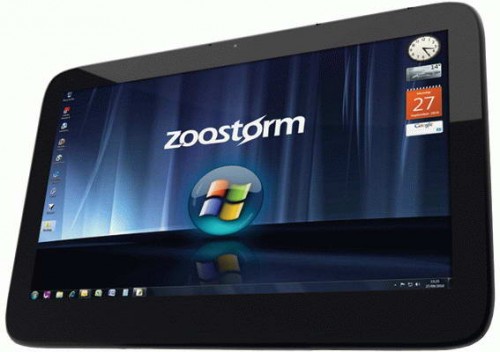 After Microsoft less than a year ago managed to catch up with Apple's three year leading position and released up-to-date, multi-touch operating system in Windows Phone 7, it needs to do it again.

Leave a comment


The Next Web reports that Apple has started to issue refunds to App Store customers for Final Cut Pro X, Motion, or Compressor after a wave of criticism from professionals due to absent of many "pro" functionalities of the previous version.  One of the customers posted the e-mail demonstrating how Apple is dealing with these problems:
Moving forward, I understand that you are not satisfied with the app "Final Cut Pro". I can certainly appreciate you would like a refund, and I would be more than happy to help you out with this today. In five to seven business days, a credit of £179.99 should be posted to the credit card that appears on the receipt for that purchase.

Please note that this is a one time exception because the iTunes Terms and Conditions state that all sales are final.

Leave a comment

According to Business Insider analyst Chris Whitmore reports that Apple plans to release not only the iPhone 5 this fall, but they will also release a cheaper version of the iPhone, the iPhone 4S.
This means that Apple will release a minor update to the iPhone 4, the iPhone 4S, as well as a major update called the iPhone 5.
"With Nokia and RIMM struggling," he writes, "the time is right for Apple to aggressively penetrate the mid range smart-phone market (i.e. $300-500 category) to dramatically expand its [total addressable market] and market share."

As Whitmore sees it, an iPhone 4S that is unlocked, priced around $349, and comes with a pre-paid voice plan would "drive significantly greater penetration" into an addressable market that has grown to include 1.5 billion potential customers in 98 countries, two thirds of whom prefer pre-paid plans.
The rumors about cheaper iPhone have been reports floating around for a long time. It's a pity that Whitmore only offers us his prediction without any evidence or inside knowledge.
Here is a summary of what we have in mind right now:
iPhone 5:
4" screen
new design
dual core
8MP camera
possible dual LED and/or dual camera
64GB
1080p video
iPhone 4S:
3.5"
old design
single core
5MP camera
4GB Storage
720p video

Leave a comment, read comments [2]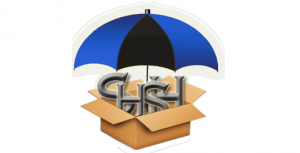 Apple does not allow users to install iOS version that is older than the latest released version. There is a workaround for this restriction. Users who have saved SHSH blobs using Cydia or TinyUmbrella for particular iOS version and particular iDevice  can restore to this iOS.
According to the iPhone Dev-Team, Apple is now making this process much more difficult with iOS 5. This means that current process will not work with iOS 5. But users who saved 4.x SHSH keys will be able to restore to 4.x.

Leave a comment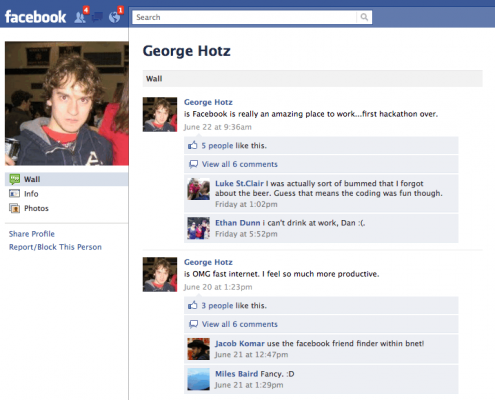 Geohot is famous iPhone and Sony Playstation hacker, the creator of blackra1n and limerain jailbreak methods, as well as blacksn0w unlock. Now he works at Facebook.
Joshua Hill (P0sixninja) recently mentioned this fact in an interview.
Geohot started working at Facebook in May and actually announced it on his Facebook account on June 17th:
"Facebook is really an amazing place to work...first hackathon over."
This means that we should not expect any new iPhone jailbreak and unlock utils from him.

Leave a comment

Here is an interesting QA session with famous iPhone hacker and jailbreaker p0sixninja. Scroll down to 43th minute to watch:

Leave a comment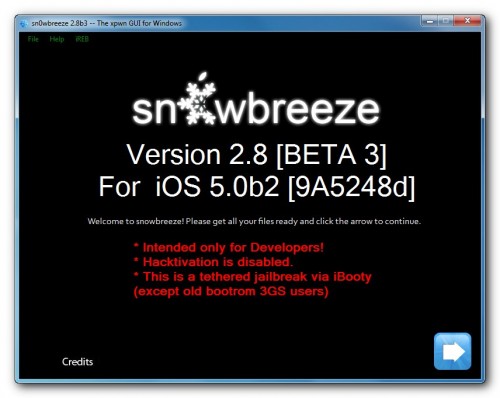 iH8Sn0w has released a new version of Sn0wBreeze 2.8 b3 with iOS 5.0b2 jailbreak support. Sn0wBreeze is a so-called PwnageTool for Windows, an application that creates a custom ipsw with jailbreak preserving old baseband.
The jailbreak is tethered for iPhone 4, iPhone 3GS (new bootrom), iPad, iPod Touch 3G and iPod Touch 4G. Jailbreak is untethered for iPhone 3GS with old bootrom.
You can download Sn0wBreeze 2.8 b3 here.
sn0wbreeze v2.8 BETA 3 Release Notes:

Read the rest of this entry »

Leave a comment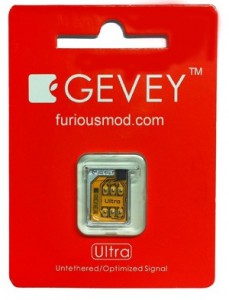 Apple has blocked the ability to unlock the iPhone 4 using the Gevey SIM in recently released iOS 5.0 beta 2 firmware. MuscleNerd tweeted:
it's surprising Apple closed Gevey interposer hole in b2 rather than waiting until final (maybe they were under pressure)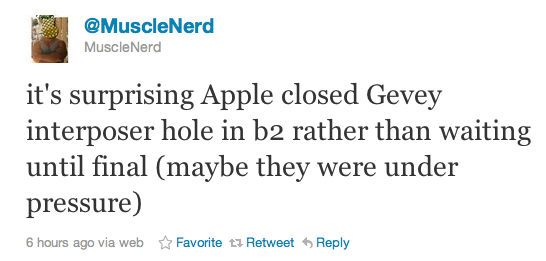 Gevey SIM was the only unlock for iPhone 4 users with basebands higher than 01.59. It uses the emergency dialer to force activate the locked baseband. MuscleNerd notes that its unlikely Gevey will try to battle Apple while iOS 5 is in the beta period.

Leave a comment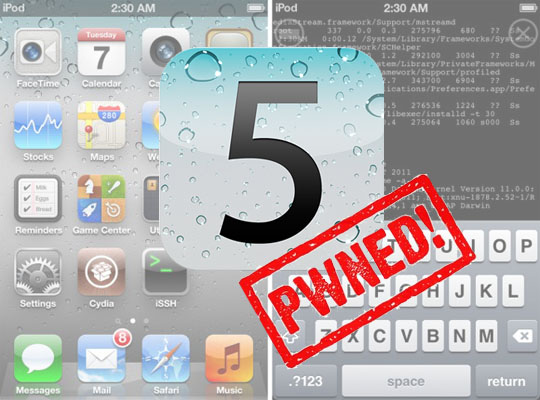 DevTeam hacker MuscleNerd has recently confirmed that the RedSn0w 0.9.8 b1 jailbreak works on iOS 5 Beta 2. All you have to do is to point it to a downloaded iOS 5 beta 1 firmware ipsw.
5.0b2 can be jailbroken w/redsn0w from 2 wks ago http://is.gd/6eek4Y (must point redsn0w at 5.0b1 IPSW)..devs ONLY please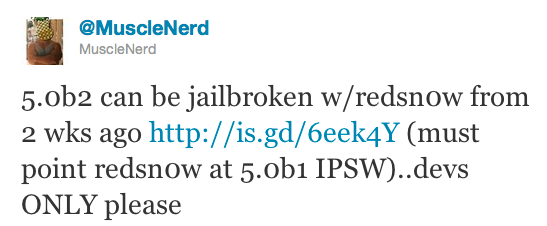 This jailbreak works on all devices, exect iPad 2. This means you can get a tethered jailbreak on Windows and Mac OS for iPhone 3GS, iPhone 4, iPod Touch 3G, iPod Touch 4G and iPad.
You can download RedSn0w 0.9.8 b1 for Windows and Mac OS here.

Leave a comment