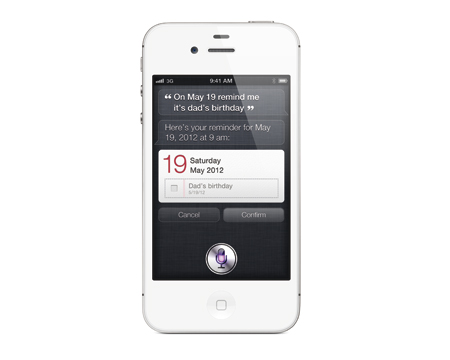 Investment bank UBS issued a note to investors where it suggested that Apple would sell about 42.5 million iPhones worldwide in this quarter. But they expect that international adoption of Apple's newest handset could be slow when compared to the U.S. This might be caused the fact that Siri, the 4S-exclusive voice-recognition feature, only supports English, French and German. So in the United States sales of iPhone 4S is likely to top 11.7 million in the upcoming quarter.
"If Apple is able to manufacture and sell the estimated 42.5 million units, earnings per share of the company's stock would drive an incremental $3.09 to the estimated $9.47 for the December quarter."
Both AT&T and Verizon confirm that the iPhone 4S release slowed sales, causing the company to miss analysts' expectations for the last quarter of the 2011 fiscal year. But despite that fact the bank gives Apple a 12 month buy rating with a price target of $510.

Leave a comment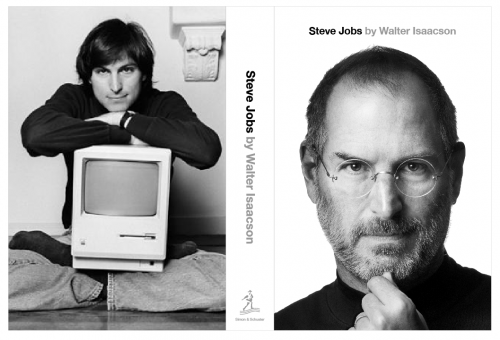 The Steve Jobs biography as it was promised have been released today and is available now in all regions. You may download the book on Apple's iBooks or purchase via Amazon.com. The book is an authorized biography of Steve Jobs by Walter Isaacson. Steve Jobs, himself, reached out to Isaacson to suggest the author write a biography on Jobs. Due to the unprecedented level of candor Jobs extended to Isaacson, the book has already made plenty of waves ahead of its public release, which was moved up to Oct. 24 after Jobs passed away on October 5th. Isaacson had asked Jobs prior to his passing why he had agreed to participate:
In order to mask my emotion, I asked the one question that was still puzzling me: Why had he been so eager, during close to 50 interviews and conversations over the course of two years, to open up so much for a book when he was usually so private? "I wanted my kids to know me," he said. "I wasn't always there for them, and I wanted them to know why and to understand what I did."

Leave a comment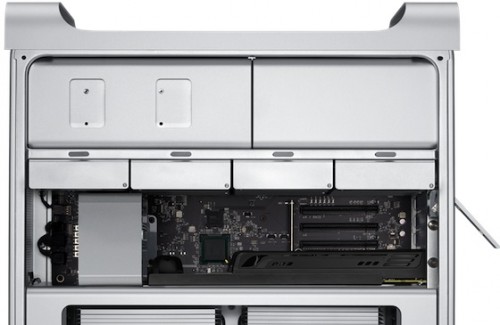 Mac Pro users have been long awaiting updated models from Apple, but their hopes seem not to come true this year. In early September Intel reported that it was planning to launch new Sandy Bridge E processors and their Xeon E5 equivalents suitable for the Mac Pro on November 15th. But now the company has postponed release of its chips to early 2012, having dashed hopes for an updated Mac Pro.
In September, during Intel Developer Forum event in San Francisco, new information came to light implying that Xeon E5 launch is postponed until the first quarter 2012. Indeed, according to the latest Intel roadmaps, all Xeon E5 processors are going to be delayed by one quarter.
Apple will likely to adapt the Xeon E5-2600 series processors (likely, the E5-2620, E5-2650 and E5-2670) in the next Mac Pros, offering options of 12 or 16 cores.

Leave a comment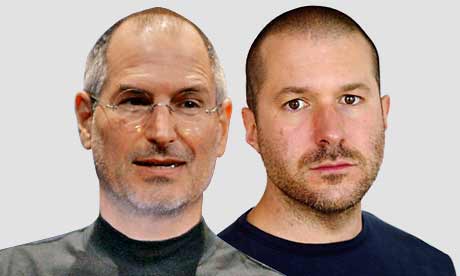 A couple of days ago, we already posted some quotation from the forthcoming Steve Jobs biography by Walter Isaacson. The other interesting thing, we have recently known, related to Jony Ive, Apple design chief. The book claims that Steve Jobs grated Ive nearly complete freedom to do as he sees fit.
He [Steve Jobs] called Jonathan Ive, Apple's design chief, his "spiritual partner" at Apple. He told Isaacson that Ive had "more operation power" at Apple than anyone besides Jobs himself - that there's no one at the company who can tell Ive what to do. That, says Jobs, is "the way I set it up."
Ive, Apple's Senior Vice President for Industrial Design, has been at Apple for nearly twenty years, the last fifteen of those as design chief. Ive's team is said to operate out of a secretive high-tech lab on Apple's campus where he is given ultimate flexibility in his work.  Such freedom in works obviously helps to guard against a watering-down effect that could occur if his designs were subject to the approval of and revision by others in the company.

Leave a comment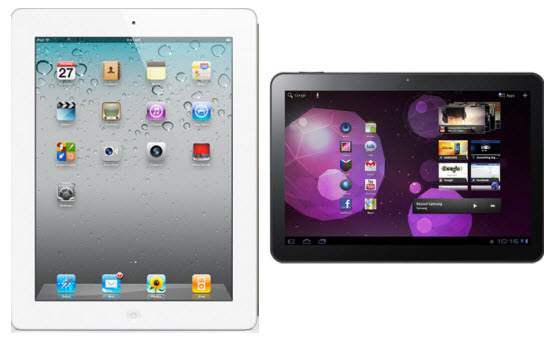 Bloomberg reports, citing research firm Strategy Analytics, that Android-based tablets increased their share in the tablet market during the third quarter.

Leave a comment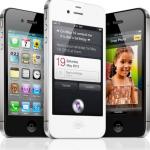 After last week's iPhone 4S release in the first seven countries, Apple is going to launch the new smartphone in additional 22 countries on October 28th.

Leave a comment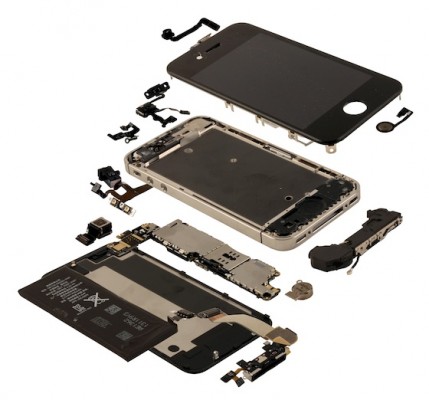 We have already seen some teardowns and estimates of the cost of the new iPhone 4S by iFixit and Chipworks. Now iSuppli offers its teardown and some new facts.
In the case of the iPhone 4S, [IHS iSuppli analyst Andrew] Rassweiler estimates that the BOM cost ranges from $188 for the 16 gigabyte version of the iPhone 4S to $207 for the 32GB version and $245 for the 64GB version. Apple and its carrier partners sell the phones for $199, $299 and $399 respectively, typically with a two-year contract for wireless service that carriers use to subsidize the cost they pay Apple.
iSuppli didn't find in the iPhone 4S a noise cancellation chip from Audience that was found in the iPhone 4. Such function may be implemented directly into A5 cheap that costs about $15. While iFixit found Toshiba flash memory in its iPhone 4S unit, IHS iSuppli expressed some surprise at finding Hynix memory in its unit. But as far as we know, Apple sources flash memory chips from different manufactures. They didn't managed to find the manufacturer of the camera sensor, but estimated the cost of the camera module at $17.60.

Leave a comment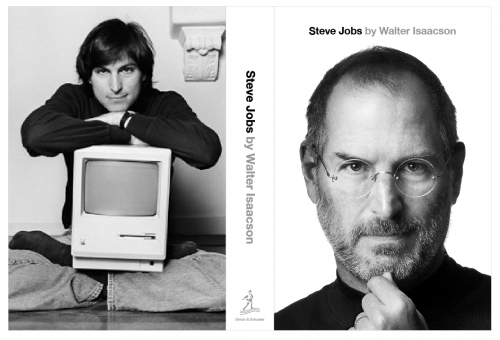 Expecting the release of the Steve Jobs' authorized biography that is set for release next Monday, its author Walter Isaacson was interview by a correspondent of CBS show 60 Minutes  where he revealed that Steve Jobs had regretted an early decision to delay surgery for his pancreatic cancer back in 2004.
"I've asked [Jobs why he didn't get an operation then] and he said, 'I didn't want my body to be opened...I didn't want to be violated in that way,'" Isaacson recalls. So he waited nine months, while his wife and others urged him to do it, before getting the operation, reveals Isaacson. Asked by [60 Minutes correspondent Steve] Kroft how such an intelligent man could make such a seemingly stupid decision, Isaacson replies, "I think that he kind of felt that if you ignore something, if you don't want something to exist, you can have magical thinking...we talked about this a lot," he tells Kroft. "He wanted to talk about it, how he regretted it....I think he felt he should have been operated on sooner."
Isaacson noted that Jobs receive cancer treatment after the surgery, telling people that he had been cured. As far as Isaacson knows, an earlier surgery would give Steve Jobs much better change or at least more time.

Leave a comment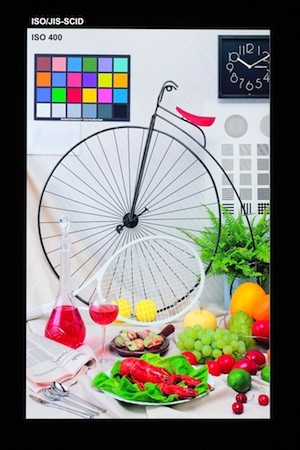 Apple has long promoted its high resolution Retina" display that was first released in the iPhone 4 with 326 ppi (pixels per inch) resolution. Later this display made its way to iPhone 4S and iPod touch, and now is set to be included in the iPad 3 with Apple planning to offer 2048 x 1536 resolution on the 9.7-inch screen. Toshiba has gone even further and yesterday introduced a new 6.1-inch display with resolution of 2560 x 1600 and 498 ppi.

Leave a comment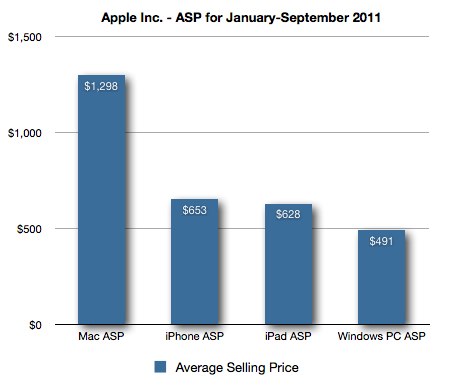 In October 2008, long before the iPad made its debut, then Apple CEO Steve Jobs said this:
There are some customers which we chose not to serve. We don't know how to make a $500 computer that's not a piece of junk, and our DNA will not let us ship that. But we can continue to deliver greater and greater value to those customers that we choose to serve. And there's a lot of them. We've seen great success by focusing on certain segments of the market and not trying to be everything to everybody. So I think you can expect us to stick with that winning strategy and continue to try to add more and more value to those products in those customer bases we choose to serve.
But Apple finally launched a $500 computer - the iPad.  The least expensive model costs $499. But the iPad average selling price for the three calendar quarters of 2011 was $628 that is more than the average price of Windows PC. For the same period the iPhone ASP was $653.
These numbers prove that the average selling price for all three Apple's most profitable categories – the Mac, the iPhone and the iPad – is higher than average selling price of Windows PC that sold at U.S. retail (for the first three quarters of 2011) for $491.

Leave a comment


9to5Mac suggests that Apple may launch the new MacBook Pros next week.
With supplies only becoming more constrained, and with shipments already touching down in select countries, we think a launch next week is likely (between Tuesday and Thursday). That is, of course, if there are no unforeseen circumstances.
The new laptops are likely to have the same prices as current MacBook Pros. The new machines are said to be only a minor update and would probably take advantage of new Sandy Bridge processors released by Intel late this year. The new processors include Quad Core i7 processors with speeds of 2.4GHz, 2.5GHz and 2.7GHz, as well as a Dual Core i7 at 2.8GHz models. The most expectable candidates among processors that might be used for upgrade are Core i7-2840M, Core i7-2760QM, Core i7-2860QM (the top three in the list below). Apple is unable to use Core i7-2960XM due to problems with heating and is unlikely to use the mobile Celeron processor.


Leave a comment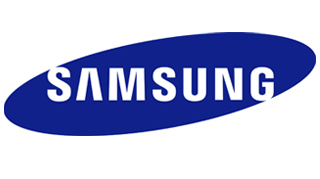 According to The Wall Street Journal, Apple has been dethroned by Samsung one quarter after the company became the largest smartphone manufacturer in the world. As a person familiar with the situation said, Samsung shipped over 20 million smartphones in third quarter, beating Apple as well as the largest cellphone manufacturer Nokia.

Leave a comment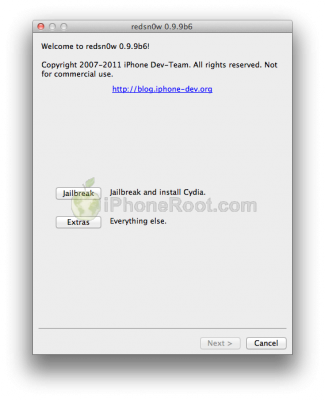 The iPhone Dev-Team released jailbreak utility RedSn0w 0.9.9b6 for both Windows and Mac users. The new version offers full iOS 5 jailbreak support for Windows and fixes Location Services issue for iPhone 3GS devices running the 06.15 baseband. This is still a tethered jailbreak for iPhone 4, iPhone 3GS, iPad 1, iPod Touch 3G and iPod Touch 4G:
We've released version 0.9.9b6 of redsn0w, with both a functional fix and cosmetic fix for iOS5 jailbreakers. For iPhone3GS owners with the 06.15 baseband, this redsn0w eliminates the network crash you saw when using Location Services in iOS5 (in fact, you don't even need to disable Location Services anymore during the initial setup). The cosmetic fix is to the visual countdown you see when going into DFU mode.

It's okay to re-run this redsn0w over an existing device jailbroken at iOS5. Just choose "Jailbreak" again and de-select Cydia (in other words, all the checkboxes will be unchecked). If you are lucky enough to have an old-bootrom iPhone3GS, please pre-select the IPSW first (redsn0w can't yet auto-detect the FW version of your old-bootrom 3GS if it's already been jailbroken).
Just as redsnow 0.9.9b5 the new version supports creating custom firmwares with preserving baseband (modem) version for unlock. Unfortunately right now custom firmware functionality works only with Mac version.
You can download the latest RedSn0w version here.
UPDATE: RedSn0w 0.9.9b7 released. Minor change, it has an option for a faster jailbreak. Get it here.
UPDATE:
Here are links to our RedSn0w 0.9.9 iOS 5 jailbreak tutorials:

Leave a comment, read comments [10]


Apple CEO Tim Cook and Samsung Chief Operating Officer Lee Jae-yong are said to have discussed their long-term component supply relationships during a two-hour meeting that took place earlier this week.
Lee Jae-yong, chief operating officer (COO) of Samsung Electronics said Wednesday he had discussed long-term parts cooperation arrangements with Apple Inc.'s chief Tim Cook.

The meeting took place Monday after Lee attended a memorial service for Steve Jobs, Apple's late co-founder, and as Samsung and Apple remain locked in fierce legal disputes to control the global smartphone and tablet computer markets.
Lee noted that the companies made agreement for 2012 and would like to prolong their cooperation for 2013-2014. Apple has been keen to make long-term supply agreements with component suppliers, sometimes prepaying billions of dollars in advance to secure massive supplies looking over several years and overcoming or better to say excelling its competitors.

Leave a comment

Apple has quietly updated iPhone 4S tech specifications page to inform that its smartphone supports both Assisted GPS and GLONASS, the Russian GPS version.

Leave a comment