The first batch of iPhone 5 devices were sold out in just 1 hour after they went on sale at midnight last night. The ship dates for iPhone 5 pre-orders slipped to two weeks away.
Last year, the first batch of iPhone 4S devices sold out after about a day of pre-orders. Either supplies of the iPhone 5 are less or its selling incredibly well.
UPDATE: Now it is 2-3 weeks.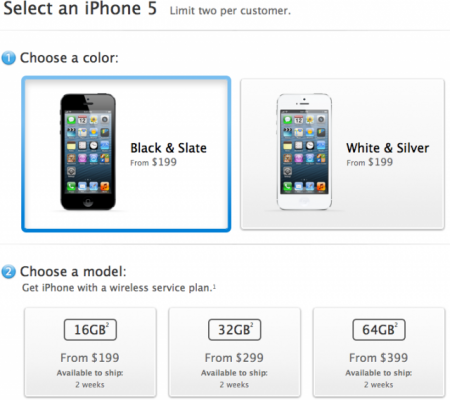 Leave a comment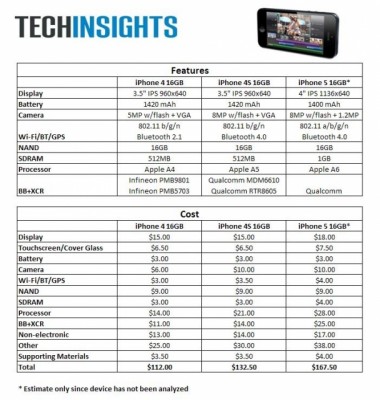 UBM TechInsights has released an early Bill of Materials estimate for the new iPhone 5. This does not include the cost of hardware design, software, production, etc. But still quite interesting:

Leave a comment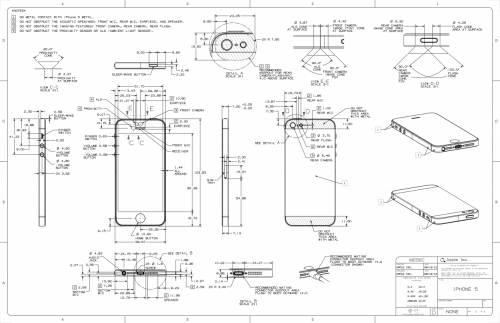 Apple has posted detailed schematics for the new iPhone 5. Check them out or click here to download the pdf.

Leave a comment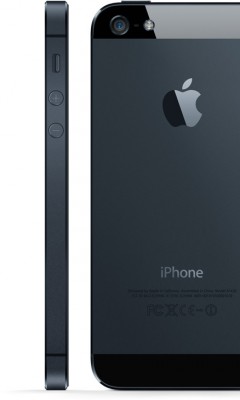 Apple has confirmed that it will not be selling an unlocked version of the iPhone 5 in the U.S. at launch, reports The Verge.
We spoke with several Apple Store customer service representatives today, who informed us that US customers won't be able to sign up for the unlocked variant of Apple's new flagship phone when pre-orders start early tomorrow morning. The unlocked version also won't be available from either the US online or brick-and-mortar Apple Stores when the iPhone 5 launches on September 21st.

Leave a comment

Well, this is really funny. Jimmy Kimmel has posted a video where he shows to people on the street the new iPhone 5, but its really just the iPhone 4S.

Leave a comment, read comments [1]

Apple officially unveiled its new redesigned headphones called "EarPods" at the yesterday's media event. The company explained that the EarPods are three years in the making and posted a video featuring Jony Ive explaining the process of creating the new earbuds.

Leave a comment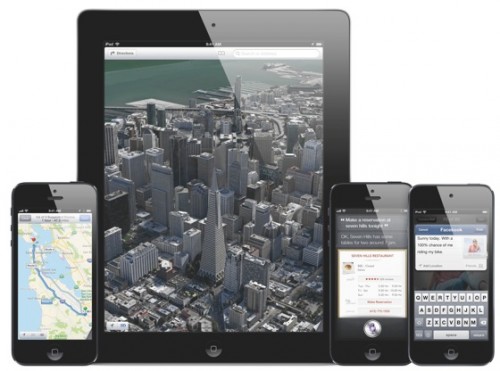 Other announcement Apple made yesterday was the release of iOS 6 mobile operating system, which was first announced in June at the company's WWDC keynote event and will be available on September 19th as a free download for the 4S, 4, 3GS, new iPad, iPad 2 and 4th generation iPod Touch. The iPhone 5 will ship with iOS 6.
Apple already detailed the specific iOS 6 features that would be available to certain iOS devices back in June. Siri will be enhanced to provide movie information, sports scores, and the ability to post to Facebook and Twitter. The new Passbook app will hold tickets, passes, and payment cards for participating businesses. Safari will have a full-screen mode for better browsing and iCloud tabs to save your open tabs and offer immediate access to them on your other iOS devices and your computer.

Leave a comment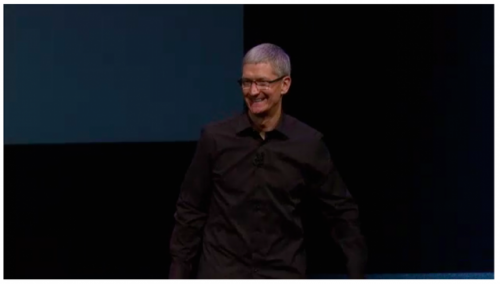 Apple has posted video of the entire iPhone 5 keynote event, where Tim Cook and other Apple execs unveiled the iPhone 5 and a refreshed iPod lineup. You can watch it here.

Leave a comment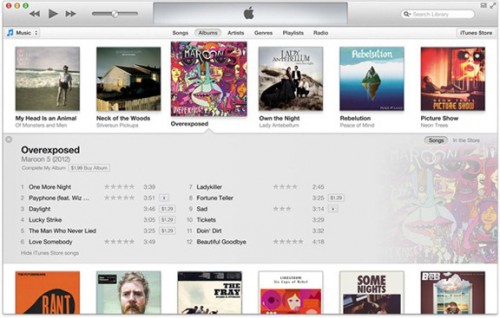 During yesterday's special media event Apple unveiled a radically redesigned version of iTunes for Mac and PC featuring a "dramatically simpler" interface. The updated iTunes will receive iCloud integration to show all your media content saved in Apple's cloud storage service and save your position in movies or TV shows automatically so that you can pick up where you left off on another device.
We created iTunes because we love music and we're going back to our roots with an incredibly clean design that keeps your music at the forefront," said Eddy Cue, Apple's senior vice president of Internet Software and Services. "The new iTunes works seamlessly with iCloud, always keeping your entire library at your fingertips, and we're adding great new features that make listening to your music more fun.

Leave a comment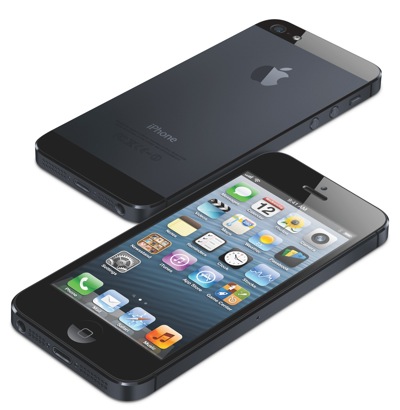 According to antenna expert and owner of website AntennaSys Spencer Webb, the iPhone 5's increase in height and other changes in its design should improve signal reception. He wrote extensively about the antenna issues in the original iPhone 4.

Leave a comment

Today at its media event Apple updated the iPod touch lineup to a fifth generation model that includes the same 4" screen as the new iPhone 5. At only 88 grams and 6.1mm thin the new iPod touch is lighter than all previous iPod touch models. The new model incorporates the A5 processor.

Leave a comment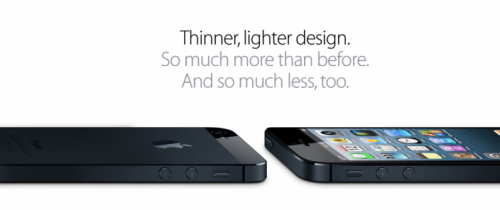 Today Apple introduced the new iPhone 5. It has a new design, however it looks a bit like tall iPhone 4S.
It is 18% thinner than the 4S, just 7.6mm. It's even 20% percent lighter at 112 grams. The in-cell retina display is 4-inch with 1136 x 640 resolution. Apple says new iPhone 5 has a better color saturation with full sRGB rendering. That new longer screen allows for an extra set of icons to be displayed on the home screen, and first party apps have already been tweaked to take advantage of additional pixels. The tweaked ratio puts the iPhone 5 display closer to 16:9, but it's not quite there.
iPhone 5 supports worldwide LTE as well as HSPA+ and DC-HSDPA. 802.11n Wi-Fi can connect at 2.4ghz and 5ghz. Performance is said to be 2 times faster with new A6 processor. iSight camera features 8-megapixel sensor, backside flash, hybrid IR filter, five-element lens, sapphire lens, f/2.4 aperture, next-generation ISP, spatial noise reduction, smart filter, better low-light performance, 40 percent faster on photo capture, and HD video recording (1080p) up to 30 frames per second with audio.
Front FaceTime HD camera has 1.2MP sensor, improved video stability and is capable of recording HD video (720p) up to 30 fps. Audio system was also improved. iPhone 5 has 3 mics and improved speakers.

Leave a comment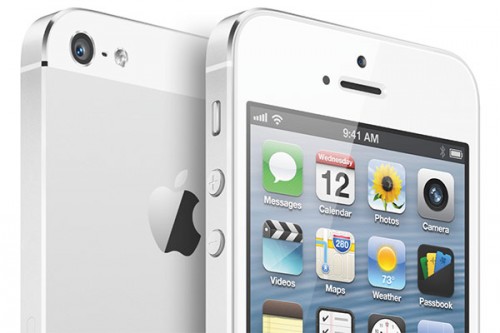 Take a look at the video with iPhone 5:

Leave a comment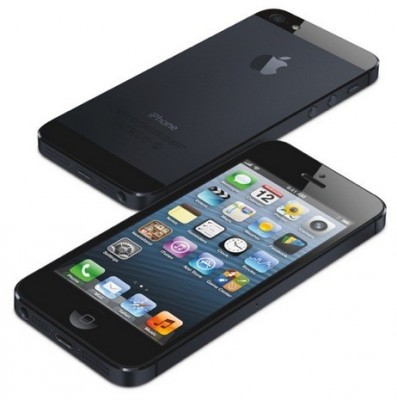 Apple did not mention that iPhone 5 would use the recently approved (and Apple-designed) nano-SIM standard. Apple is relying on that even tinier subscriber module for GSM, HSPA and LTE networks. Unfortunately it is not possible to create nano-SIM out of micro-SIM. Cutting does not help, they are just not compartible.

Leave a comment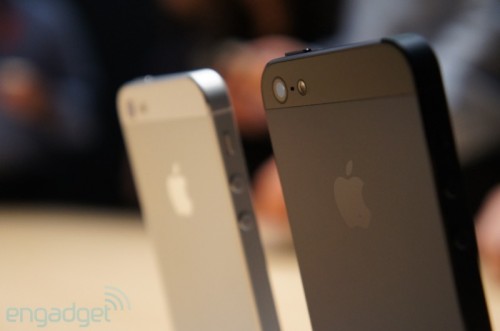 Here are 20 real photos of iPhone 5 from our collegues.

Leave a comment