12-inch MacBook and Apple Watch Pre-Orders Go Live

Just like it was expected, Apple on Friday made its long-anticipated Apple Watch and the 12-inch MacBook available for pre-orders in a number of countries including the USA, the UK, Canada, Australia, France, Germany, Hong Kong, China and Japan. Both devices are currently not available for the walk-in customers, moreover, Apple has reportedly sold out all the Apple Watch models it had in stock within less than six hours. Shipping estimates for the wearable device have slipped to about 4-6 weeks and those for the new laptop - to several days or weeks, depending on the configuration.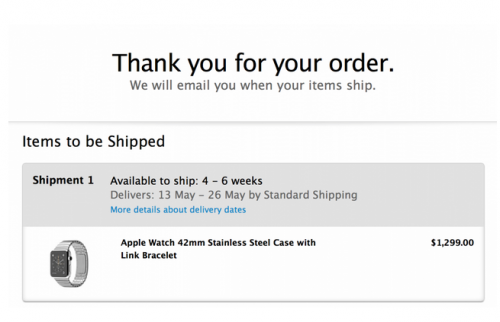 Pre-orders for the new Apple Watch and orders for the new 12-inch Retina MacBook are now live on Apple.com.

Pricing for the aluminum Apple Watch Sport starts at $349 and pricing for the stainless steel Apple Watch starts at $549.

[...]

The new MacBook begins at $1299 and has a high-end configuration price of $1749.
Looks like the guys from Cupertino have once again failed to catch up with the demand for their new gadgets. In recent years, this problem has become a some kind of curse for Apple.
[via iClarified]

Leave a comment