Apple Improves Its Position on Several Markets Due to Strong iPhone 5s Sales

According to the latest report from Kantar Worldpanel, the company from Cupertino has managed to improve its position on the world's smartphone market.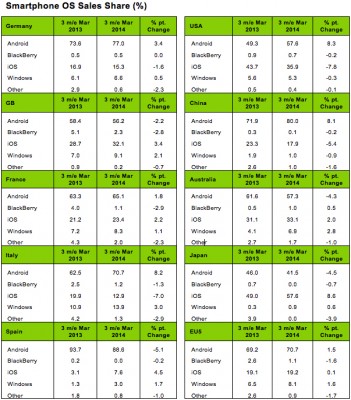 Over the past months, Apple's market share in Europe, Japan and Australia has risen. Here's what MacRumors write:
Research firm Kantar Worldpanel has released a new report (via TechCrunch) highlighting worldwide smartphone sales over the January-March period, finding that Apple has regained share in markets such as Europe, Japan and Australia due in part to the strong sales performance of the iPhone 5s.
Apple's market share is expected to grow further in the second half of 2014 as the guys from Cupertino plan to release a number of new products, such as the iPhone 6, updated iPad Air and Retina iPad mini and, of course, the iWatch.

Leave a comment