Apple Looking for Reuse (Trade-In) Worldwide Program Manager

According to the latest job listings posted on Apple's official website, the company from Cupertino is currently looking for a Reuse (Trade-In) Worldwide Program Manager. This person will be responsible for managing "all current world wide programs, developing and implementing programs in emerging markets".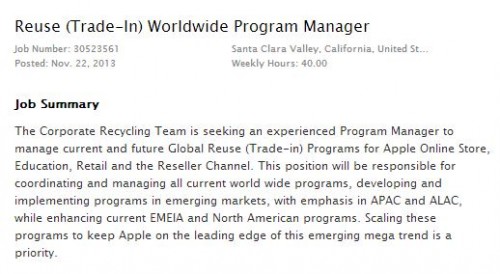 Looks like after launching trade-in programs in the USA, UK and India, Apple is seriously thinking about expanding its services to many other countries across the world.
Here's what 9to5mac reporters write:
That sounds a lot like Apple is planning to launch new trade-in programs in some of its emerging markets across Asia Pacific (APAC), Latin America and the Caribbean (ALAC). Apple describes the trade-in programs as a "mega trend" and lists its objectives as increasing its share of the used electronics market and "reducing the flow of Apple-branded materials into unauthorized markets, which tarnish the Apple Brand."

[...]

Currently it runs international recycling and trade-in programs through its website in Canada, Japan, Brazil, Costa Rica, India and a number of Asia Pacific and European countries.
For those who don't know - trade-in programs allow customers to change their old smartphones, tablets etc. for the new ones with a discount.

Leave a comment