Regional Carriers Start Offering iPad mini Cellular Models in the USA

American regional carriers are starting to offer cellular iPad mini with Retina display. Models with 16GB, 32GB, and 64GB are now available on several networks across the USA.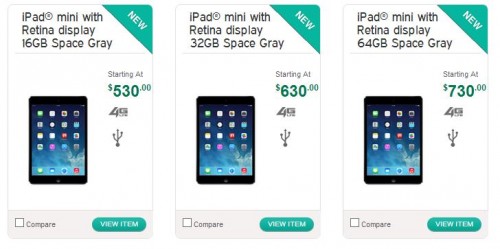 As noted by 9to5mac,
Bluegrass Cellular announced today that it is now offering the iPad mini Wi-Fi Cellular models in-store and online. Available on the carrier's website now starting at the usual $530 for the 16GB model, the carrier is also offering all three models (16GB, 32GB, and 64GB) on its no-contract "Freedom, Expanded" plan. That allows customers to make 12 monthly payments to get the device they want with the ability to trade-in and upgrade to a new device after a year. That plan will run $26.50/month for the 16GB model on Bluegrass, $31.50/month for the $630 32GB model, or $36.50/month for the $730 64GB model.

[...]

U.S. Cellular has also begun cellular iPad mini with Retina Display sales today on its website.
Apple's Retina iPad was quietly released on Tuesday, November, 12th in the United States, Australia, China, Hong Kong, Japan, New Zealand, Singapore and a number of other countries. Due to supply constraints, the number of iPad available is limited, so if you plan to buy one, you'd better hurry up.

Leave a comment