Step-by-step Tutorial: How to Update iPhone 3GS Modem Version to 06.15 Using RedSn0w 0.9.15 (Windows) [iOS 6.1.2]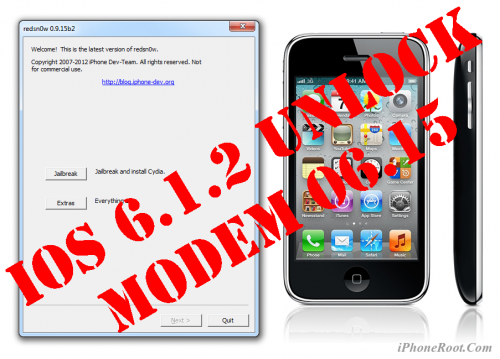 This is step-by-step instructions on how to update your iPhone 3GS modem to version 06.15 on iOS 6.0 - iOS 6.1.2. We will use RedSn0w 0.9.15 for Windows.
Important: If you need unlock and have 05.13 baseband or lower - do not update to Apple firmware, use RedSn0w or Sn0wBreeze to create custom firmware!
Important: Please, consider reading our Jailbreak & Unlock FAQ, if you have other device or firmware and especially if you have questions or troubles.
Important information.
Please think first, before you do something.

If you need carrier unlock - do not update to iOS 6 firmware, use RedSn0w or Sn0wBreeze to create a custom firmware to preserve modem version!
Step One
Create a folder on your desktop (or any other folder on your computer) called Pwnage
1. Download the latest version RedSn0w 0.9.15 from here. Save it in the Pwnage folder.
Extract the redsn0w executable from the RedSn0w zip file into the same folder.
2. Download iPhone 3GS firmware iOS 6 to Pwnage folder. It is better to use Firefox, because some browsers (f.e., Safari) extract ipsw: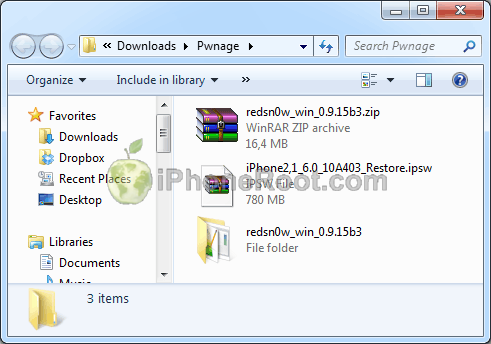 Step Two
Connect your iPhone 3GS to the computer and launch iTunes.
Select your iPhone from the list of devices on the left.In iTunes 11 to activate left panel press Ctrl+S.
Create a backup by right-clicking on iPhone name in Devices (iTunes left pane) and choosing Back Up. In iTunes 11 you can click Back Up Now button.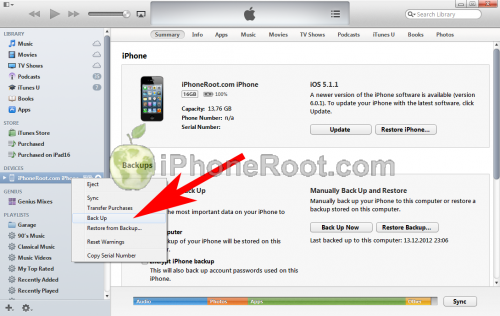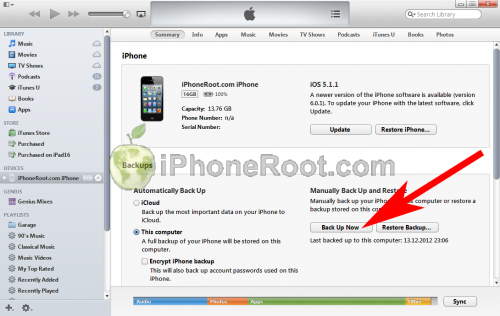 Step Three
Once iTunes has finished updating your iPhone to the desired firmware open the Pwnage folder on your desktop and launch the redsn0w application from the redsn0w folder we extracted earlier.
Right click the executable and set it to run as administrator.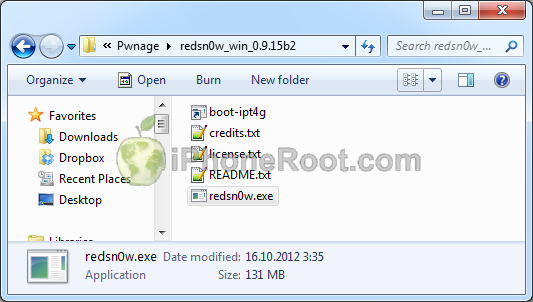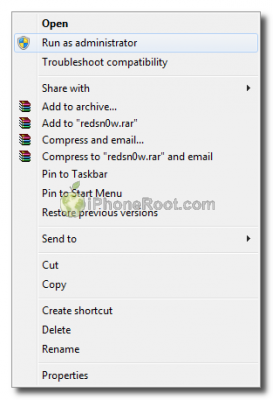 Step Four
Once RedSn0w opens click the Extras button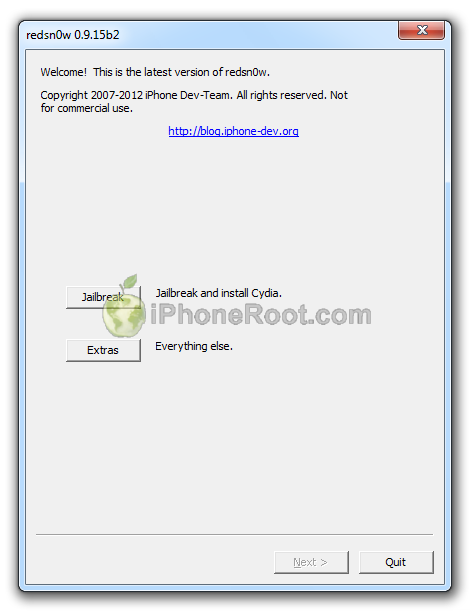 Now click Select IPSW button.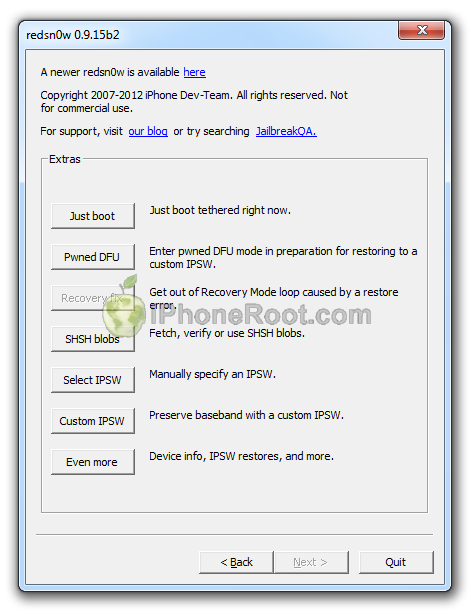 Navigate to the Pwnage folder on your desktop and select the iOS 6 firmware ipsw. Click the Open button to continue.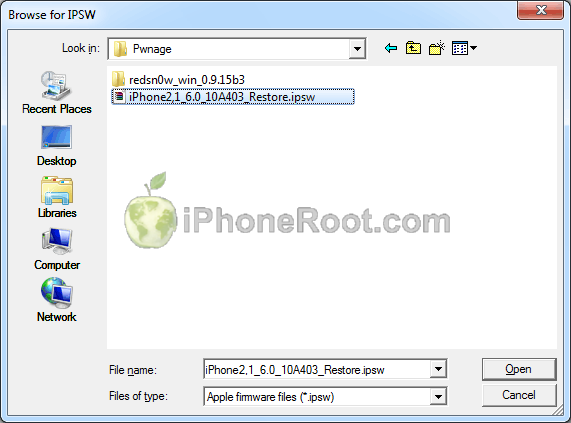 Windows with a message that selected firmware is identified will appear. If you see an error - either ipsw was corrupted and you need to download it again, or you have chosen 6.0.1 instead of 6.0.
Click OK.
Redsn0w might ask if you have new or old bootrom version. You can detect your bootrom version using our tutorial.
Answer YES, if you have iPhone 3GS with new bootrom.
Answer NO, if you have iPhone 3GS with old bootrom.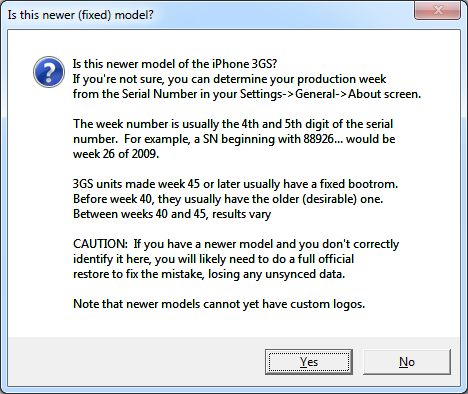 Now click Back, to get to the main menu.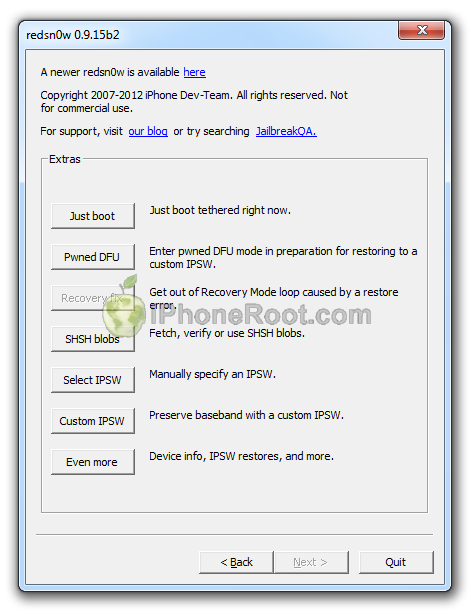 In the main menu click the Jailbreak button.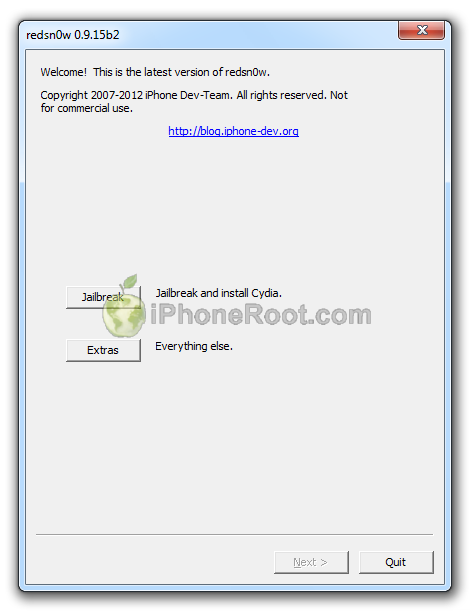 Step Five
RedSn0w will now prepare the jailbreak data.

Step Six
From this window you can select the jailbreak options you would like.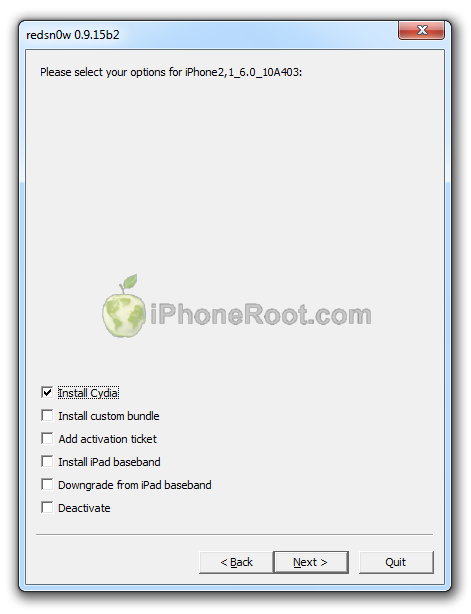 Make sure Install iPad Baseband is selected.
You can update your baseband to the 06.15 version for carrier unlock. If you are on 05.14 or 05.15 or higher you will need to do this to unlock. You do not need to do this for jailbreak only. Please read the following very carefully before deciding whether to do this.
You'll be voiding your warranty in a very obvious way.
If some future baseband comes out with a critical fix, you won't be able to update to it if it remains down in the 05.xx sequence (then again, you wouldn't update to it if you wanted to keep your unlock anyway).
If you have 06.15 on your iPhone you won't ever be able to restore to stock firmware (it will fail). You'll need to only restore to custom IPSWs (then again, if you're unlocker you should already be doing that).
You might get problems with GPS, if you install 06.15 baseband.
Don't update to 06.15 if you don't need to, you can just jailbreak without unlocking using this tutorial! Only update baseband if you need the unlock and you're stuck on baseband version 05.14 or 05.15, and you're willing to assume the above risks. You can find out your baseband version in Settings -> General -> About -> Modem Firmware.
If you have read all above and want to update your modem to 06.15 select Install iPad Baseband.
If you select Install iPad Baseband warnings will be shown. Click YES if you are sure and you know what you are doing.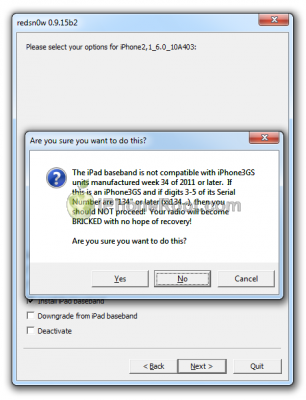 Click the Next button to continue.
Step Seven
Please plug your iPhone into the computer and make sure its OFF then click the Next button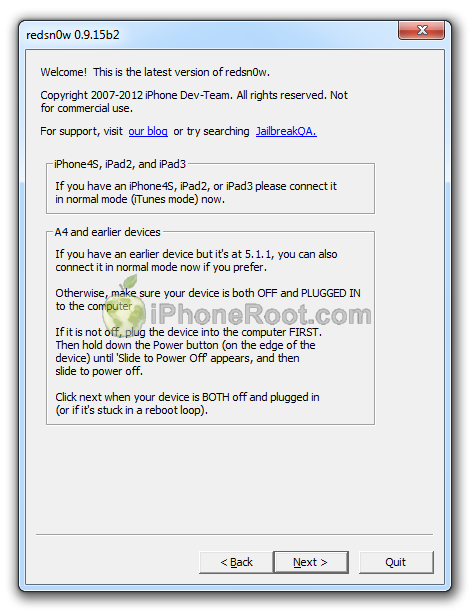 Step Eight
RedSn0w will now guide you through the steps to get into DFU mode.
1. Hold down Power button for 3 seconds.
2. Without releasing Power button, hold down both the Home button and the Power button for 10 seconds.
3. Release the Power button and continue holding the Home button until RedSn0w detects the device (~15 seconds).
If you have problems try again.
Step Nine
iPhone will reboot and redsn0w will start jailbreak process.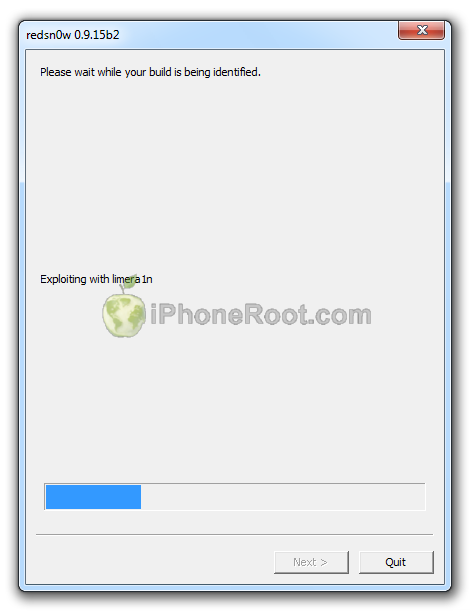 Step Ten
RedSn0w will then begin uploading the new RAM Disk and Kernel.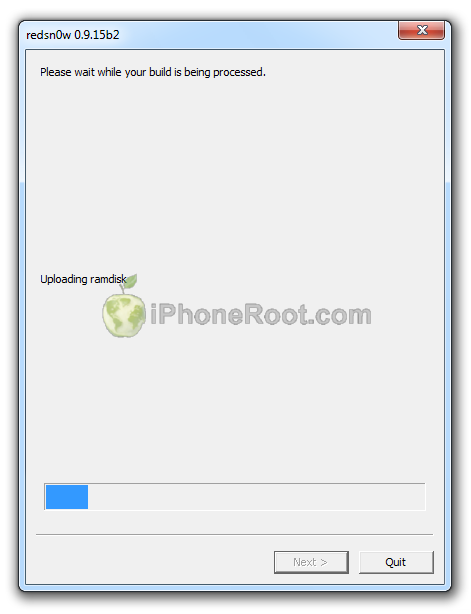 Step Eleven
Once this is complete you will be notified that RedSn0w is done.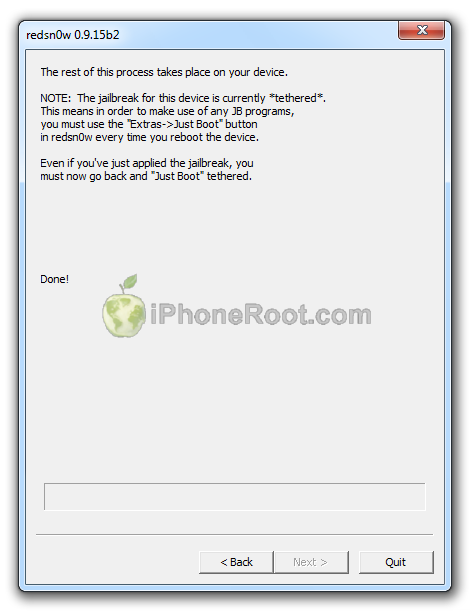 Step Twelve
Now you can perform downgrade from 06.15 to 05.13 using this tutorial. Just select Downgrade From iPad Baseband on Step 6.
Step Thirteen
Now we recommend to create custom iOS 6.1.2 firmware using Sn0wBreeze and unlock using ultrasn0w. Our step-by-step tutorial is availabel here.

Leave a comment, read comments [24]