iOS 5.0 Beta 2 download links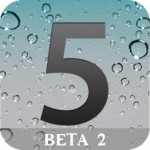 Apple recently released iOS 5 beta 2 and iTunes 10.5 beta 2. It is available only for Apple registered developers. But you can try it too. Remember that you do it at your own risk. Below you will find iOS 5 download links for iPhone 3GS, iPhone 4, iPod Touch 3G, iPod Touch 4G, iPad 1, iPad 2, Apple TV 2G and download links to iTunes 10.5 Mac and Windows.
Keep in mind that your iDevice will need to be activated, your UUID needs to be registered in Apple. Installing iOS beta on a non-activated device will render it useless. If you need help with registering UUID - write us, we will try to help..
If you need a jailbreak, you can download it here.
You will be able to go back to iOS 4.3.3 (tutorial).
iOS 5.0 Beta 2
iTunes 10.5 Beta 2

Leave a comment, read comments [2]