iPad 3 will probably have A5X processor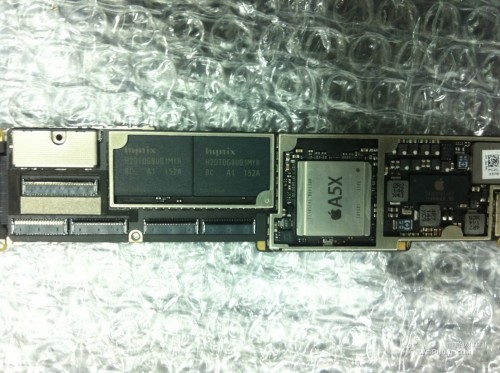 WeiPhone site has leaked a photo of an iPad 3 logic board with A5X CPU chip. Previously it was expected that new tablet will feature A6 chip, reports MacRumors.
A date code of "1146" on the A5X indicates that it was manufactured in the 46th week of 2011, which would have corresponded to November 14-20. An "A5X" as a step-wise upgrade to the A5 corresponds with progression of processor part numbers as revealed by BGR in February. At the time the A4 was known to be the S5L8930X, the A5 as the S5L8940X and the new iPad processor as S5L8945X.
The photo also shows two 16GB flash memory chips form Hynix and an Apple branded power management chip.
Its unclear if 'A5X' will be the final designation for the new chip or whether it was just used during prototyping.
Apple is rumored to introduce the iPad 3 at a media event on March 7, with the device also receiving an ultra high-resolution display and LTE capabilities. Other claims have suggested that it will carry a slightly more tapered case design and perhaps offer an 8-megapixel rear camera.

Leave a comment