iPhone 5С is officially unveiled in five colors

Today Apple has introduced the iPhone 5c which can be truly called the most colorful iPhone ever. The smartphone features a new design. It is available in five bright colors -  blue, green, pink, yellow and white.
iPhone 5c boasts all the features so respected and loved by Apple customers. The magnificent 4-inch Retina display, the long-awaited rapid processor A6 chip, as well as the 8 megapixel iSight camera are only a small part of brilliant hardware of the new iPhone. It also has more LTE bands than any other smartphone in the world, a new FaceTime HD camera, and iOS 7, which is expected to be the best iOS Cupertino company has ever had to present to its customers.
"iPhone 5c is everything iPhone 5 was and more, in an all-new design packed with great features," said Philip Schiller, Apple's senior vice president of Worldwide Marketing. "iPhone 5c is designed with a beautiful polycarbonate enclosure that looks and feels so solid in your hand."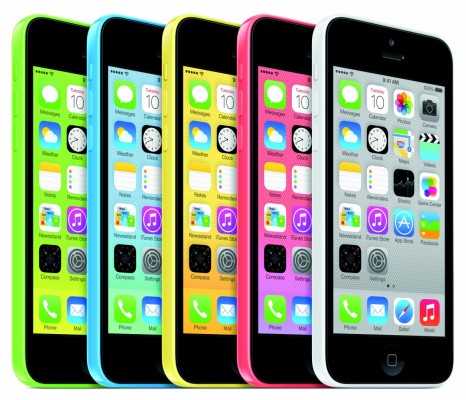 The design of the new iPhone 5C  is different from it ancestors. The body is made of single, hard-coated polycarbonate and a special steel frame is inserted to ensure impact resistance as well as keep hold of the internal components and perform as multiband antenna. Apart from the colorful smartphone Apple has presented special silicon cases to match the iPhone 5C. The cases are made of soft, matte, microfiber-lined material, so it will look perfect in contrast to the hard cover of iPhone. Moreover, the cases feature a unique cut-out pattern to get the colors of the case and the iPhone mixed. Disposing of six color options for the cases and five for the smartphone you will turn your iPhone 5C in a bright rainbow.  This must look splendid!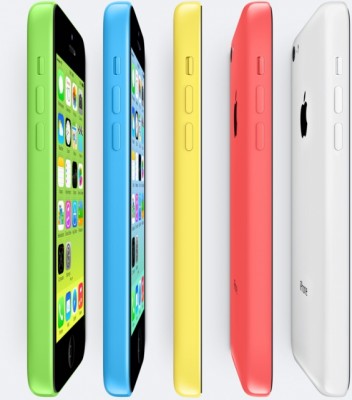 The iPhone 5C will definetely live up the expectation of Apple lovers. It features an A6 chip of high efficiency and low energy consumption. So you will be loading apps and reading emails at a phenomenal speed. You can use a perfect 8 megapixel iSight camera to make stunning photos and enjoy them on the renown 4-inch Retina display. If you want to chat to your friends of make a self-portrait, the new FaceTime HD camera is at your service.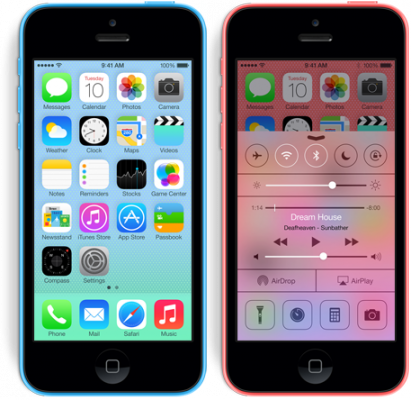 iPhone 5c enables you to get access to high-speed networks with support for up to 13 LTE wireless bands. The maximum download speed is 100 Mbps. When using Wi-Fi you can reach up to 150 Mbps download speed.  The battery seems very capable as it features 10 hours of talk time on 3G networks, up to 10 hours of web browsing on Wi-Fi and LTE networks and up to 8 hours on 3G networks, and up to 10 hours of video playback and up to 40 hours of audio playback.
iPhone 5c comes with iOS 7, claimed to be the best Apple iOS ever. The new iOS is unlike its predecessors, boasting a magnificent new user interface, now presented in pale colors, distinct, functional layers and subtle motion. iOS 7 wallpapers will match the bright design of iPhone 5c. The new iOS has loads of new apps added, such as Control Center, Notification Center, improved Multitasking, AirDrop, enhanced Photos, Safari, Siri and iTunes Radio℠, a free Internet radio service based on the music you listen to on iTunes.
iPhone 5c buyers can chose from over 900,000 apps from App Store. We should remind, that the most popular iOS apps, iPhoto, iMovie, Pages, Numbers and Keynote can be downloaded for free with the purchase of iPhone 5c.
The iPhone 5c can be pre-ordered since September 13, it will be available in the US, Australia, Canada, China, France, Germany, Hong Kong, Japan, Puerto Rico, Singapore and the UK on Friday, September 20. It will retail for $99 for the 16GB model and $199 for the 32GB model.

Leave a comment