Legal hardware unlock for iPhone 4 released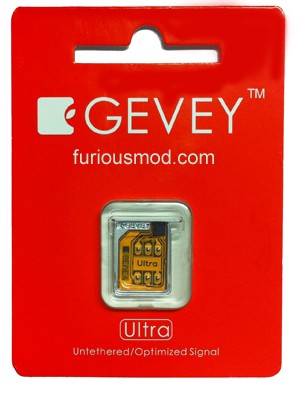 Gevey has released a new hardware unlock for iPhone 4 called Gevey Ultra SIM.
The main difference compared to the old Gevey unlock method is that you don't have to dial 112. dialing 112/911 and hanging up is illegal in most countries, now this problem is gone.
Gevey Ultra works with
iOS 4.0, 4.1, 4.2.1, 4.3, 4.3.1, 4.3.2, 4.3.3
Basebands 01.59, 02.10, 03.10.01, 04.10, 04.10.01
Some sources claim that Gevey Ultra works even with the latest iOS 5 beta 1.
If you have 01.59 baseband you can still use free software ultrasn0w unlock. For everything else - just buy Gevey Ultra for $35 here.
The installation is simple, but requires jailbreak. Good luck iOS 4.3.3 is jailbreakable. See our jailbreak instructions here (Mac OS) and here (Windows).
Take a look at the Gevey Ultra video demo:

Leave a comment, read comments [26]