New Graphics and Processors Benchmarks Compare New IPad to iPad 2 and Tegra 3

With the iPad 3 now available on the mass market, we are starting to see more benchmark tests comparing the iPad 3 to the iPad 2 and other handsets.
Insanely Great Mac published nice video (showed above) comparing processor and graphics benchmarks between the original iPad, iPad 2 and new iPad.
They discovered that the extra power of Quad-Core GPU found in the iPad 3 appears to mainly allow the new tablet to maintain performance on the higher-resolution display rather than providing any considerable boost in the performance over previous models. However, the iPad 3 is pushing four times more pixels as the iPad 2, so you get a significant visual improvement, but frame rates appear to be near identical in the benchmarks.
Of course, benchmarks are artificial performance measures, and developers may reveal other differences between the iPad 3 and iPad 2 depending on the circumstances.
Meantime, LaptopMag compared the iPad 3 against the NVIDIA Tegra 3. Apple claimed that the new A5X chip in iPad 3 had four times more graphics power as the Tegra 3. And at least one graphics benchmark showed that iPad 3 significantly surpasses the Tegra 3.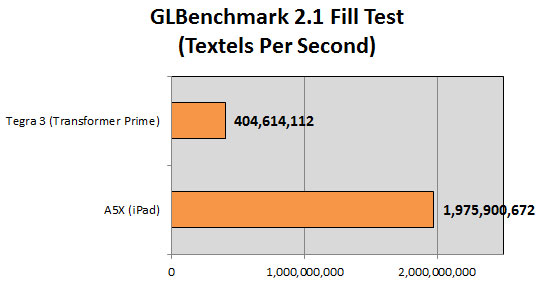 However, Processor (CPU) speed was a different story. Quad-Core CPU in the Tegra 3 beat out the iPad 3's Dual-Core CPU: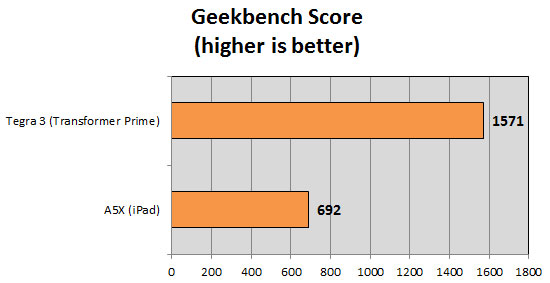 Apple specifically boosted the iPad 3's GPU from Dual-Core to Quad-Core, but used the same Dual-Core CPU found in the iPad 2. The unreleased A6 processor is said to be Apple's next Quad-Core CPU which is still in works.

Leave a comment