Apple Begins Advertising Apple Watch in Apple Stores

As you know, Apple on Monday announced the long-awaited Apple Watch, the 12-inch Retina MacBook and the updated MacBook Air and MacBook Pro models. MacBook Airs and MacBook Pros are currently available for purchase, however, the smartwatch and the new ultra thin laptop will hit the store shelves only on April 24th. If you want to buy the new laptop or Apple's first-ever wearable device a bit earlier, starting from April 10th you will get an opportunity to pre-order any device.
Ahead of the start of sales, the guys from Cupertino began advertising new products in their retail stores. Below you may take a look at the banners placed in one of the stores in the USA.
This is the first glance at Apple's upcoming retail push for the device and comes as Apple kicks off a campaign for Apple Watch in fashion magazines, on billboards, and elsewhere leading up to the device's launch on April 24 in 9 countries.
Apart from the ads and posters in magazines and Apple Stores, Apple also plans to promote its new smartwatch in popular boutiques in London, Paris and several other cities.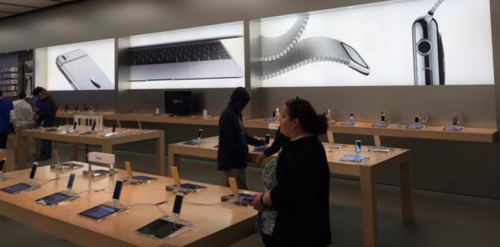 Do you want to purchase the Apple Watch? If so, what is the reason for your decision? Leave your comments below this post.
[via 9to5Mac]

Leave a comment