Apple Loses Status of the Most Valuable Brand

Apple has lost its title of the most valuable brand in the world. According to the latest report from Brand Finance, the Cupertino giant is now on the second spot of the ranking with the brand value of $107.1 billion. The first place is occupied with Google that has the brand value of $109.5 billion.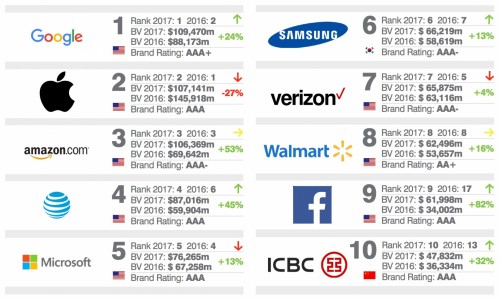 For the last 5 years, "Apple" was the most expensive brand name. However, since the company "over-exploited the goodwill of its customers" and lacked innovation, its trademark value fell 27% from $145.9 billion in 2016 to $107.1 billion in 2017. Apple can regain the lead, but it should put maximum effort into new products.
Other valuable brands on the top-five list include Amazon, AT&T, and Microsoft. Another Apple rival, Samsung, took the sixth spot.
Yesterday, Apple announced the financial results of the first fiscal 2017 quarter. The company reported record revenue and claimed the iPhone sales set a new all-time record, too. Hopefully, this will help the company to increase its brand name value.
[via Brand Finance]

Leave a comment