DisplaySearch analyst Richard Shim has issued a note predicting that the new iPad mini will not feature the Retina display many are expecting.
Apple is expected to refresh its iPad mini in the second half of the year. The new iPad mini will continue to use a 7.9-inch display with a 1024×768 resolution, but it will use the iOS 7 operating system and an A6 processor, in a slimmer design than the current generation. Another iPad mini is also planned for production but not until early 2014. That device is expected to feature a QXGA (2048×1536) resolution display and the iOS 7 operating system.

Leave a comment

According to Apple's release notes for the iOS 7 beta, the absence of the Voice Memos app is a known issue indicating that the app will return in future betas.
Voice Memos
Known Issues
● The VoiceMemos app is not available in this seed.
An image from a WWDC developer session shows an iOS 7 Springboard with the Voice Memos app present: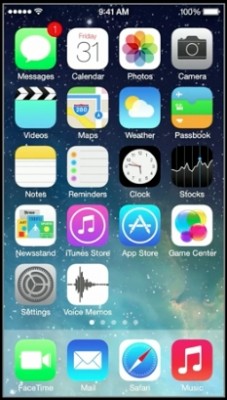 Leave a comment

Rozetked has posted video which appears to show iOS 7 running on the iPad.
Apple has not yet released an iPad beta of its new operating system to developers, so it's unclear how the software was obtained.

Leave a comment

MacRumors reports that early benchmarks for the new Mac Pro have begun appearing in Geekbench.
The entry is appearing as "AAPLJ90,1" as opposed to the expected MacPro6,1. It scores 23901 overall. That's greater than the top scoring Mac Pro (Mid 2012) that scored 21980.
Supporting the authenticity of the entry is the listing of a custom build of OS X Mavericks, 13A2054, running on the machine. The listed motherboard ID is also one which was discovered in OS X Mavericks as corresponding to the new Mac Pro. The machine in question is running a single 12-core processor from the upcoming Ivy Bridge-E family, specifically the Xeon E5-2697 v2 running at 2.7 GHz. It is also equipped with 64 GB of RAM.
Take a look at the comparison chart below:

Leave a comment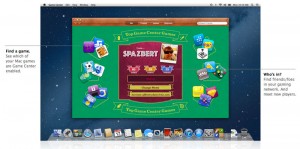 The mobile phone is something that many people cannot live without these days because they do nearly everything on them from looking up information to talking to their friends and family. With full internet access you can research nearly anything on a mobile phone without having to change to PC, as well as this you can also watch films and listen to music never having to touch another device. What is most impressive is their ability to play games; the App Store on most modern phones is filled to the brim with thousands of games that you can download and play at any time. Online casino games have become incredibly popular with mobile phone gamers due to just how easy they are to play and how entertaining they can be.

Leave a comment

Check out this graphic showing how the iOS home screen has evolved since Apple first released the iPhone.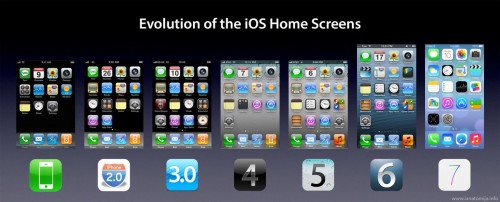 Leave a comment, read comments [2]

Pod2g, the hacker who has been an integral part of the last few jailbreaks, has announced that he is 'about to switch to an Android device' after spending some time testing iOS 7.
After a few days of iOS 7 beta 1 testing, I must admit that I am about to switch to an Android device.

IMHO, this version of iOS is the worst move Apple did in a long time.

iOS 7 design is awful, it's slow, battery life time is the worst ever, it's full of UI bugs and crashes. OK it's beta 1, but still…

I am pretty disappointed by the features I've seen in iOS 7. No revolution here. No big news. Just kid painting.

Leave a comment, read comments [1]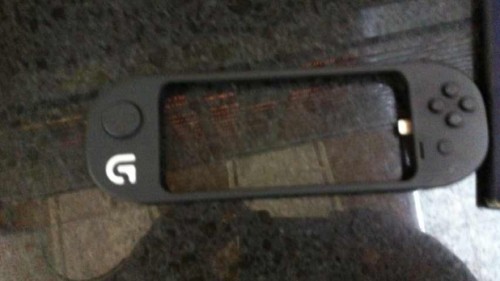 A leaked photo of an upcoming Logitech game controller for the iPhone 5 has been posted online by Kotaku.
Can't tell you who gave it to us or where it was seen, but we can vouch for this image's authenticity. The controller is large enough to fit an iPhone 5. When iOS 7 introduces third-party controller support in the fall we'll see this thing, plus a bunch of others, probably. Apple evidently won't be making its own.

Leave a comment


We already showed you an icon comparison of iOS 6 and iOS 7, but now developer Mpow has put together a comparison of the different UI elements in the operating systems.
Taking a look at the comparisons, you can really see how Apple stripped away a lot of the textures, gradients and gloss from iOS in favor of a more "flat" interface.

Leave a comment, read comments [1]

You can watch the testing on the video below. Keep in mind that iOS 7 is first a beta which isn't yet fully optimized. The results are still pretty close which for all of the improvements seems to be a pretty sweet deal.

Leave a comment

Apple actually posted a photo of iOS 7 on iPads. You can find it on the bottom of the official iOS 7 page.

Apple is a bit behind in releasing iOS 7 for iPad. Initial iOS 7 betas are available only for iPhones and iPod touches.

Leave a comment

The Ashton Kutcher led JOBS biopic will debut on August 17th according to a press release.
Open Road Films will release JOBS – the highly anticipated film chronicling the story of Steve Jobs' ascension from college dropout to one of the most revered creative entrepreneurs of the 20th century – nationwide on August 16, 2013. JOBS details the major moments and defining characters that influenced Steve Jobs on a daily basis from 1971 through 2001. The film plunges into the depths of his character, creating an intense dialogue-driven story that is as much a sweeping epic as it is an immensely personal portrait of Steve Jobs' life. Directed by Joshua Michael Stern, written by Matthew Whiteley, JOBS was shot by Oscar-winning cinematographer Russell Carpenter and produced by Mark Hulme. JOBS stars Ashton Kutcher, Dermot Mulroney, Josh Gad, Lukas Haas, J.K. Simmons and Matthew Modine.

Leave a comment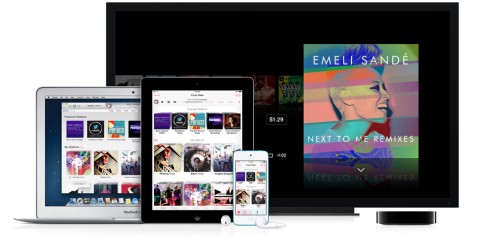 As you might know Apple launched iTunes Radio only for the US. This service will be available in other countries, but some time later.
However there is a way to enable it outside the US now. All you need is to create US iTunes account and iTunes Radio will show up in iTunes upon re-launch. We're not sure if this easy 'hack' will make it to Gold Master but Radio might be in your country by then anyway.
Here are step-by-step tutorials:

Leave a comment

Here is another video ad from Apple. It is called "Making a difference. One app at a time. ".
Each iOS app offers remarkable — and often delightful — possibilities. But the most powerful iOS apps ever are ones that change people's lives in ways they never imagined.
Let's watch:

Leave a comment

Check out this comparison chart of old iOS 6 icons versus the new iOS 7 icons. The chart features twenty four icons that Apple has redesigned for its new operating system.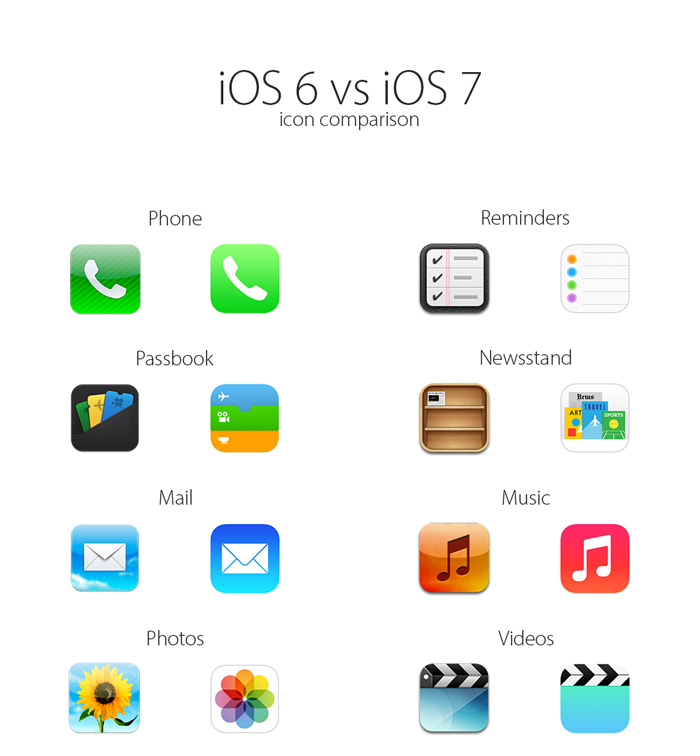 Leave a comment