Live Blog: presenting new iPad and iPad Mini

That's all.
"These amazing products are great examples of the type of innovation that only Apple can deliver."
Tim recapping the announcements quickly.
New full-wrap case in colors for $79.
New Smart Covers in new colors for $39.
Starts at $399 with Wi-Fi, $529 with mobile data.
Up to 4x faster on CPU, 8x faster graphics.
A7 in the mini as well.
2048 x 1536 pixels, same as the big iPad.
Теперь iPad Mini!
Показали видео с комментариями создателей.
The iPad 2 remains at just $399
Replaces previous iPad, starts at $499 for $16GB, cellular for $629.
Available in silver and white, space gray and black.
10-hour battery life.
Faster WiFi with MIMO for 2x faster 802.11n — doesn't seem like it has 802.11ac.
9.7-inch Retina display with a smaller bezel. 43 percent thinner.
Phil coming back to introduce the next generation of iPad.
Tim is back. "We know this is just the beginning for iPad."
Video time!
Over 475,000 iPad apps. "These are custom-designed for iPad, not the stretched smartphone apps that our competitors are doing."
"Regardless of what you might hear or read about how many other tablets are bought or sold or activated, iPad is used more... more than 4 times more than all the others put together."
170 million iPads sold
"Our most advanced technology in a revolutionary and magical device."
Tim Cook back on stage.
"Now you can create a document on an iPad, edit it on a Mac, and even share it with a friend who's stuck on a PC."
Quick iWork demo.
Now on to iWork. New icons here as well.
New iLife is free with any new Mac or iOS device.
New feature called Drummer that virtually plays along with your songs, but you can direct it.
All new Garageband for iOS 7. 32 tracks on an iPhone or iPad.
iLife update — new iMovie, iPhoto and Garageband for iOS and the Mac.
Eddy Cue
New Mac Pro will cost $2,199: 3.7GHz quad-core Xeon, 12GB RAM, dual FirePro D300s, 256GB SSD. Available "before the end of the year."
Apple's given out some new Mac Pros to people to see — Phil has a few stories.
Up to three 4K displays, including one HDMI 1.4 4K TV.
Up to 1TB of user-accessible Flash storage.
Inside: Xeon E5 with up to 12 cores. Fastest memory: 1866MHz DDR3 ECC memory. Two AMD FirePro GPUs.
Now the 15-inch. Crystalwell chip with Iris Pro graphics. Can also add a discrete GeForce 750M.
That's 2.4GHz Core i5, 4GB ram, and a 128GB SSD. Shipping today.
PCIe-based Flash, 802.11ac Wi-Fi, Thunderbolt 2.
9 hours of battery life.
Major updates to both 13 and 15-inch Retina Pros.
MacBook Pro
And now Phil Schiller to talk about the MacBook. Haswell time?
Available today.
Обновление будет БЕСПЛАТНЫМ! Сравнивает с $199 для Windows 8.
Maps app, which looks a lot like Maps on iOS.
A notification has come in from "Hair Force Two," Craig's wife. (Craig's nickname is famously Hair Force One.)
Going through iBooks, looking at a textbook about Mars while writing a document in Pages.
Demo time!
New Maps app, new iBooks app, also both familiar if you've been tracking Mavericks.
Shared links in Safari, enhanced notifications, Finder tags, better multiple display handling — this is all familiar Mavericks stuff.
Integrated graphics now support OpenCL, so you can run tasks up to 1.8x faster.
New feature called Compressed Memory can instantly compress inactive parts of memory, can fit 6GB of data in 4GB of RAM.
Up to an hour longer web browsing and 90 minutes longer watching iTunes video using Mavericks on the latest MacBook Air.
Craig Federighi on stage.
Starting with OS X — this will be a Mavericks overview.
On to the Mac. "Amazing lineup of desktops and notebooks."
Over a million apps in the App Store, over 60 billion downloads. Developers have now earned over 13 billion dollars.
Over 20m listeners have listened to a billion songs in the US in the last month.
"Customers agree, they love the bold new redesign." 5 days after launch, 200 million devices were running iOS 7. Nearly two thirds of devices now running iOS 7. "This blows away the other guys."
Tim is back. "Both new iPhone shipped with iOS 7, the biggest change to iPhone since the original iPhone."
Video of a retail store at launch
9 million iPhones sold at the end of the first weekend, biggest iPhone launch ever.
First, updates, starting with iPhone.
TIm Cook is out on stage
Video time. "If everyone is busy making everything, how can anyone perfect anything?"
Lights going down a hair — we're getting ready to start.
Apple's iPad event is happening on Tuesday, October 22nd, and we will be bringing you minute-by-minute coverage of the company's latest announcements live from San Francisco. Apple is reportedly preparing to unveil both a new, slimmer iPad 5 and a second-generation iPad mini featuring a high-resolution Retina display. Apple may not stop there: a release date for OS X Mavericks, more details on its Mac Pro desktop, new iPods, Apple TV, iOS 7 and other surprises could also be on the agenda.
The event begins October 22nd at 10:00am PST / 1:00pm EST.
10:00AM — Pacific
11:00AM — Mountain
12:00PM — Central
01:00PM — Eastern
06:00PM — London
07:00PM — Paris
09:00PM — Moscow
01:00AM (October 23rd) — Hong Kong
02:00AM (October 23rd) — Tokyo
03:00AM (October 23rd) — Sydney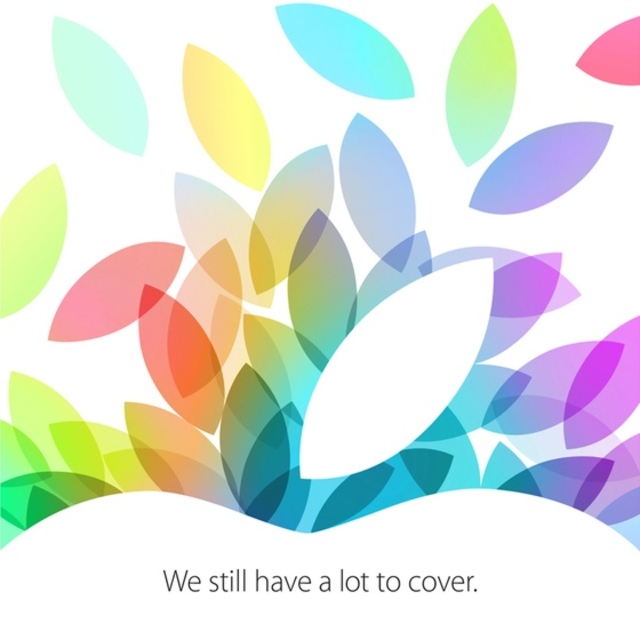 Leave a comment, read comments [2]