Apple is celebrating the 30th anniversary of the Mac. According to recode, part of the show is a two-minute video that will be presented live on apple.com.
Its biggest anniversary project was one done in secret. The company spent the actual day of the anniversary — January 24 — making a short movie. Filmed in 10 countries on five continents (over 36 hours, given the time differences), the movie focuses on all of the things people are doing with Apple products. It was filmed entirely on iPhones and edited over the past week — on Macs of course …

Leave a comment

According to information provided by Philip Elmer-DeWitt for Fortune, in the first quarter of 2014 Apple earned $13.1 billion. It is the forth best result of all time. In fact, Apple occupies half of the top-10 list, being the only tech company.
It was Apple's fifth $10-billion-plus quarter in three years. Only oil and gas companies make that kind of money, and they haven't seen $10 billion quarter since 2011. Why did the stock drop 8% Tuesday? I suspect part of the the answer can be found in the geometry of those five red bars. Apple is reporting record earnings, but Wall Street is looking for earnings growth.
You can see the top-10 list below.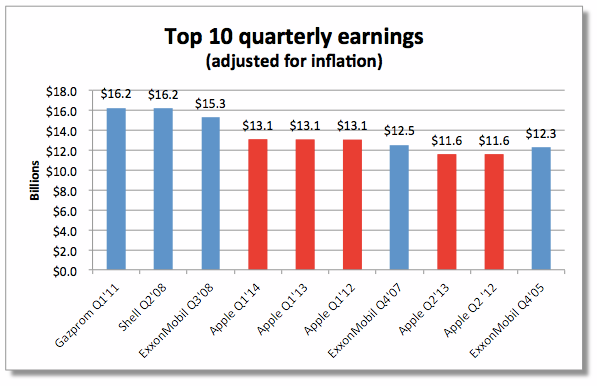 Leave a comment

Tim Cook is currently in the United Arab Emirates. Yesterday he was spotted posing for photos at Virgin Megastore at the Al Wahdi Mall in Abu Dhabi and today, people say, he visited Dubai Mall.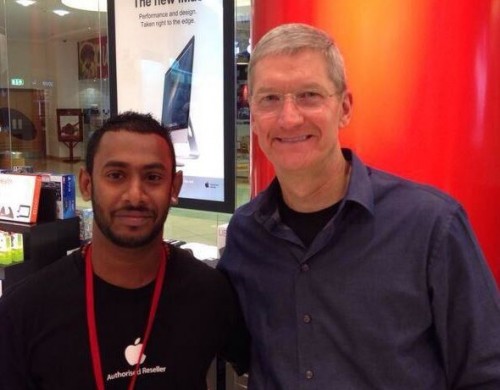 Leave a comment

According to the latest New York Times report, the company from Cupertino is currently working on new methods of charging its iPhones, iPods and the widely rumored iWatch. This methods, if to believe Apple's former employee, include solar and wireless charging.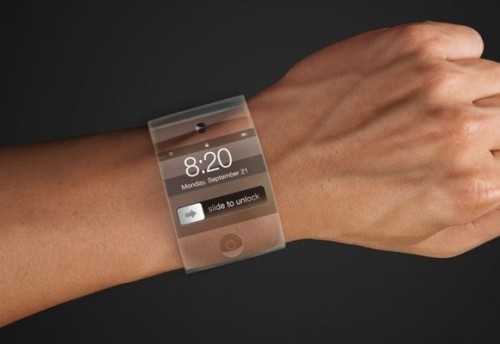 Leave a comment

A 13-year-old student from Portland, Maine got serious burns after the iPhone in her pocket suddenly burst into flames. According to the school principal Jeff Rodman, during the lesson the girl suddenly heard a pop and then saw the smoke.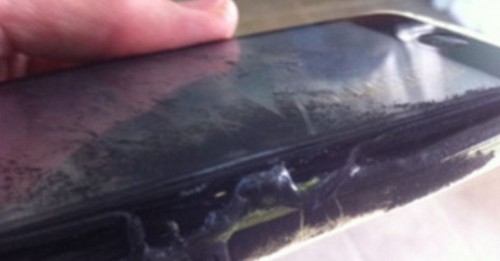 Leave a comment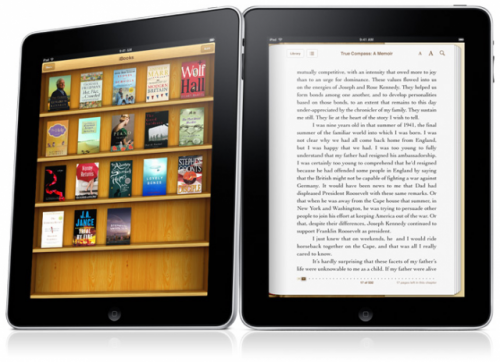 On Friday, another claim was filed over Apple for conspiring with publishes to fix E-Book prices. This time Cupertino company is believed to owe American E-Book customers at least $280 million in damages.  Steve Berman, who is the attorney representing the consumers, states that due to the conspiracy E-Books prices rose 18.1 percent, which lead to $280 million in damages.
State attorneys general and consumers who sued the world's most valuable technology company over its e-book pricing are seeking $280 million in damages and want that amount tripled, a lawyer for them said in a filing yesterday with the federal judge in Manhattan who presided over the U.S. case against Apple.

Leave a comment

According to SocketSite, the new Apple Store in San Francisco will boast two gigantic glass sliding doors. They will be over 44 feet tall and 23 feet wide.
Another set of renderings of the redesigned Post Street façade for Apple's proposed flagship store on Union Square which now features two full-height sliding glass doors, each measuring 23 feet wide and 44.5 feet tall, allowing the store to be opened to the street: Note the regular sized all-glass doors in the non-sliding bays which would act as the primary access points for the store when the full-height doors are closed.
The proposed retail store has already been redesigned for several times. At first, Apple was planning to destroy a historic fountain. However, due to growing complaints the designers developed a project of the fountain relocation. Another addition is an 8-foot wide glass window located on the side wall.
You can find the render below.

Leave a comment

It's Sunday again. Like every Sunday, I'd like to share with some of the most important and interesting stories of the last week. Many worth mentioning events took place, so if you think you missed something, don't waste your time and take a look at our top posts.


Leave a comment

According to IHS analyst Rhoda Alexander, the company from Cupertino won't release an iPad with a 12.9-inch display in the third quarter, as was reported earlier. With reference to the supply chain sources, she claims that Apple is currently testing larger screens, however, not in the quantities required for the Q3 2014 launch.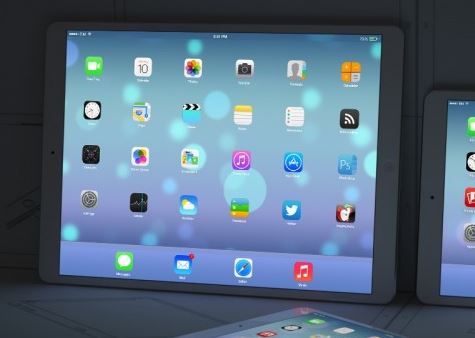 Leave a comment

Looks like it is possible to make any A5(X) device jailbreakable once and forever. Well, at least this is what iH8sn0w tweeted yesterday. What this all means is that your iPhone 4S, iPad 2, iPad 3, iPad mini, Apple TV 3G, and iPod touch 5G can be jailbroken literally for life.


Leave a comment

Apple CEO Tim Cook is currently in Ireland. He's reportedly visited the local company's facilities and spoken to government officials about Apple's business strategy and the new EU tax policy. Here's what Enda Kenny, the prime minister of Ireland, told the reporters after meeting Cook (via iClarified):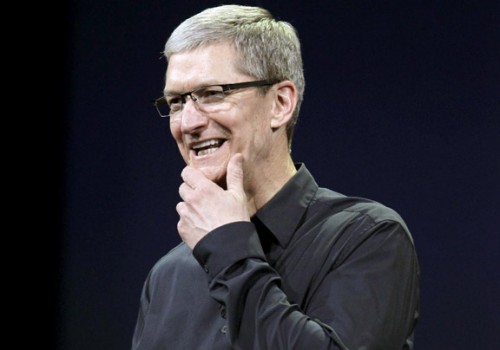 Leave a comment

The company from Cupertino is again the leader of the U.S. smartphone market, CIRP reports. Back in Q3 2013, Samsung was a leader with 38% share and Apple was falling behind with 34%. As we can see now, thanks to the new iPhone 5s and iPhone 5C releases, the guys from Cupertino managed to regain leadership. Take a look at the picture below.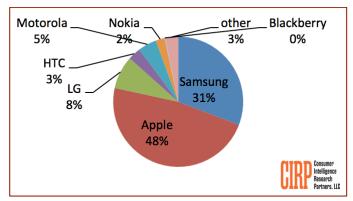 Leave a comment

According to Fortune's Philip Elmer-DeWitt, the company from Cupertino loses its revenue from two biggest markets - European and American. But that's OK since the revenue Apple gets from China, Japan and Asia Pacific begins to grow rapidly. Take a look at the chart below.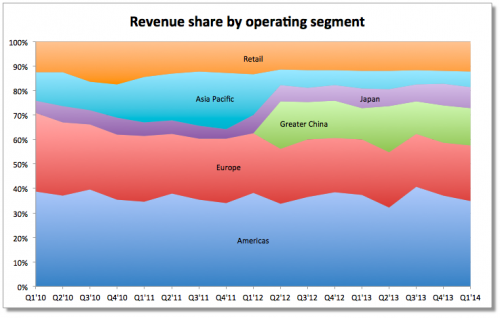 Leave a comment

Apple on Thursday seeded the fourth OS X Mavericks 10.9.2 beta to developers. What is interesting is that this release comes just a week after the third OS X beta. Looks like the guys from Cupertino plan to finalize the new version of the operating system for Macs as soon as possible. Well, that good, I guess.


Leave a comment

According to the latest job listings discovered by Jordan Kahn of 9to5Mac, the company from Cupertino is looking for a 'New Product Operations Program Manager - iPod' and 'Product Quality Engineer - iPod'. What that means is that Apple is thinking about creating a new iPod.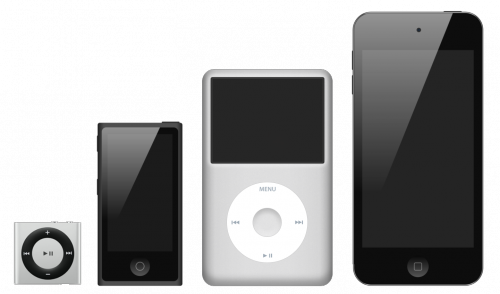 Leave a comment