Check out this video of German guys defacing the upcoming Hamburg Apple Store with a giant Windows logo.
This is funny that they have installed the logo incorrectly. The green is supposed to be at the top right and the blue is at the bottom left.

Leave a comment

Well, this is just awesome. This guy is great, he is a real magician.

Leave a comment

Jan-Michael Cart has posted an interesting iOS 5 concept video demonstrating an idea for dynamic icons. Each icon dynamically transforms to indicate notifications, time, some other info. We doubt this will appear in iOS 5, but the idea is quite interesting. Take a look:

Leave a comment


Cult of Mac source claims that iCloud will be deeply integrated with Time Capsule, confirming rumors that suggested a refreshed Time Capsule would come with embedded A4 or A5 CPUs. Apparently iCloud will become "a personal cloud server".  There obviously will be a "Home Folder" where files, which are saved on a Mac connected to the Time Capsule, will be instantly backed up and then available to any remote Mac or iOS device. The Time Capsule will be able to archive and served up any files to any connected device. Such functions will allow you to upload content to Time Capsule and make such content available for all devices on your network. If you work not on your network, all changes will be automatically made when you connect to your network.

Leave a comment

TechCrunch has posted a new rumor photo of iOS 5. It shows integrated into the iOS status bar Twitter notifications. We have heard rumors saying that Twitter will be tightly integrated into new iOS 5.
Again, no clue if it's actually real or not, but the idea might be right. Notifications that come down from the top bar could be how Apple ends up doing things in iOS 5. After all, this would mimic already existing functionality — when tethering, a blue strip appears along the top; when on the phone, it's a green strip. Might notifications (or at least Twitter notifications) produce a gray strip?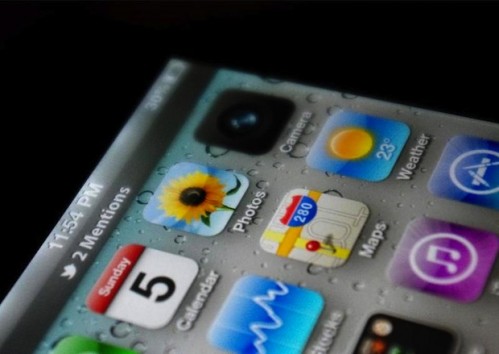 iOS 5 will be announced today at WWDC.

Leave a comment

The first 'authorized' biography of Jobs by Walter Isaacson is now available for pre-order from Amazon for $19.80 in paper, or $14.99 for the Kindle edition. Curiously iSteve: The Book of Jobs will be released on March 6th, 2012, the fourth anniversary of the release of the iOS SDK. The description of the book from Amazon provides:
From bestselling author Walter Isaacson comes the landmark biography of Apple co-founder Steve Jobs. In iSteve: The Book of Jobs, Isaacson provides an extraordinary account of Jobs' professional and personal life. Drawn from three years of exclusive and unprecedented interviews Isaacson has conducted with Jobs as well as extensive interviews with Jobs' family members, key colleagues from Apple and its competitors, iSteve is the definitive portrait of the greatest innovator of his generation.

Leave a comment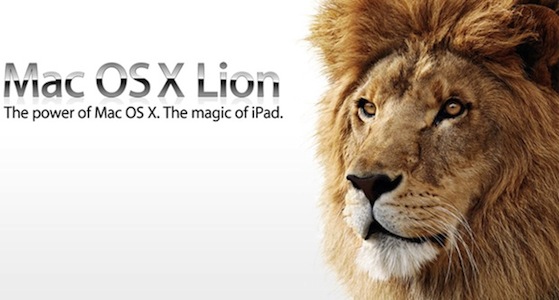 According to Apple's schedule, next versions of its Mac OS X were revealed every summer. So the next version of OS X, Lion, was also scheduled for a summer 2011, but, as usual, the exact date was not specify. 9to5 Mac today claims that it got some portion of information from several sources that suggests Lion will launch on Tuesday, June 14th.
Apple is said to be planning one of their product launch-indicative "visual updates" for the morning of Tuesday, June 14th
Moreover, the retail supplies of Snow Leopard are dwindling, solidifying the possibility of a mid-June launch of Lion. The report also suggests that the release of Mac OS X Lion will be beginning of reduced software presence within Apple stores, starting with the possible removal of Snow Leopard.

Leave a comment

MacRumors recently found out that iTunes is now showing a new sentence on the My App Updates page: "Or if your device has Automatic Download enabled for apps, your updates will download to your device without having to sync." So we may suppose that iOS 5 will have a new option that will automatically grab applications updates to your iOS device. Now you have to sync or download updates yourself through the App Store application. Though, the new   "Automatic Download" function may be available not only for iOS applications. But recent updates show that Apple has already removed that message from the iTunes, killing the service completely.

Leave a comment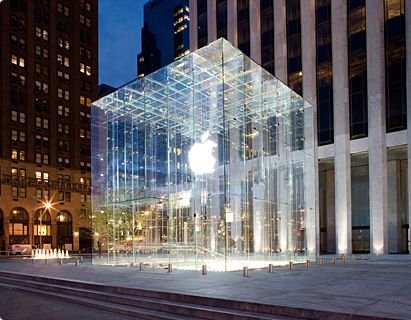 Apple could not achieve such success without its 324 retail stores, employing 30, 000 employees. Though it is not easy to become Apple's employee, but it is worth it. Apple pays its employees much more than its competitors. For example, Geniuses on average make $18 dollars an hour, with the helpful blue shirts earning around $16 dollars an hour as they guide customers to new products, show them how to use services, and make sales. So it is clearly that Apple's employees are highly motivated and expected to work hard and sell the Apple experience. Not surprisingly that in the first two fiscal quarters for 2011, Apple's retail division has already earned $7.04 billion in revenue of Apple's $51.41 billion. Apple's retail stores offer a level of convenience and friendliness that big retail chains just can't match.

Leave a comment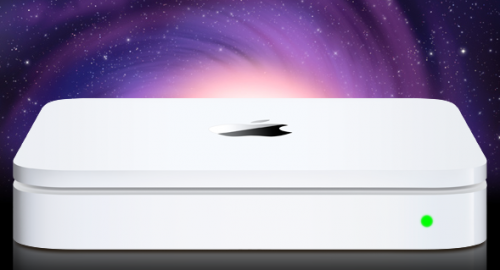 Apple reportedly could release new versions of Time Capsule next week, during WWDC. Rumors claim that Time Capsule will receive some important updates: the Time Capsule would recognize known devices on a network, check for software updates available, download them in the background, and later seed them to all devices in a few seconds without having to wait for a download process. Such process would allow users to store content on iCloud. The new Time Capsule is said to run the A4 or A5 processors, just like the second-generation of Apple TV, and iOS operating  system.
Such Time Capsule that will run iOS and be capable of caching content for other devices, will allow iPhones and iPads to connect to iCloud, as well as will increase streaming speed and overall quality of media content. iOS-based Time Capsule could also be used for a broader set of functionalities such as serving content to Apple TVs or enabling additional options in Lion's.

Leave a comment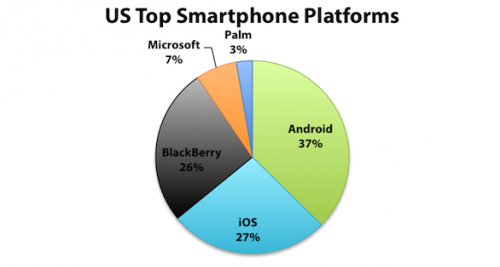 comScore has released the results of its April survey (comScore surveyed over 30,000 mobile phone subscribers.) of mobile phone usage in the United States. Surpassing Research in Motion, Apple took the solid second place among smartphone platforms and now iOS holds 26.0% of market. Google's Android leads the pack with 36.4% of the market, an increase of 5.2 percentage points over the three month period. Research in Motion's BlackBerry operating system has slipped to 25.7%. When looking at mobile phone manufacturers overall, Apple is now the fourth largest vendor with a share of 8.3% of the US market. Samsung remains number one with 24.5% of the market, followed by LG and Motorola.

Leave a comment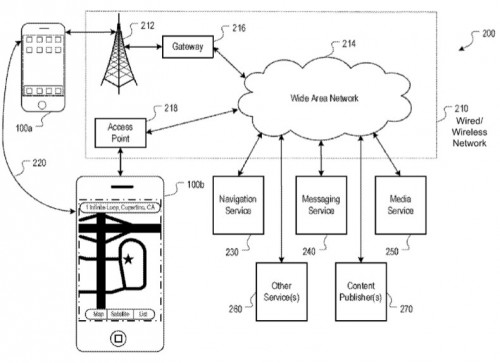 This week AppleInsider discovered another Apple's patent application entitled "Dynamic Alerts for Calendar Events", which was recently made public by the U.S. Patent and Trademark Office. It describes a system that could dynamically alert its users on different occasions based on users' current location.
The system would reportedly use its user's calendar events and GPS in order to determine how much time it will be required for the person to travel to the scheduled event and alert him about that.

Read the rest of this entry »

Leave a comment


The New York Post reports that Apple will pay between $100 and $150 million in advance payments to the four major record labels, Sony Music, EMI, Warner Music and Universal, for iCloud license agreements with them. Each of them was offered between $25 million and $50 million. Of course, the total amount will depend on number of songs consumers will store in iCloud.
The New York Post also mentioned that Apple would receive 30 % of fees, the music publishers - 12% and the rest would go towards record labels and artists. Apple is known to have finalized all deals concerning iCloud. The last one was recently sealed with Universal Music. The official iCloud announcement will be made on Monday, June 6, at the WWDC keynote.

Leave a comment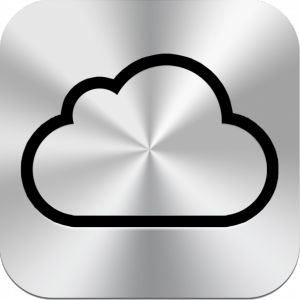 The Los Angeles Times reports that iCloud will be offered for free with a purchase from the iTunes Store. That means that a digital download may include free online storage or a free subscription. Though many believe that subscription won't be free, because users will want to form their libraries as quick as possible, and may cost as little as $ 25 per year.
The LA Times says Apple initially plans to allow consumers to store their data on Apple's servers, and would like to offer much more than music in the realm of movies, television, and other digital content through iCloud's publishing platform. Whether that storage involves uploading your own media or having iTunes scan your library is currently unknown, but we're hoping for the latter.

Leave a comment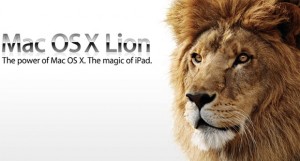 AppleInsider reports that its sources familiar with Apple's plans claim that this summer the company will offer some iCloud features and services for free for users who will upgrade to Mac OS X Lion. According to recent rumors, iCloud will replace MobileMe.
People familiar with Apple's plans indicated to AppleInsider that at least one of those secrets is expected to be that at least some of the services included in iCloud will be offered for free to Mac users who make the upgrade to Lion. iCloud is expected to replace the company's existing MobileMe service, which offers e-mail and remote file storage, along with syncing of bookmarks, contacts and calendar events, at a price tag of $99 per year. That price tag may remain for users who do not make the upgrade to Lion, or for Windows users. But it is expected that the cloud services will become free to Mac users who run the latest version of Mac OS X.

Leave a comment