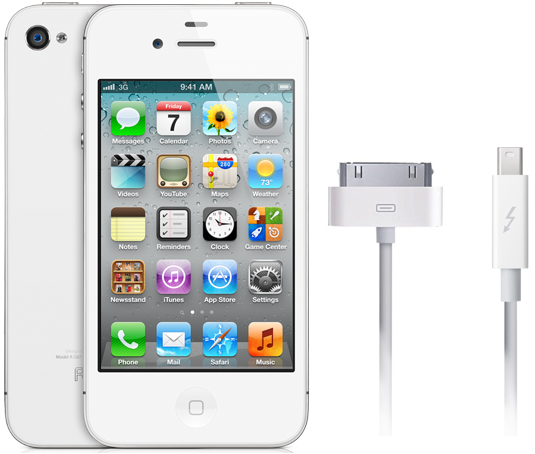 United States Patent and Trademark Office published a series of patents (via PatentlyApple) suggesting that Apple is attemting to possess as many Thunderbolt related patents and trademarks as possible despite the widespread impression that technology is a result of collaboration between Apple and Intel.

Leave a comment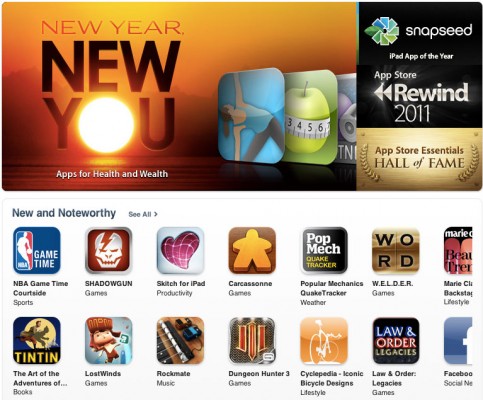 ABI Research, which tracks mobile application downloads and revenues segmented by mobile operating system platform, announced in a press release on Wednesday that 3 billion applications designed specifically for Apple's iPad were downloaded via App Store since the iPad first launched in 2010. The iPad downloads represent 19 percent of all iOS App Store downloads.
"Discounting all of those apps that were originally downloaded for Android smartphones, Android still trails greatly behind the iPad in terms of its tablet app offerings," research associate Lim Shiyang said. "Many Android tablets in the market are still using older versions of Android, which disadvantages users from enjoying the better effects of apps produced from more advanced software development kits."
As of the third quarter of 2011 there are 120,000 applications created specifically for the iPad were available on the App Store, comparing with last June numbers that accounted 100,000 applications. The growth of iPad-specific applications and downloads of iPad software is comparable to the explosive start the iPhone had when the App Store first opened.

Leave a comment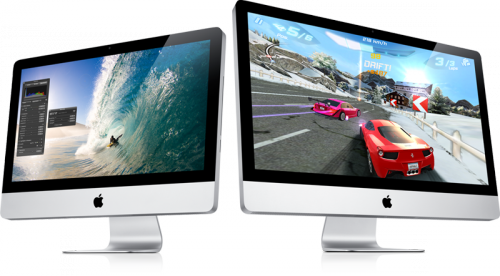 All-in-one PCs have quietly become a booming market and Apple's iMac now has a third of all sales. The all-in-one desktop market is expected to continue to grow and it could reach 23.3 million units by 2014.
All-in-one desktop computer sales grew 39 percent in 2010 to reach 14.5 million units, research firm DisplaySearch revealed to Bloomberg. Among those desktop sales, Apple accounted for 32.9 percent, making it the single largest all-in-one PC maker in the world. The iMac is Apple's all-in-one system and the company's strongest selling desktop, beating out the Mac mini and Mac Pro. In the company's previous quarter, portable Macs represented 74 percent of Mac sales, but desktop sales still hit a new record for Apple.
Apple with nearly 33 percent share of all-in-one desktops is  now leading the market, putting it ahead of the No. 2 company, Lenovo. Hewlett-Packard with 21.4 percent was in third place. Noteworthy, Hewlett-Packard plans to release a new pair of desktop PCs before next week's Consumer Electronics Show.
The HP Omni is an all-in-one desktop with a 27-inch screen meant for family use, and it will go on sale Jan. 8 starting at $1,200. It will be joined by a standard desktop geared at gamers, the Pavilion HPE h9 Phoenix, which starts at $1,150.

Leave a comment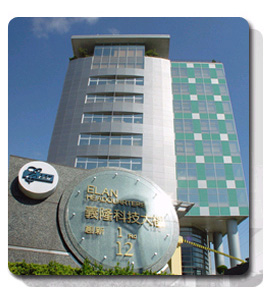 According to Reuter's report, Taiwan-based company Elan Microelectronics has announced a settlement of a patent dispute with Apple related to multi-touch technology. Elan states that Apple has agreed to cross-license some patents and pay $5 million to avoid future disputes regarding said intellectual property.

Leave a comment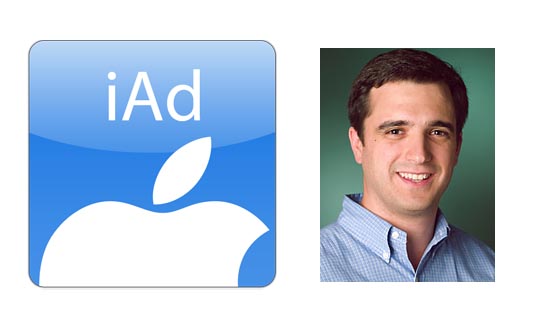 Bloomberg reports that Adobe executive Todd Teresi was hired by Apple to head up its mobile advertising unit iAd. Detailed information on the employment will be forthcoming.
Teresi has worked as VP of Media Solutions division in Adobe for the past nine months and previously worked in Yahoo, PriceWaterhouseCoopers and Quantcast.

Leave a comment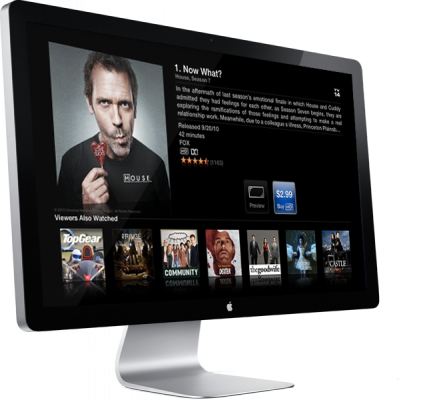 Citing an anonymous source who worked at Apple, USA Today revealed that 50-inch Apple television is said to be housed in the secure California studio of Jonathan Ive. The same source also said that Apple is looking to build an LCD television sized 42 inches or larger with built-in Wi-Fi functionality, because Apple is not interested in building an HDTV with a screen size of less than 42 inches.
Author Scott Martin notes that Apple's rumored TV set is going to receive "big buzz" at next week's Consumer Electronics Show, even though the Cupertino, Calif., company isn't attending the event.

The story also features a quote from Apple co-founder Steve Wozniak, who said he expects Apple will make "an attempt" to build a TV. He believes the living room will "remain a center for family entertainment, and that touches on all areas of consumer products that Apple is already making."
The report offers little else that is new about Apple's anticipated television set. Some reports have indicated that Apple plans to use custom chips, like it does with the iPhone, iPad and iPod touch, others suggested that Apple could include AirPlay and iCloud into its new product. Rumors also claim that Apple wants to be able to offer customers customized channel lineups with its anticipated television set to choose whichever channels or shows they want for a monthly subscription fee.

Leave a comment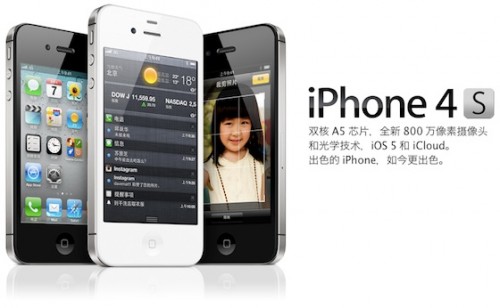 Apple finally announced the forthcoming debut of the iPhone 4S in China in a press release on Wednesday. The iPhone 4S is set to launch in China and 21 additional countries across the world on Friday, Jan. 13.
"Customer response to our products in China has been off the charts," Apple Chief Executive Tim Cook said in a statement. "With the launch in China next week, iPhone 4S will be available in over 90 countries making this our fastest iPhone roll-out ever."

In addition to China, Jan. 13 will also mark the launch of the iPhone 4S in Anguilla, Antigua and Barbuda, Bolivia, Botswana, British Virgin Islands, Cameroon, Cayman Islands, Central African Republic, Dominica, Dominican Republic, Ecuador, Grenada, Guam, Guinea Conakry, Ivory Coast, Jamaica, Kenya, Madagascar, Mali, Mauritius, Niger, Senegal, St. Vincent and The Grenadines, Trinidad and Tobago, Turks and Caicos and Uganda.
Rumors have suggested that Siri, Apple's voice-controlled personal assistant service on the iPhone 4S, will gain support for Mandarin, the most popular form of the Chinese language, by March of 2012. Noteworthy, some regional branches of China Unicom in mainland China had already gained profit from iPhone 4S launch having offered bookings for the handset in anticipation of the device's launch.

Leave a comment


Apple early today updated its investor relations page to officially state that it will report its fiscal first-quarter (fourth calendar quarter of 2011) earnings on Tuesday, Jan. 24, when it will reveal the results of the iPhone 4S launch and holiday shopping season.
Apple's conference call webcast discussing Q1 - 2012 financial results will begin at 2:00pm PT/5:00pm ET on Tuesday, January 24, 2012.

Please note that comments made during this call may include forward-looking statements that are subject to risks and uncertainties, and that actual results may differ materially from these forward-looking statements. For more information on the factors that could influence results, please refer to Apple's SEC filings.
Current expectations on Wall Street call for Apple to report profits of $9.83 billion on revenue of $38.16 billion. A total of 46 analysts polled skew as high as $10.74 billion and as low as $8.88 billion in their predicted revenue. The company is also predicting all-time record iPhone sales as industry sales estimates have been pointing toward a similar record for Mac sales. iPad sales are also expected to be strong with a record number of sales. As for iPod sales, this quarter remains the company's strongest while iPods remain ones of the most popular gifts.

Leave a comment


According to the Daily Mail report, Apple wants to bid for rigts to stream English Premier League (PM) games. English Premier League is the England's top football league and one of the most popular football leagues worldwide and it is expected that bidding for the rights to stream its content will generate billions of dollars for the league and the teams. The league will consider bids for the next football season after the rights to stream games expire at the end of the current season.
Read the rest of this entry »

Leave a comment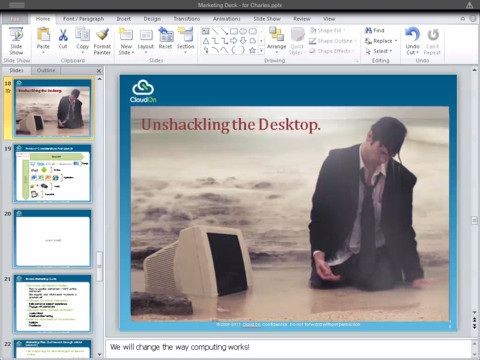 Yesterday startup CloudOn launched a free iPad app WorkSpace aimed at bringing the Microsoft Office's functionality to the iPad. This app actually works as an interface for the cloud-based app operated on CloudOn's servers, so it requires connection to the Internet. The app provides the functional implementation of Microsoft Excel, PowerPoint and Word as well as full integration with syncing and file storage through Dropbox.

Leave a comment, read comments [2]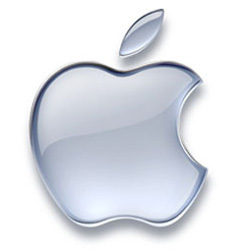 All Things D reported on Monday that Apple is reportedly planning an event scheduled to take place in New York at the end of January. The company is said to use the event as a platform for an advertising or publishing announcement. Of course, many anxiously await the announcement of a much anticipated iPad 3 or new Apple TV, which some think will be launched later in 2012. Apple usually reserves product launches and important announcements for its home-state like the latest iPhone 4S, which debuted on Oct. 4, 2011 at Apple's campus.
According to sources close to the situation, Apple is planning an important — but not large-scale — event to be held in New York at the end of this month that will focus on a media-related announcement.

Per the usual caveat, the tech giant is well known for moving around their public show-and-tells, so this could certainly change at any moment.
Several of Apple's media and advertising units have significant presences in New York City, and Apple Senior Vice President of Internet Software and Services Eddy Cue (Cue is currently heading up the iTunes Store, App Store, iBookstore) is said to take part in the end of the event that has caused rumors suggesting that Apple's announcement may be connected with advertising or publishing.

Leave a comment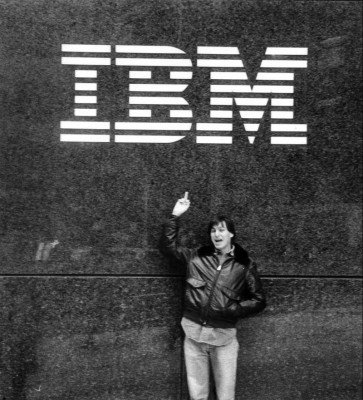 Andy Hertzfeld, one of the original members of the Macintosh team published the photo to his Google+ page on Thursday in memoriam of the late Apple co-founder and his rebellious spirit. The photo captured nearly 30 years ago shows a shaggy-haired Steve Jobs, clad in blue jeans and a leather jacket, expressing his affection for then rival IBM. In the early days of Apple, IBM was largely considered the company's biggest competitor and enemy of sorts.
In memoriam for Steve Jobs as 2011 draws to a close, here's one more rare photo that illustrates his rebellious spirit. In December 1983, a few weeks before the Mac launch, we made a quick trip to New York City to meet with Newsweek, who was considering doing a cover story on the Mac. The photo was taken spontaneously as we walked around Manhattan by Jean Pigozzi, a wild French jet setter who was hanging out with us at the time. Somehow I ended up with a copy of it. My editor begged me to include it in my book, but I was too timid to ask for permission, especially since IBM was still making CPUs for Apple at the time.

Leave a comment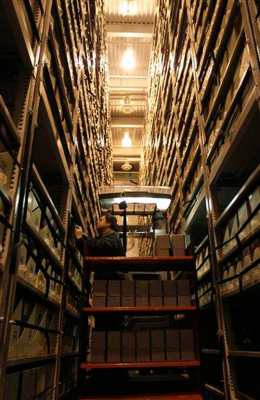 In late 1990s, when Apple had some financial hardships the company elected to turn over its trove of materials to Stanford University's Silicon Valley Archives. Apple had been collecting the materials with the intention of forming its own company museum. The materials include "hundreds of box" requiring more than 600 feet of shelf space and has early photos of a young Steve Jobs and Steve Wozniak, blueprints for the first Apple computer, user manuals, magazine ads, TV commercials, company t-shirts and drafts of Jobs' speeches.
The university hopes its efforts will ultimately help historians, entrepreneurs and policymakers understand how a startup launched in a Silicon Valley garage by two college dropouts grew into the world's largest company.

Leave a comment


The latest figures from Net Applications show that Apple closed out 2011 with a commanding 52.1 percent share of mobile devices tracked browsing the Web.  In second place was Java ME with 21.3 percent, while Google's Android came in third with just 16.2 percent.
Apple's share slid from 54 percent in November of 2011, and is down from its high of 61.5 percent in October. But it's also up from the 46.6 percent share iOS was tracked at in February of 2011. Coming in fourth in the data was Nokia's Symbian platform, with 5.8 percent, while Research in Motion's BlackBerry holds 3.5 percent. Interestingly, while sales of new BlackBerry devices have been weak, December of 2011 proved to be the best month of the year for RIM.
If dividing Apple's devices shares in mobile web-browsing, the iPhone took 25.2 percent and leads all mobile devices. The iPad, though, was the second most popular device, with a 24.5 percent representation.
In the PC market Apple's Macs platform finished with 6.4 percent in December of 2011 comparing with the 92.2 percent share Microsoft held with Windows. Windows XP, despite being 10 years old, is still leading the market with 46.5 percent. Windows 7 is in second with 37 percent, while Windows Vista holds 8.44 percent. As for Apple's Mac OS X, Mac OS X 10.6 Snow Leopard platform remains its most popular at 3 percent, Mac OS X 10.7 Lion, released in July, closed out 2011 with a 2 percent share in December.

Leave a comment


Digitimes has reported that Apple will be utilizing IGZO (indium gallium zinc oxide) flat panels instead of IPS (in-plane switching panels) in its "next-generation mobile display products" such as the iPad 3.
Starting with the new iPads, Apple will utilize IGZO panels from Sharp in order to upgrade the display resolution of the new tablets to full HD level, the sources indicated.
Though, such rumors aren't new ones. We have already heard that Apple could use this technology in the next-generation iPad. A research note from Jefferies analyst Peter Misek back in November made very similar claims:
Also, we believe that Apple and Sharp together have a modified IGZO (indium, gallium, zinc) technology to achieve 330 dpi, which is sufficient for an HD display while not using IPS nor having to include dual-bar LED backlighting. In our view, this should lead to several design advantages, namely the device can be thinner, battery life should be longer, and the overall experience for users should be meaningfully improved.
In April, Sharp revealed its plans to commercialize new IGZO panels for mass production later this year. DisplayBlog recaps the advantages of this new technology:
The benefits of IGZO are plenty: lower cost of manufacturing, up to 30x higher electron mobility than a-Si (amorphous silicon), increased aperture ratio for improved light transmittance, higher resolution in terms of ppi, etc. IGZO would allow for significant cost reductions compared to LTPS (Low Temperature Poly-Silicon).
The new technology is said to allow Apple not to use a second light bar system that is presently used in the iPad and to avoid making the iPad 3 thicker than the current iPad.

Leave a comment