Late last week, a U.S. judge Lucy Koh declined to award a preliminary injunction over Galaxy line of smartphones and tablets in the United States. The Judge admitted that Samsung infringed some of Apple's patents, but she declined to issue a ban, because of a lack of evidences.
In her ruling, Koh wrote that for some of the smartphones, "Apple has established a likelihood of success on the merits at trial."

Koh added that Apple would likely prove Samsung infringed one of its tablet patents. However, Apple had not shown that it was likely to overcome Samsung's challenges to the patent's validity, Koh wrote.

Apple must demonstrate both infringement and validity to succeed in its lawsuit.
Interestingly, Apple has licensed to third parties one key iOS patent covering the "scrollback" feature displaying the linen texture when elastically scrolling beyond the end of a document or webpage. Licenses for the patent were obtained by Nokia and IBM, and Apple offered a license to Samsung.
Apple asserted this patent against Samsung as part of its failed attempt to get an injunction against Galaxy devices, and the court order denying the injunction includes general discussion of how past licensing behavior affects the decision of whether or not to grant an injunction. The discussion is nestled among two redacted statements shown to The Verge that confirm the '381 patent was licensed to IBM and Nokia, and that Apple offered a license to Samsung in November of 2010 as part of settlement negotiations.
The fact that Apple has been willing to gain profit from a license offered to other companies undermines its argument that it is being irreparably harmed by Samsung's alleged infringement.

Leave a comment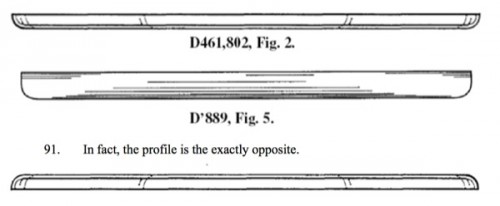 Comparison of iPad and Galaxy Tab profiles
The Verge reports that Apple offered an alterative design for Samsung's Galaxy Tab 10.1 in its July court case seeking a sales ban of the Galaxy Tab 10.1. Apple gave Samsung a list of tweaks that would allow the company to differentiate the two tablets (iPad and Galaxy Tab) and start selling Samsung's Galaxy Tab not violating Apple's patents.
The Korean electronics company argued that the patents Apple is using against the Galaxy Tab were based on functionality, and are thus required by all smartphones and tablet computers as part of a basic utilitarian design that is why Samsung had to use the design elements in question. But Apple believes that Samsung could use other options and that the Korean company purposely violated standing patents. To prove its point, Apple generated a list of possible alternatives that included:
A front surface that is not black.
A shape that is not rectangular.
No rounded corners.
A front surface that is not flat.
Varying Bezel size.
A device that is not thin.
A cluttered appearance.
In response, Samsung slightly changes design of its tablet and rebranded it the Galaxy Tab 10.1. However, Apple did not find these changes sufficient to warrant the lifting of the injunction.

Leave a comment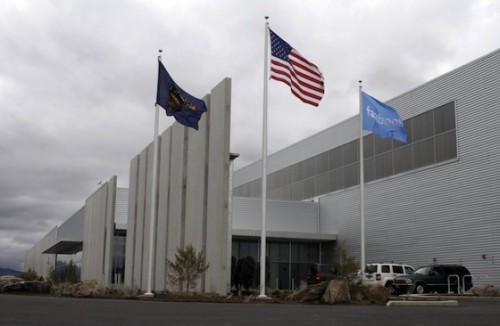 OregonLive.com claims that Apple is currently deciding whether to build a new data center in Prineville, Oregon. The city is said to be a big attraction for tech companies because of tax breaks. Depending on the size of the facility, Apple could reportedly receive a tax exemption of several million dollars.
This data center is aimed at complementing Apple's another data center in Maiden, North Carolina. Apple is currently considering an option to purchase 160 acres of land for the potential Prineville data center near a recently-opened Facebook data center.  Apple should make a final decision until the end of this month.
The world's largest tech company is nearing a decision on whether to build a large data center in Prineville, a quarter mile south of the Facebook server farm that opened earlier this year, according to two people with direct knowledge of Apple's plans… Those familiar with the discussions say that Apple's Oregon plans have been in flux while it awaited word on whether there would be adequate electricity transmission in Prineville to meet its needs.
Apple's project has a codename "Maverick" and will include a 31-megawatt data center, comparing with North Carolina data center's electricity demand that is estimated in the range of 100 megawatts.
Apple has been working hard to expand its data center capacity to handle iCloud and other services. Earlier this year Apple opened a massive data center in Maiden, N.C. Apple also maintains a smaller data center in Newark, California and has been building out minor additional capacity in Santa Clara, California near its corporate headquarters in Cupertino. In October, the company revealed its plans to build a new solar farm opposite the data center in Maiden.

Leave a comment

Today the popular racing game Shift 2 Unleashed is FREE! You can download the game in AppStore via iTunes or using the following links: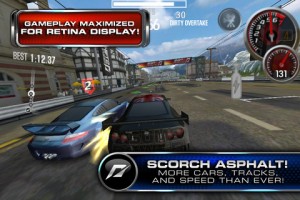 Leave a comment, read comments [5]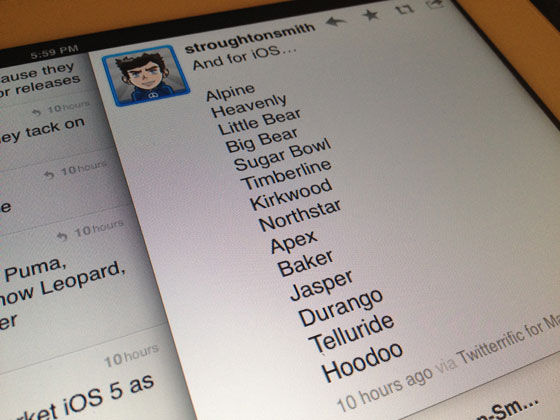 There are many official codenames for operation systems. For example, Mac OS 10.7 is Lion, Android 4.0 is Ice Cream Sandwich. But we have never heard of iOS codenames. TiPB reports that developer Steve Troughton-Smith has revealed what Apple's codenames are for each iOS version. Here they are:
1.0: Alpine (1.0.0 – 1.0.2: Heavenly)
1.1: Little Bear (1.1.1: Snowbird, 1.1.2: Oktoberfest)
2.0: Big Bear
2.1: Sugarbowl
2.2: Timberline
3.0: Kirkwood
3.1: Northstar
3.2: Wildcat (iPad only)
4.0: Apex
4.1: Baker
4.2: Jasper (4.2.5 – 4.2.10: Phoenix)
4.3: Durango
5.0: Telluride
5.1: Hoodoo

Leave a comment

Leave a comment, read comments [5]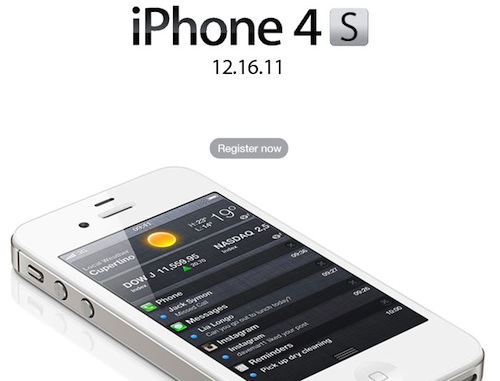 This month Apple is continuing its global rollout of its new iPhone model and while the company has not issued any statements about its future launch schedule, retailers and carrier partners in some countries have announced availability of the device for December 16th. This round of rollout will include two of the most populous countries: Russian and Brazil.

Leave a comment, read comments [4]


Just a day after Australian appeals court lifted the sales ban on Samsung's Galaxy Tab 10.1, Apple has managed to win a one-week extension of the ban yesterday, according to Bloomberg.
High Court Justice John Dyson Heydon today extended the ban on the release of Samsung's Galaxy Tab 10.1 to Dec. 9. On that day, the country's top court will consider Apple's request for permission to appeal a lower court's order issued earlier this week, which lifted a ban on the product that has been in place since mid-October.

"A stay for one week will cost Samsung, in effect, one week's trade," Heydon said, following a 90-minute hearing in Sydney. The extension will hurt Samsung "but not to extend the status quo is likely to be injurious to Apple," he said.
Samsung has been reportedly planning to begin selling the Galaxy Tab 10.1 in Australia today. The company was rushing to bring the device to the market it time for the holiday shopping season, but has had to postpone its plans.
Samsung argued that every day of delay is crucial as the clock continues ticking on the holiday shopping season, claiming that Apple has no basis for an appeal of the ruling, but the court is willing to keep sales on hold until it can hear Apple's side of the request for appeal.

Leave a comment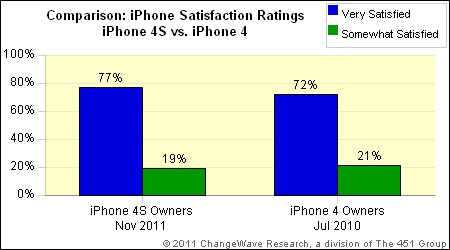 Research firm ChangeWave released on Thursday results of an early November survey of iPhone 4S owners that shows that 77 percent of respondents indicated they are "very satisfied" with their iPhone 4S, another 19 percent said they are "somewhat satisfied," while j 2 percent fell into the "unsatisfied" category. After launch of the iPhone 4, 72 percent of Apple customers were "very satisfied" with their purchase, and 21 percent were "somewhat satisfied."
ChangeWave also asked customers what their favorite specific features of the iPhone 4S are. Siri topped the list of most-liked features on the iPhone 4S, with nearly half of survey respondents citing it. Second place was ease of use with 39 percent, and the new 8-megapixel camera took third with 33 percent. Faster Web browsing was the fourth most popular feature at 24 percent, the high-resolution Retina Display took fifth with 23 percent, and iCloud service was in sixth with 19 percent.

Leave a comment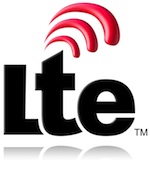 Nikkei Business reports that Japanese carrier NTT DoCoMo has reached a basic agreement with Apple on releasing an LTE-capable (able to connect to long-term evolution 4G high-speed data networks) iPad in the summer of 2012 with an LTE iPhone to follow in the fall.
Earlier this month it was reported that executives with the wireless carrier were said to have visited the U.S. in mid-November to talk with Apple Chief Executive Tim Cook, but DoCoMo was hesitant to agree to Apple's demands on unit volume and its refusal to allow the carrier to add its own applications to the device.
Nevertheless, NTT DoCoMo has denied the report in a press release, stating there is "no basic agreement" in place with Apple.

Leave a comment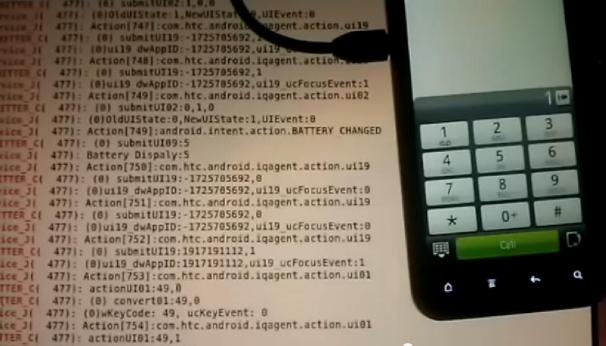 During the last several days, there have been many reports on the findings of Trevor Eckhart revealing that logging software is present on many BlackBerry, Nokia and Android phones. The software called "IQRD"  was developed by the company Carrier IQ. The PCWorld summarized the video showing the scope of logging.

Leave a comment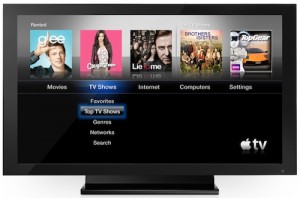 Though Piper Jaffray analyst Gene Munster does not have specific knowledge of Apple's ultimate plans for its television set, he has expressed his ideas about what Apple will do with its rumored product that may be launched in the second half of next year. Among Munster's predictions:
- Full-fledged television set. Apple's television set will be an all-in-one solution, but most users won't be able to use cable or satellite channels, because Apple does not offer a full suite of television content offerings. Instead, the Apple's TV will serve as a user interface that still uses the standard signal from a cable box.
- Range of sizes and twice current pricing. Apple's television set will be introduced in a range of sizes. Munster suggest that Apple' TV will have price that will be approximately twice higher than the prevailing market price of similarly-sized televisions.
- Simplicity and Apple's ecosystem. Apple television will integrate with iOS devices and Apple's content ecosystem for video, games, and apps. The TV will have a traditional remote control, but also iPad and iPhone apps for controlling the set's features, as well as Siri voice control to simplify interaction with television sets.

Leave a comment

MuscleNerd has announced in twitter that the iPhone 4S baseband bootrom has been dumped. This means one more step towards iPhone 4S unlock.
iPhone4S baseband bootrom now dumped

Here's a tiny snippet: http://twitpic.com/7mg5hp ...but we'll be digging into the rest of it too!
Earlier this week, it was announced that a very promising iPhone 4S unlock is in the works.



Leave a comment, read comments [4]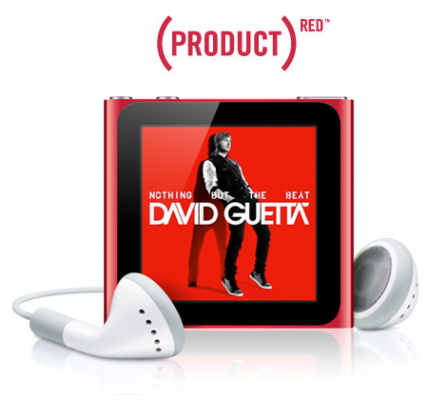 Apple retail stores are taking part in World AIDS Day today, on December 1. The company is drawing attention to its (RED) products, which raise money to fight AIDS in Africa. ifoAppleStore reports that a "select group of Specialists will be wearing and promoting the (RED) iPod nano" to mark the day set for international AIDS awareness.
Apple sells 8GB and 16GB (RED) iPod nano models for the same price as other models, but a part of money that Apple will receive this day, will be donated to the Global Fund in order to fight AIDS in Africa. The company also offers a (RED) leather iPad Smart Cover, Special Edition (RED) Beats by Dr. Dre Solo HD Headphones, as well as a (RED) iTunes gift card. Managers also have to use the (RED) Smart Covers for iPads during this day.
The idea of this (RED) project belongs to U2 lead singer Bono and Bobby Shriver. Apple has been the largest contributor to the Global Fund to Fight AIDS.
"This is serious and significant," Bono wrote. "And Apple's involvement has encouraged other companies to step up."

Leave a comment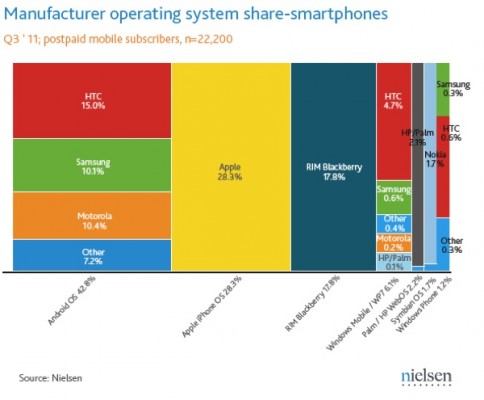 According to findings released on Tuesday by Nielsen, Apple remained the largest smartphone manufacture in the Unites States in the third quarter. While smartphones sales continue to grow in the U.S., accounting for 56 percent of all cellphone sales in the prior quarter, Apple's market share has reached 30%. Apple's third quarter performance was followed by HTC with a 20.3% share.
As for mobile platforms, Android and iOS dominate with a 71.1% share, holding 42.8% and 28.3% respectively. About a half of all mobile users in the United States owns a smartphone. During the prior quarter 56% of all handsets purchases were smartphones. The third place still belongs to RIM's BlackBerry platform with 17.8% that was followed by Microsoft's Windows Mobile platform, HP's Palm/webOS, Symbian and the fledgling Windows Phone.
App downloads in the third quarter saw that Google and Apple have the largest share. 83% of all downloads were made through Android and iOS devices. But Google has recently expressed dissatisfaction by the situation with app downloads, and hinted at upcoming changes that would bring its online store more in line with Apple's.

Leave a comment