The company from Cupertino will open a new retail store soon. This will be the first Apple Store in Brazil and the grand opening will take place on February 15th 2014 at 11 a.m. local time. According to iClarified, the store will be located in VillageMall shopping center.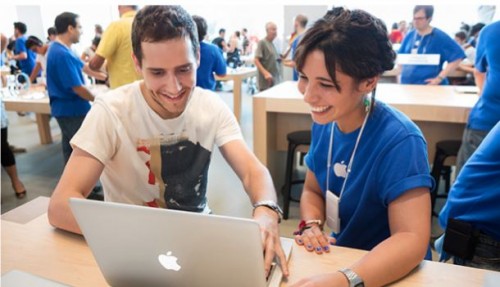 Leave a comment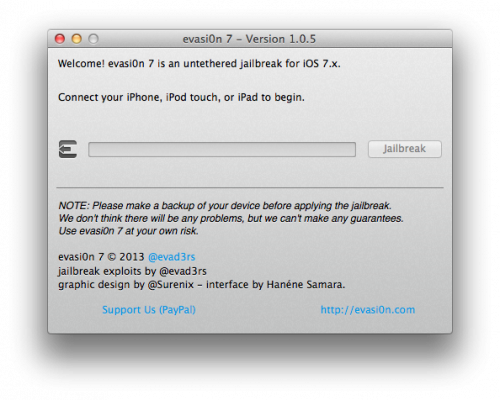 The evad3rs have released an updated evasi0n 7.0.5 that brings the ability to jailbreak iOS 7.0.5. The iOS 7.0.5 was released earlier this week for the some iPhone 5s and iPhone 5c models (the GSM + CDMA editions).
Pod2g noted the change on twitter
Hi there! evasi0n 1.0.5 with support for iOS 7.0.5 is up on http://evasi0n.com .

Leave a comment, read comments [4]

A research firm Canalys has published a report which states that in Q4 2013 Apple remains the market leader of the combined PC and tablet market in shipments. Apple occupies 19.5% of the market by shipping 30.9 million Mac and iPad units. Lenovo is the market follower with 11.8% share. It has increased the result by 25.5% and jumped over HP to become second best.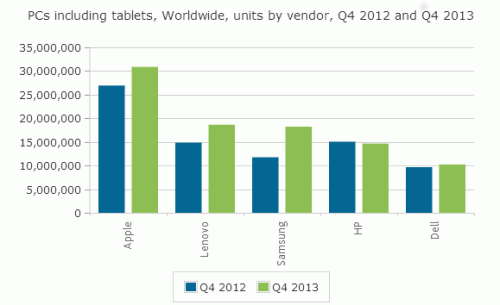 Leave a comment

Have a look at this fantastic demo-video! It shows that the sapphire-coated display cannot be scratched by concrete. Screen protection company Aero-Gear makes an experiment, scratching a  concrete block over iPhone display protected by sapphire cover. Assuming the video is genuine, the result is very impressive. We can expect great scratch-resistance from coming iPhone 6.
We'll have a lot more on Apple's sapphire aspirations in the coming days in a series of special reports.

Leave a comment

9to5Mac reports that Roy J.E.M Raymann from Philips Research, an expert on sleep research, will work for Apple's iWatch team.
Before joining Apple, Raymann served as a senior scientist at Philips Research working as a lead on various sleep related research projects. He founded the Philips Sleep Experience Laboratory, a non-clinical sleep research facility, and also lead projects researching various aspects of sleep and activity monitoring through the Philips' Consumer Lifestyle Sleep Research Program and the company's Brain, Body, and Behavior group. Raymann's research covers many projects related to monitoring and modulating sleep patterns through non-medical means.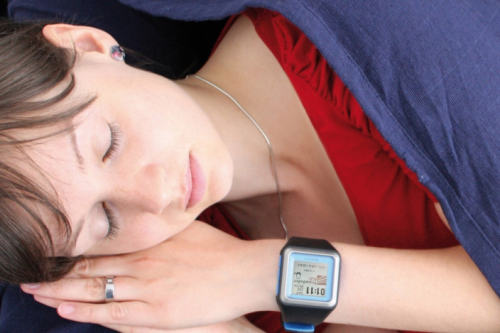 Leave a comment

Looks like Apple has found a way to prevent people from jailbreaking their iOS devices. According to iH8sn0w, iOS 7.1 beta 5, released on Tuesday, patches two exploits used to jailbreak Apple's smartphones and tablets. Keep in mind that the fourth beta patched another vulnerability used by evasi0n7. It appears that beginning from iOS 7.1, it would be impossible to hack your iPhone, iPad or iPod touch. And that is definitely not good.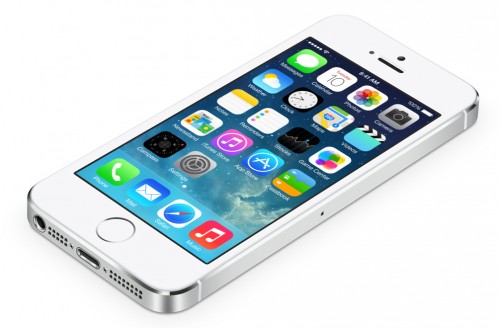 Leave a comment

According to the recent report from The Economic Times, Apple has resumed the production of its discontinued iPhone 4. The company from Cupertino plans to sell these handsets in the developing markets i.e. in India, Indonesia, Brazil and probably some other countries.

Leave a comment

Apple on Tuesday released iOS 7.1 beta 5 to registered developers for testing. The release comes just two weeks after the fourth beta, which contained a couple of minor improvements and tweaks.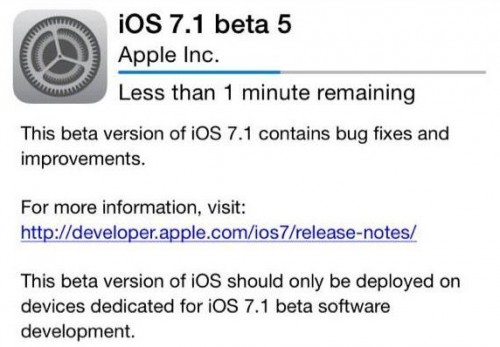 Leave a comment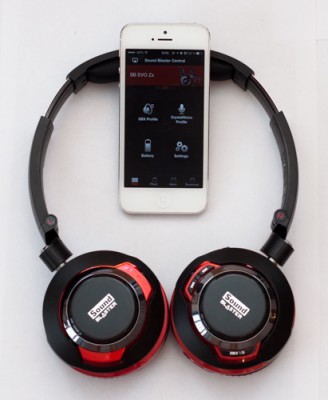 We have already written about supercharged headset Sound Blaster Evo Zx. One of the most visible difference between Evo Zx and other headphones is extraordinary sound quality thanks to many hi-tech technologies. In particular Evo Zx has an internal sound processor SB-Axx1. Today we will take a close look at this processor's power and possible setting.
For iOS operating system Creative made a special app called Sound Blaster Central. When you first connect Evo Zx to an iPhone, iPod Touch or iPad, the intelligent headset analyzes if Sound Blaster application is installed. If no special app is found you'll get a message advising you to install the software from the Apple App Store.

Leave a comment

Following today's rumor claiming that the would-be iPhone 6 will get an 8 megapixel camera, another report from Chinese website IT168 indicates that Apple's next generation handset will be equipped with at least 10MP sensor with an aperture of f/1.8 and and new lenses.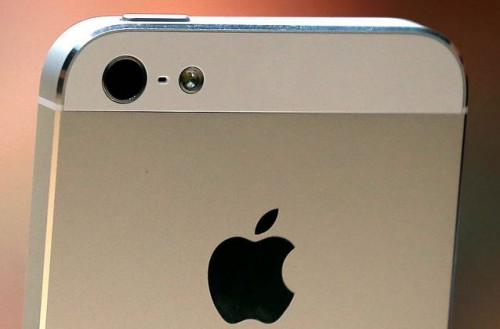 Leave a comment

According to Katy Huberty, Morgan Stanley analyst, Apple will reach $17.5 billion iWatch sales over the first year of release, showing a better performance than iPad with $12 billion in the launch year. Such optimistic forecast bases on the belief that iWatch will become an additional accessory for any iOS user rather than positioning itself as a completely new product.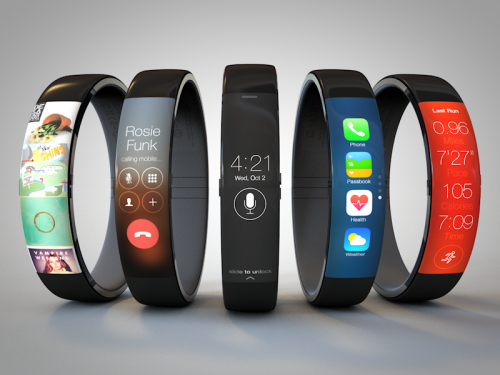 Leave a comment

Apple CEO Tim Cook is visiting Turkey on his mini world tour. The meeting with Turkish President Abdullah Gümeet will be held on Tuesday, February 4. The information was published on president's official website.
Naturally, the topics to be discussed are kept secret, although there are some speculations. It is believed that the main issue will be Turkey's "FATIH Project", which implies replacement of traditional teaching tools with innovative equipment like Apple's iPad.

Leave a comment

Today Apple has released a new video featuring the filming process of the special ad video commemorating Mac 30th anniversary.
Capturing the essence of the moment and it being truthful as seen through the prism of this device is really rather lovely.

Leave a comment

The University of Wisconsin filed a lawsuit against Apple. The Wisconsin Alumni Research Foundation (WARF) accuses the company from Cupertino of violating the patent for a new technology that improves the efficiency of modern processors. The university researchers claim that Apple used their technology in the latest 64-bit A7 processor found in iPhone 5s, iPad Air and Retina iPad mini.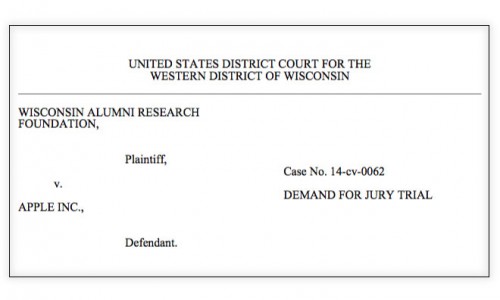 Leave a comment

We know that Apple is planning to release a new iPhone 6 this year. Well, to be precise - two iPhones with different screen sizes. According to the KDB Daewoo Securities analysts, both devices will be equipped with a 64-bit Apple A8 processor, 2GB of RAM and an 8 megapixel camera. As to the full specs for each iPhone, they're available below (via iClarified).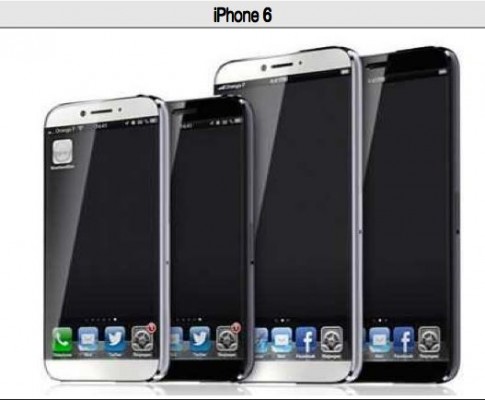 Leave a comment