News tagged 'iPod Touch'


Apple has released iOS 5.0 beta 2 today. As usual it is for developers only, and for those who have activated UUID.
New firmware is available for iPhone 3GS, iPhone 4, iPod Touch 3G, iPod Touch 4G, iPad 1, iPad 2 and Apple TV.
The most interesting new features one can find are: wireless syncing (works at least with iTunes 10.5 beta 2 on Mac OS 10.6.8 or Lion), new UI for notifications and silver iCloud logo in Setting. Apple also added functionality that let's you wirelessly restore your iDevice from an iCloud backup.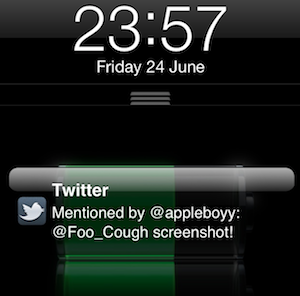 Leave a comment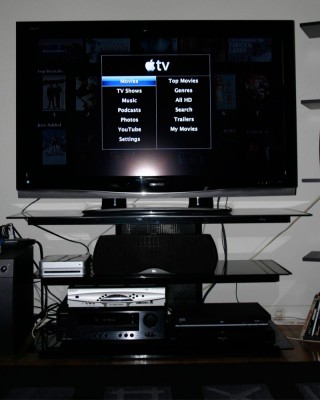 As DailyTech reports, Apple is preparing to release a television set this fall. According to information, a former Apple manager told about the project, speaking "you'll go into an Apple retail store and be able to walk out with a TV. It's perfect." As rumors say, the TV display will be powered by Apple's best-selling iOS (at present runs on the iPhone, iPad, Apple TV and iPod touch). Also the report reads that large screens will not be developed in-house by Apple, but with the help of an OEM, like Samsung, to set production in motion.

Leave a comment

Hacker iH8Sn0w released Sn0wBeeze 2.8 beta 2 with ability to perform untethered jailbreak of the old bootrom iPhone 3GS on iOS 5.0b1. For other devices the jailbreak is still tethered.
Sn0wBreeze is a Windows application that creates a custom ipsw with jailbreak. It also preserves your baseband if you need unlock, but UltraSn0w has not yet been updated to work with iOS 5.
You can download Sn0wBeeze 2.8 beta 2 here.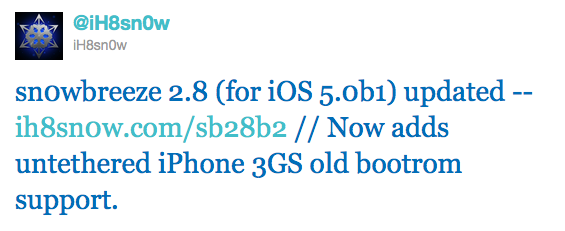 Leave a comment

It is surprising how good the first beta version of iOS 5 is, but if for any reason you need to go back to iOS 4.3.3, we'll show you how. There are at least two ways to do that:
Downgrade via XCode (Mac Only + dev license)
This is the easiest way to get back to a previous version of iOS. The bad part is that it can sometimes put you into a never ending DFU loop. You can typically use iRecovery to kick you out of it.
1. Download the iOS 4.3.3 here (it is better to use Firefox).
2. Open XCode and from the top select Window and then Organizer.


Leave a comment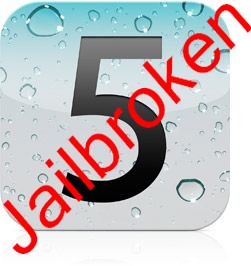 We didn't have to wait long for the Windows version of recently released iOS 5 jailbreak utility for Mac OS.
DevTeam created a Windows version of Redsn0w 0.9.8 b1 and iH8sn0w released Sn0wBreese 2.8 b1. Both perform a tethered jailbreak of iOS 5 beta 1 on iPhone 3GS/4, iPod Touch 3G/4G and iPad 1.
You still need activated UUID. Both tools do NOT hactivate devices.
You can download Redsn0w 0.9.8 b1 and and Sn0wBreese 2.8 b1 for Windows here.

Leave a comment

Leave a comment, read comments [1]

MuscleNerd recently Tweeted that iOS 5 beta 1 jailbreak is already available. DevTeam released Redsn0w 0.9.8 b1.
For now the jailbreak is tethered (you have to run redsn0w each time you reboot) and available for Mac OS X only. It will not activate your device, so you need have registered UDID. iPhone 3GS users with 06.15 baseband: redsn0w will get you past the iTunes restore error. This redsn0w will probably work on future versions of iOS 5.
Redsn0w 0.9.8 b1 works with iOS 5 b1 on iPhone 4 (GSM / CDMA), iPhone 3GS, iPod Touch 3G, iPod Touch 4G, iPad 1.
This is mostely for developers of Cydia apps. Most tweaks and Cydia applications do not work on iOS 5.
You can download Redsn0w 0.9.8 b1 here.

Leave a comment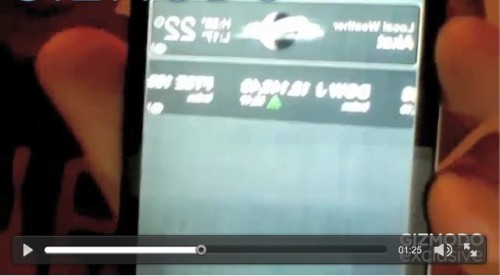 Before you even start thinking about it -
you do it at your own risk
you will probably loose warranty
you cant go back to iOS 4.x once you go to iOS 5
Apple will probably fix this soon.
The exploit uses a combination of Voiceover and the pull down notifications to activate the phone. The user that found this exploit says the device continues to work after restarts (so you won't need to activate it every time you restart). The steps are:

Leave a comment


Apple recently released iOS 5 beta and iTunes 10.5 beta. It is available only for Apple registered developers. But you can try it too. Remember that you do it at your own risk. Below you will find iOS 5 download links for iPhone 3GS, iPhone 4, iPod Touch 3G, iPod Touch 4G, iPad 1, iPad 2, Apple TV 2G and download links to iTunes 10.5 Mac and Windows.
Keep in mind that your iDevice will need to be activated, your UUID needs to be registered in Apple. Installing iOS beta on a non-activated device will render it useless. If you need help with registering UUID - write us, we will try to help..
Remember that currently there is no jailbreak for iOS 5 released. UPDATE: If you need a jailbreak - download it here.
(!) You will probably not be able to restore back to 4.х. UPDATE: how to go back to 4.3.3.
You can download iOS 5 beta 2 here.

Leave a comment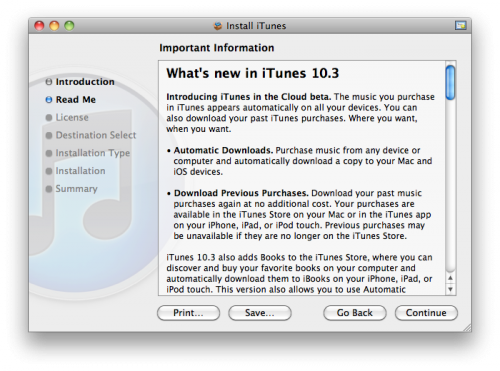 Apple released iTunes 10.3 that has iCoud beta support for devices with iOS 4.3.3 (US and Canada for now).
What's new in iTunes 10.3
Introducing iTunes in the Cloud beta. The music you purchase in iTunes appears automatically on all your devices. You can also download your past iTunes purchases. Where you want, when you want.

• Automatic Downloads. Purchase music from any device or computer and automatically download a copy to your Mac and iOS devices.

• Download Previous Purchases. Download your past music purchases again at no additional cost. Your purchases are available in the iTunes Store on your Mac or in the iTunes app on your iPhone, iPad, or iPod touch. Previous purchases may be unavailable if they are no longer on the iTunes Store.

Leave a comment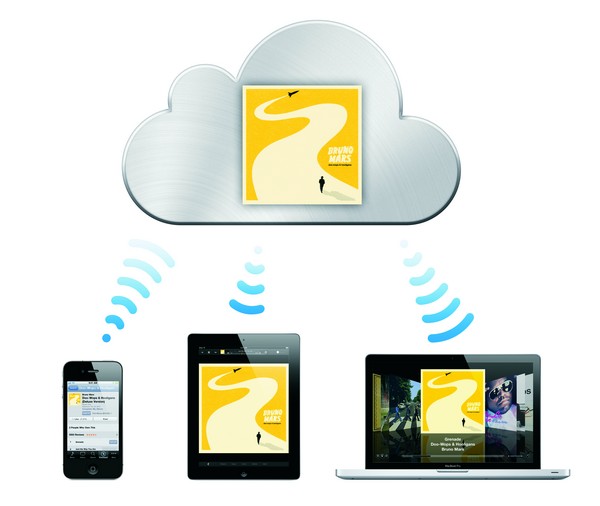 Yesterday Apple introduced new service called iCloud. US users can try it today using iOS 4.3.3 and iTunes 10.3. To understand what is iCloud, what is it for and how can be used, we recommend to read official Apple text about iCloud.

Leave a comment

Leave a comment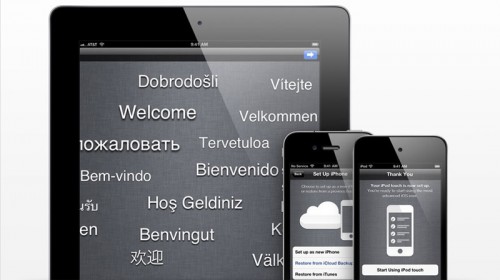 Yesterday Apple has told about new PC-free feature that will allow iOS 5 users to activate their iPads, iPods touch or iPhones with no computer required.

Read the rest of this entry »

Leave a comment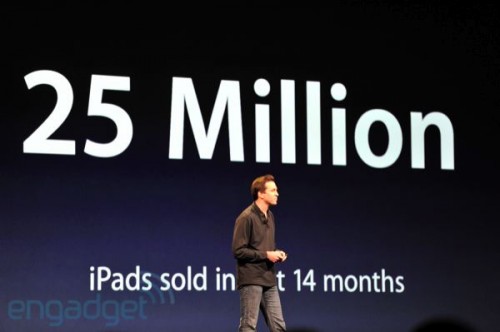 In just 14 months, Apple has sold over 25 million iPads. So now the total number of devices (iPhone, iPad and iPod Touch) running iOS had reached 200 million since the original iPhone launched in 2007. Apple's iOS has got the first place among mobile software with 44% of the total market (Android took 28% of the market and RIM - 19%).
Our customers couldn't wait to get their hands on the iPad 2. In the first 14 months, we've sold 25 million iPads
Over 15 billion songs were sold through the iTunes store. The iBookstore has over 130, 000 downloads. Apple now has 225 million accounts aggregated from the iTunes, iBooks and App Stores. Over 14 billion downloads were made from the App Store, so developers received over $ 2,5 billion dollars since 2008 when the App Store was launched.

Leave a comment